Blue and Yellow Make El Centro Green
As students eagerly await the inauguration of El Centro, The Independent took a tour of the new campus.
For those that have seen the space-age structure jutting out beside the Kennedy Expressway, it is apparent that this is no ordinary campus. Designed by architect Juan Moreno, the El Centro campus is uber-modern where economy, ecology and function unite to create the college of the future, today.
Leading the tour was the spearhead of the El Centro project, David Jonaitis, NEIU's former associate vice president for financial and administrative affairs. Jonaitis has been with the campus for over 25 years, and overseeing the construction of El Centro is his last project with NEIU before his retirement. Jonaitis explains why Moreno was chosen as the El Centro architect.
"Juan had a really neat perspective on relationships with students, education and the community and how to blend those things into an environment that is a little bit unfriendly to begin with, being close to the highway […] compared to some the other [architects] who were trying to make this into a suburban sort of campus, [Juan] really had more of an urban drive to it."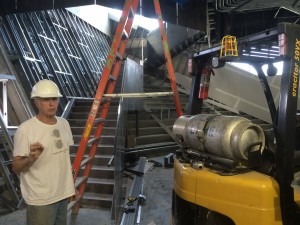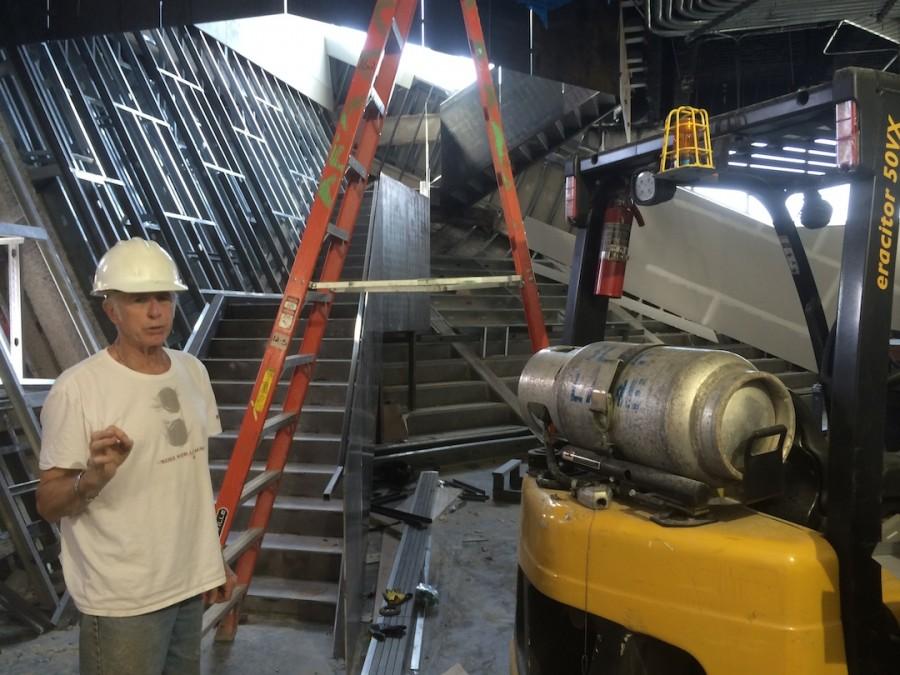 Before El Centro was erected, five buildings had to come down first—warehouses, manufacturing facilities and the like.
"When all these warehouses and things were taken down, 75% of the materials had to be recycled […] when we were demolishing, and digging down, in fact we found old street […] as you dig down this far, you find that kind of street, when you dig down that street you find street from the 1800s. It was really kind of amazing," Jonaitis explains.
The street it used to be, in fact, was St. Louis Avenue, the same street the main campus resides on. Jonaitis also said that during excavation, they even found evidence of the Chicago fire.
El Centro's modern industrial design both compliments Chicago's industrial history, while demonstrating green and progressive practices in construction. From the parking lot's highly efficient water drainage system and electric car charging stations to the rooftop's solar panels, Jonaitis explains, "The building itself, all the mechanical systems in it, are all designed towards economy and the utilization of the smallest amount of fuel and resources."
The building's aesthetic motif is married to the building's structure. Raw steel and dyed black concrete remains exposed, and the building's funky skeleton creates hallways and rooms that flow in most interesting and dynamic ways.
The west side of the building is lined with blue and yellow fins. Depending on which direction you're driving down the Kennedy Expressway, the fins appear blue from one direction and yellow from the other. This is not just for decoration, but they also serve as a nice shade from oppressive western sunlight.
As mentioned earlier, one of Moreno's goals was to establish a relationship with the building itself and the students it houses. Examples of this can be found all over the building.
In one hallway, the piping in the ceiling remains exposed. This is congruent with the building's industrial design, and, theoretically, engineering students will be able to study the piping as a practical laboratory.
Each room is an apparent example of NEIU's efforts to create a progressive learning environment
The classrooms themselves are wider than they are deep so, effectively there is no "back of the classroom". Instead of a plaster wall with a whiteboard mounted on it, the walls themselves are whiteboards.
Taking place of the library is an electronic learning resource center where faculty will be available to help students learn Internet-based research skills. The room also features a cool pyramidal tiered seating area and, also, a free library that will be stocked with plenty of books available for students to take at their leisure, no checkout system required.
Another unique feature of El Centro is its joint faculty/administrative suite. "Normally, at the university you divide administrators and faculty—keep them in different areas because they don't speak the same language […] when you eat together and talk together it's hard to have arguments […] it's an effort by the university to bring people together.", said Joanitis.
Keeping with El Centro's green theme, there are also a number of resources available to students and staff to promote clean transportation. For one, it's very close to the blue-line stop. El Centro also has a special entrance corridor for faculty and staff that have bike racks and showers.
"You got the Kimball bus that runs back and forth to the main campus, and for all students that have U-Pass, can go back and forth for free. Y'know, kinda neat. It's like a dedicated shuttle back and forth. You couldn't run a shuttle as frequently as that 82 line bus goes back and forth.", added Joanitis.
And for those that do drive, "…it's got easy access to the expressway, both coming from the North and South. It's hard to miss it."
Unfortunately, the building's construction has been delayed, but will be open on Sep. 20. Until then, El Centro students will be taking their courses temporarily at the main campus and at Amundsen High School.