Review: Guardians of the Galaxy
5.0 out of 5.0 Stars
If I could have one life goal after watching this new age of Marvel movies, it would be to become a white guy named Chris. After Chris Hemsworth portrayed Thor, Chris Evans portrayed Captain America, and Chris Pratt portrayed Star-Lord, it's easy to see that being a blonde, Caucasian man named Chris is the quick ticket to becoming an impossibly muscular superhero in a movie.
Fortunately for audiences, it's not just Chris Pratt that flexes his acting muscles. Marvel has assembled a pantheon of A-listers to star in its newest sci-fi blockbuster, Guardians of the Galaxy. The main cast along with the likes of Michael Rooker, Glenn Close and John C. Reilly are all on the top of their acting game when portraying their alien characters. And not only are their performances top-notch for Guardians, but director James Gunn's pacing and execution of action, comedy, and drama makes this not just one of the summer's best movies, but Marvel's finest film since The Avengers.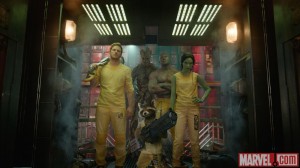 The source material, for the movie for many is obscure, even for many convicted Marvel Comics fans. The Guardians of the Galaxy is the assembly of five heroes who, through various circumstances, become the last line of defense for galactic civilization. Unfortunately for the galaxy, the roster is made up of an assassin, a war criminal, a bandit, a walking tree and a talking raccoon. Weird, right?
Fortunately, director James Gunn revels in the weird. For those unfamiliar, Gunn was a script writer for the live action Scooby-Doo films, and the Dawn of the Dead reboot, as well as director of the film Super and the video game Lollipop Chainsaw. Guardians continue Gunn's M.O. of addressing dark adult situations with bizarre childishness.
What Gunn does for the characters is bring them into a universe where they not just come alive, but that narratively plays around with their stories and relationships. While always delightful, Chris Pratt definitely steals the show with the graceful Zoe Saldana, while the other three heroes deliver some of the most interesting narrative and dialogue in the whole film. Dave Batista, of professional wrestling fame, plays Drax the Destroyer, who absolutely nails delivery and comedic timing in his lines. Bradley Cooper and Vin Diesel voice the computer animated Rocket Raccoon and Groot. Defying various expectations, both characters are realized as more than walking punchlines. Though delivering some great one liners, Rocket's story alludes to a character more complicated than just a small woodland creature with big guns. And Groot, through great writing and great animation becomes the most loveable character of the crew.
Not enough can be said about the decision to make the team less like the grandiose Avengers, and more like an A-Team in space happened by accident. Even the title of "Guardians of the Galaxy" is bestowed upon them with a sense of irony. Not only does this play into the idea that the world views them as "a bunch of a-holes" but directly contributes to what I can say is my favorite climax of any film ever.
Every part of this film is cohesive in telling this out-of-this-world story, while still carrying emotional weight to it: Everything from the initially heavy opening scene, to the 70's pop hit laden soundtrack brings together what is not just one of the most fun summer blockbusters to hit theaters, but is one of the smartest ones to come around in a long time. Wacky and weird, Guardians of the Galaxy proves that not all big name super hero movies have to be space junk.