Meet the New Student Government Leaders
Student Government Election Results
The election results for the Student Government Association (SGA) at NEIU are now in. President Brenda Bedolla defeated Khadiga Ahmed in the electoral vote 319 – 263. Running for Vice-President, Stephanie Garcia won against Michael Vargas 312 – 254. Treasurer Mervit Ahmed was elected with 496 votes and was running unopposed. Jessica Guillen was elected to Secretary and defeated Abrahim Harb 315 – 250. IBHE-SAC Representative Nicholas Martinez was elected with 504 votes, also unopposed. Student Trustee Amanda Slefo won the vote from Jonas Chavez 340 – 244.
SGA Senators elected this year are: Alicia M. Mendoza, Melanie Betancourt, Debbi Rodriguez, Dayani Pieri, Tomas Uriostegui, Sabina Valencia, Amani Abutaleb, Jaliyah Ramos, Lindzy Staples, and Arnold Garcia.
For the Council of Club (CoC), the new representatives elevated are: Ericka Maya, Emily Hosman, Diego Cruz, Tavia Rose Henderson, Pedro Nungaray, Eric Camacho, Dulce Garcia, Parisha Patel, Carla Ordonez, Cody Smith, and Jasmine Diaz.
The newly elected thanked students for their votes. "More than anything, we want to get more of the students involved with the SGA," said President Bedolla. "We want to let them know that this is a place where they can voice their opinions and that all students are more than welcome to attend."
President Bedolla, Jessica Guillen, and Stephanie Garcia requested that the Independent print their email addresses and invited questions from students regarding issues or changes they would like to see throughout campus.
President Bedolla: [email protected]
Vice President Stephanie Garcia: [email protected]
Secretary Jessica Guillen: [email protected]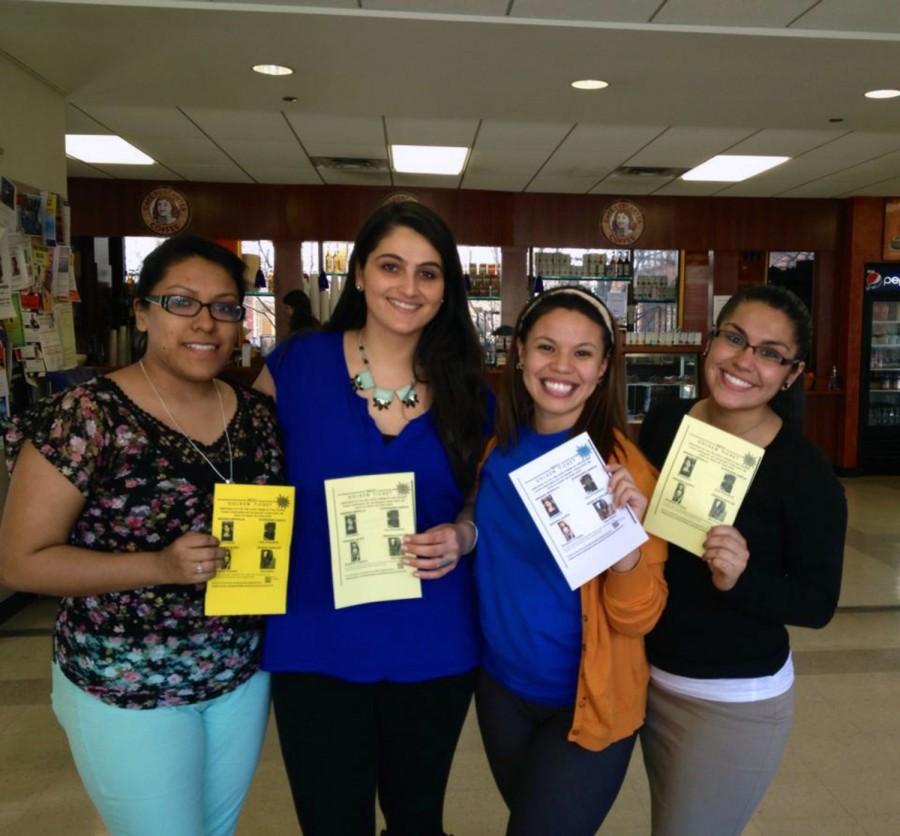 Other SGA Business
After a call to order on Tuesday, April 8, 2014, Vice President of Student Affairs Frank E. Ross announced tentative plans for student and faculty involvement in the design of dormitories and mentioned the possibility of a four day work and school week in the summer. The executive branch reported that there was a low turnout in fund requests this year. The school has a remaining of $24,000 from which clubs might request funding.
After ratifying the Senate, there was some discussion on the outstanding and controversial issue of the naming of Lech Walesa Hall, in which three cost-effective names were suggested including, Learning Wisdom Hall, Learning Works Hall, and Listening Works Hall.
University President Sharon Hahs recently announced via email that she would not accept the recommendation to change the building's name by the University Advisory Council saying " Its effect, if implemented, would be to terminate the carefully worked-out response by our University community a year ago to comments made by President Walesa." The recommendation was made over concern of the Polish ex-president's comments targeting homosexual politicians.
The Student Government and Senate have voiced their intentions to work with the LGBT community to find an equitable solution to the problem. After some discussion, the matter was tabled until more information can be presented.