Putting the Butt Out on State Campuses
Before lighting up a cigarette on July 1, consider the Illinois SB 2202 law, otherwise known as the Smoke-Free Campus Act. If in effect, it might prohibit smoking on any state-supported institution of higher education.
SB 2202 was first introduced by Sen. Terry Link, D. Waukegan, on Feb. 15, 2013. The legislation quickly passed the state Senate on May 1, 2013, and was recently passed at House on April 2, 2014, as reported on the Illinois General Assembly website.
Sen. Link did not respond for a request to comment.
The consequences that follow for any student or faculty member who violates the provisions of the bill are entirely determined by the governing board of the public university or community college.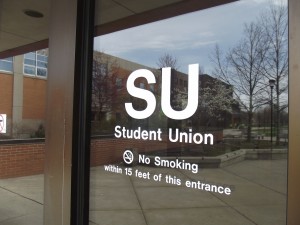 Section 15 of the bill exempts any individuals who are passing through the campus, or are in a vehicle that is not owned by a state-supported institution of higher learning. However, campuses like University of Illinois at Urbana-Champaign (UIUC) have stretched their policy to affect those individuals as well.
UIUC, along with the City Colleges of Chicago (CCC) jumped the gun early on anti-smoking with tobacco-free policies that started on March 1, 2012, for CCC and Jan. 1, 2014 for UIUC.
The House Committee proposed an amendment to remove the exception of individuals passing by and privately-owned parked vehicles from the bill. The amendment they proposed would also exclude any area covered under the Illinois Smoke Free Act from being defined as "campus." In cases of confliction between the two, Illinois Smoke Free Act would take over. This amendment of the bill is currently awaiting vote in Senate.
The push for tobacco-free NEIU campuses was first presented on Aug. 19, 2013, and open for public comment. By Nov. 1 of that year, NEIU had adopted the requirements of the Smoke Free Illinois Act, which restricted smoking around vicinities of entrances and certain campus locations.
Before the policy was instated, NEIU hosted a tobacco cessation workshop on Oct. 8, 2013, that was instructed by Allison Carroll from Northwestern University's (NU) department of clinical psychology and behavioral medicine. The workshop was funded and made possible by NEIU Academic Affairs' Healthy Campus Initiative, Robert H. Lurie Comprehensive Cancer Center at NU and a grant from the National Cancer Institute titled NU Neighbors.
With the coming of the SB 2202, NEIU once again, through the funding of NU Neighbors, hosted another smoking cessation workshop in efforts to prepare students for the effects of the bill.
Disciplinary actions that followed the violation of NEIU's first policy can include a citation of $100 and $250 for every other offense following. However, the handing out of citations has never been necessary for NEIU students and faculty, Sgt. John Schulz pointed out.
Schulz also said, "These things take a while to filter down." He added that any tangible NEIU policy for the SB 2202 bill will still take time to set in stone.
"We don't want to be the cigarette police," said Schulz. He explained that Campus Police have never really had a problem with smokers, and they're usually compliant when told they should leave an area.
Schulz also explained that the typical action that follows violations includes being sent to Student Rights and Responsibilities and Human Resources faculty. "We're relying on everybody's cooperation," said Schulz.