VOTE IN LINK: Godsmack's best album
March 3, 2020

Loading ...
Renowned for unbridled energy atop resounding riffs, Massachusetts hard rockers Godsmack introduced themselves to the rock landscape with their 1998 eponymous debut effort.
Since then, Godsmack–vocalist Sully Erna, guitarist Tony Rombola, bassist Robbie Merrill and drummer Shannon Larkin–have enjoyed remarkable success, releasing seven studio albums over a 22-year span.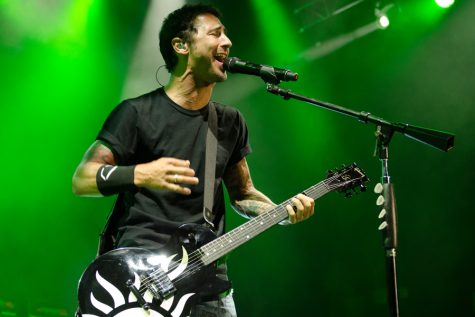 Between 2001 and 2006, Godsmack was nominated for four Grammy Awards and three Billboard Awards, earning Billboard's Rock Artist of the Year in 2001.  In 2002, Godsmack claimed Metal Edge Readers' Choice Awards Song of the Year from a Movie Soundtrack for its place in The Scorpion King.
Godsmack also collected three consecutive No. 1 hits on the Billboard top 100 (Faceless, IV and The Oracle) to go along 25 top ten rock radio hits and 18 top five songs.
In 2017, Godsmack released When Legends Rise, the band's first concerted deviation away from its trademark sound. The critically acclaimed album was a commercial success, claiming the top spot in four Billboard categories: U.S. Top Alternative Albums, U.S. Top Independent Albums, U.S. Top Hard Rock Albums and U.S. Top Rock Albums.
Enjoy this article? Vote in our mid-2000s rock tournament!