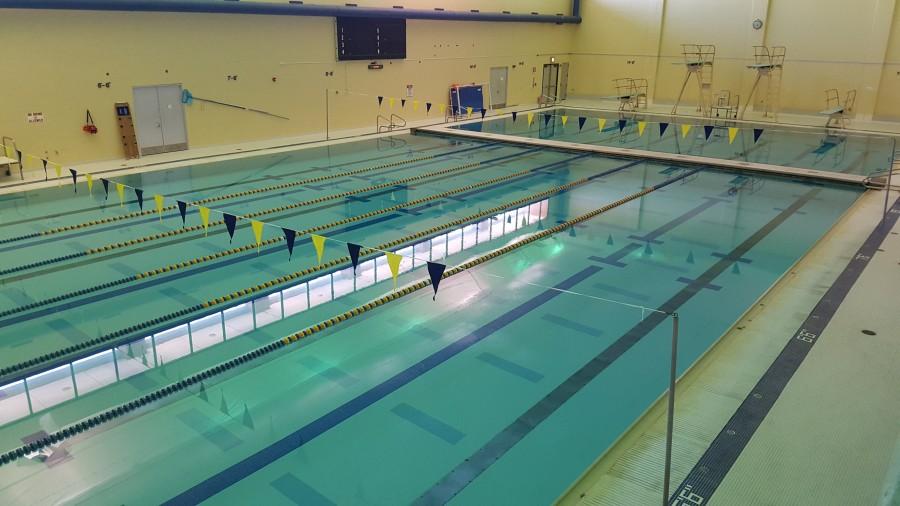 Game on with 'Learn It, Play It' Initiative
March 15, 2016
Who needs a football team?
The "Learn It, Play It" program is an initiative from Campus Recreation (Campus Rec) to introduce students to a variety of sports.
You can learn how to play cricket, ultimate Frisbee or water polo; or if you are more adventurous you might try underwater hockey in the deep end, which involves fins and a snorkel.
It is free to students and meets Monday and Wednesday from 2-3 p.m.
"You have 30 minutes where you learn how to play the sport," said Liz Urcinas, who oversees the program. "Then you have 30 minutes to actually go out and play it."
The program operates on student feedback, so the sports will change according to what students are asking to learn. As attendance increases, the program will expand to days and times that are most convenient. If enough students show interest in a sport, the next step is to form an intramural league.
"Intramural leagues are a great way to get involved on campus," said Christian Kopp, assistant director of Campus Recreation.
Learn It, Play It is aiming to draw enough student interest to develop intramural leagues in as many sports as Campus Rec can schedule.
The overall goal of the program is to increase the number of sport clubs on campus. A similar program at Central Connecticut State University has shown a growth from 5 to 25 sports clubs in just a few years.
"One of my favorite things is to get students to create a club, because they're being a leader," said Urcinas. "There's no better experience. You can leave your mark on campus."
Currently, there are only a handful of sports clubs on campus. NEIU boasts a boxing club, a soccer club and a running club, which is hosting a seven week training program for the Golden Eagle 5k on May 1.
If students get involved with the Learn It, Play It program, the university could add a dodgeball, badminton, softball or rock climbing club to the list.
Video gaming is included among the sports clubs as well. FIFA, NBA2K and Madden clubs are not uncommon, and Campus Rec already hosts intramural gaming tournaments.
Campus Rec wants students to take advantage of what the PE Complex has to offer. There is a swimming pool, a main gym, an auxiliary gym which houses the rock climbing wall, a fitness center, and an indoor running track, as well as several classrooms.
"It's about creating a great environment for the students," said Urcinas. "We have the resources on campus, let's use them."
This is the first semester of the Learn It, Play It program, but it promises to be a permanent addition.
You can register for the intramural spring co-ed basketball and volleyball leagues by March 30. Leagues start April 5.
Students can stop by Campus Rec at the PE Complex to sign up. While you're there, let the staff know what interests you. After all, underwater hockey and Frisbee golf clubs don't form themselves.