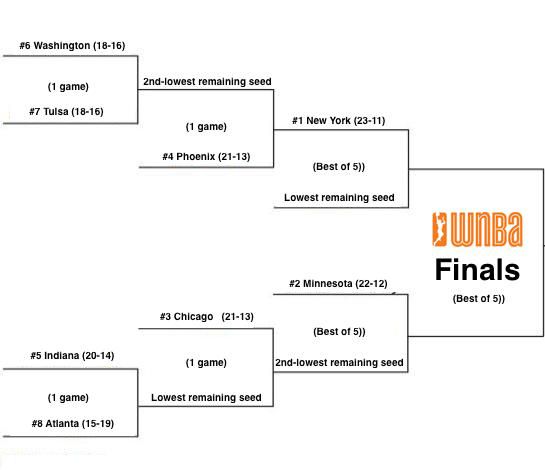 WNBA to make drastic Playoff changes
February 15, 2016
As the 20th WNBA season opens on May 14 fans should take note of drastic changes to the playoff formatting. The WNBA's Board of Governors approved changes to playoff seeding and how to qualify for the postseason. These rules will take effect immediately.
The way the playoff picture changes is that each team will be re-seeded after every round, four rounds instead of three and the bottom four seeds will face each other in the first round. The rule change also gives the top two seeds an automatic place in the semifinals and third and fourth seeds go straight to the second round.
These rules are a complete change from the previous seasons for the league. Since the 2000 WNBA season the first round was a best-of-three series played between the four best teams in each conference. Now, these rounds are single elimination. Once the playoffs approach the semifinals, the first seed plays the lowest remaining seed, and the second seed faces the higher seed in a best of five game series. The higher seeded team will host games one, two and five.
These changes makes for a more competitive regular season that's worth more, considering the best team has a higher chance to reach the finals. This also indicates the possibly that every team from either the Eastern or Western Conference could make the playoffs, leaving two remaining spots open for the weaker conference.
Another improvement to this season is that all playoff games, including the WNBA Finals, will be broadcasted live on ESPN.
Mark Tatum, NBA Deputy Commissioner and Chief Operating Officer says "the new postseason format will provide a heightened sense of urgency to the start of the postseason. Add to that the fact that ESPN networks will air every postseason game live and we are talking about increased exposure and increased excitement."
These changes are projected to add more viewership and a larger fan base into the mix. Last year the WNBA experienced the lowest attendance rating in its 19-year history with a 3.4 percent decrease. Combined television ratings on ESPN and ESPN2 fell by an average of 202,000 viewers.
Some of the WNBA teams experienced a jump in their ratings, such as the Chicago Sky led by Elena Delle Donne ( increase of 3.1 percent) and WNBA Champions the Minnesota Lynx ( increase of 0.3 percent), but it wasn't enough to combat more than a third of the league's downfall. The San Antonio Stars contributed the most to the embarrassing statistics with their average of 4,831(decrease of 37.4 percent) attendance per game, though that number could be the result of their relocation from the AT&T Center to the Freeman Coliseum because of renovations.
The Board believes that the new playoff format will help the WNBA, but could this potentially lead to additional changes in the NBA as well? Commissioner Adam Silver has already approved a change in the playoff formatting that now seeds teams 1-8 in each conference regardless of the division winners. Let us know what you think at www.neiuindependent.org