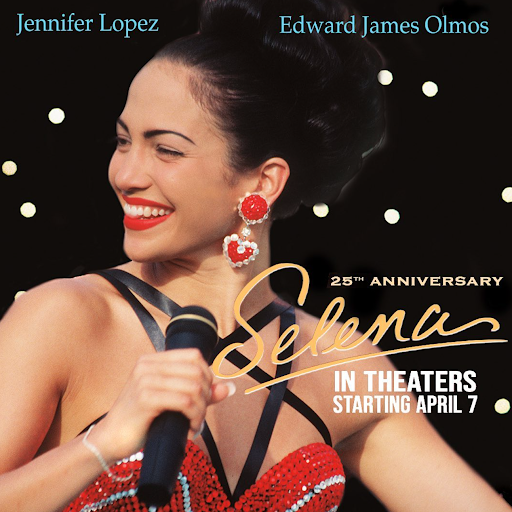 Jennifer Lopez and Edward James Olmos Pay Tribute to Selena on the Biopic's 25th Anniversary
April 30, 2022
Twenty-five years after "Selena" hit theaters on March 21, 1997, Jennifer Lopez and Edward James Olmos celebrated the film's re-release and 25th anniversary by paying tribute to the singer, who was shot to death in 1995 when she was only 23-years-old, and fondly recalled her acclaimed performance as the Texan icon in the blockbuster film.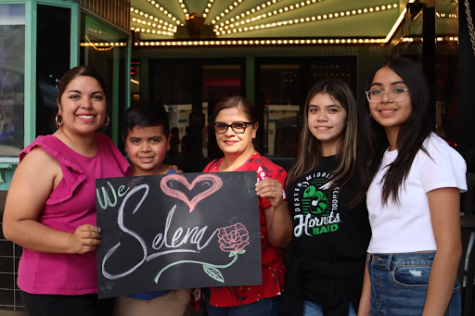 A group of fans celebrating the re-release and 25th anniversary of the biopic "Selena".
Photo Credit: Edwin Flores
Fans rejoiced as the film starring Lopez was re-released in select theaters on April 7 to celebrate the 25th anniversary. The re-release also gives new fans a chance to see it on the big screen, and introduces a new generation to the "Queen of Tejano Music."
On March 31, 1995, the voice of the singer Selena was extinguished forever: Yolanda Saldívar, the founder and president of the artist's fan club, shot her dead. Selena was murdered at the height of her career. The singer was in the process of crossing over to the American market with her first English-language album, "Dreaming of You", which she never finished recording.
Only two years after this tragedy, a biographical film was made about the life of the "Amor prohibido" singer, starring Jennifer Lopez, and in honor of the 25th anniversary of the film, Lopez wanted to pay tribute to the singer and recalled with love for her acclaimed performance in "Selena" as the Mexican-American icon.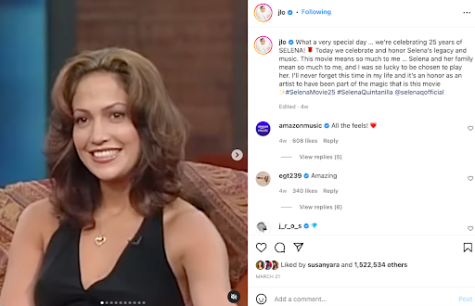 Post shared by Jennifer Lopez via @JLo on instagram.
"What a special day… We are celebrating 25 years of "SELENA"! Today we celebrate and honor Selena's legacy and music," Lopez wrote on Instagram along with a clip of herself from an episode of "The Oprah Winfrey Show."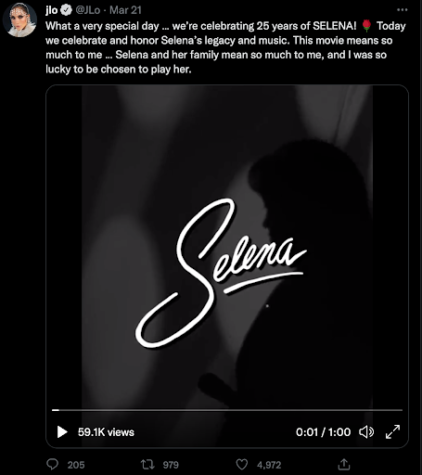 Tweet shared by Jennifer Lopez via @JLo on Twitter.
"This movie means so much to me … Selena and her family mean a lot to me, and I was so lucky to be chosen to play her," Lopez tweeted.
In the video Lopez recalls how nervous she was while filming "Selena" because she was a new actress at the time and wanted to do her justice. However, her co-star Edward James Olmos reassured her she was doing a great job.
"When I did the movie 'Selena,' I remember this so clearly, I studied her tapes, to the steps, to the fingers, to her lips, everything I did was five steps to the right. I just didn't wanna get anything wrong. And then Edward James Olmos, who was playing my father in the movie, he is an amazing actor, came to me and said 'you know everything, just let it go, don't think about it, and be.' We filmed that big scene in the astrodome with the purple outfit and it was magic. You have to let it go at some point and just do your thing," said Lopez.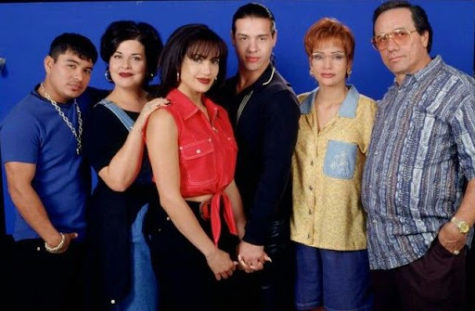 The cast members of "Selena". From left to right: Jacob Vargas (A.B. Quintanilla), Jackie Guerra (Suzette Quintanilla), Jennifer Lopez (Selena Quintanilla-Perez), John Seda (Chris Perez), Constance Marie (Marcela Quintanilla), Edward James Olmos (Abraham Quintanilla). 
Photo Credit: Warner Bros
Lopez shared credits in the Warner Bros film directed by Gregory Nava, alongside costars Edward James Olmos, Constance Marie, Jackie Guerra, Jacob Vargas, and John Seda who played the family of the ill-fated interpreter. Lopez described her acting experience with her cast members as magical.
"I'll never forget this time in my life and it's an honor as an artist to have been part of the magic that is this movie," said Lopez.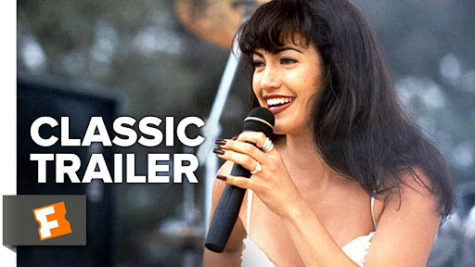 Official trailer of the 1997 film "Selena" starring Jennifer Lopez. 
Photo Credit: Warner Bros
Lopez's performance as Selena completely transformed the actress/singer's career and gave her a significant boost, thus she was able to make a name for herself and became known as "JLo" or "Jenny From the Block," an ordinary Latina girl from the Bronx who took Hollywood by storm.
The Quintanilla family and movie cast celebrated the film's achievement after being inducted into the National Film Registry of the Library of Congress last December.
"Selena's life, music and the film became touchstones in Latin American culture, and her infectious appeal crossed over to audiences of all kinds," the Library of Congress said.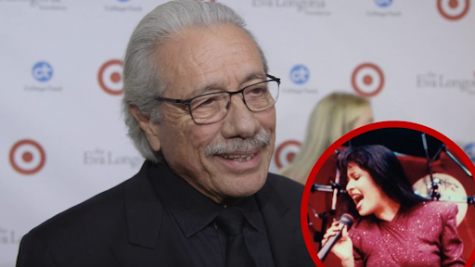 Edward James Olmos reflects on the legacy of the film Selena.
Photo Credit: Entertainment Tonight
Olmos shared with the Library of Congress that the film "stands out as a universal family story that happens to be about Mexican-Americans along the Texas-Mexico border."
"It will stand the test of time," Olmos added. "It's a masterpiece because it allows people to learn about themselves by watching other peoples' culture."
It's worth mentioning that this comes after the big announcement from Selena's father, Abraham Quintanilla, that a new album will be released in April. The highly anticipated album will have 13 songs recorded by the artist before her death and with new arrangements by her brother, A.B. Quintanilla.
Selena managed to overcome the barriers that came her way as a female artist. The Tejano music scene was largely dominated by men in the early 1990s. Many warned her she was doing the wrong type of music, but she loved the genre so much that she ignored their comments. When Selena arrived on the scene she proved them wrong. The 23-year-old quickly became the Tejano genre's biggest and most successful star. 
Selena attending the Grammy awards ceremony in 1994.
Photo credit: CBS
In 1994, "Selena Live!" won the Grammy for best Mexican-American album, and Selena was credited with bringing Tejano music into the mainstream.
The film does a fantastic job at following Selena's journey from a small kid in Texas with a dream to becoming an international musical legend. Despite not speaking Spanish fluently at the start of her career, Selena took her father's advice and studied the language as much as possible to become fully bilingual and proudly represent her Mexican identity. Selena is considered an icon of Latin music, she was the first Mexican-American pop star to achieve mainstream success. 
Although not exactly a box office hit when it was initially released in 1997, "Selena," 25 years later, has become a cultural touchstone among Latinos and is recognized in today's society as historically and culturally important. Selena managed to fully capture both of her cultures in her art and keeps inspiring people to this day.