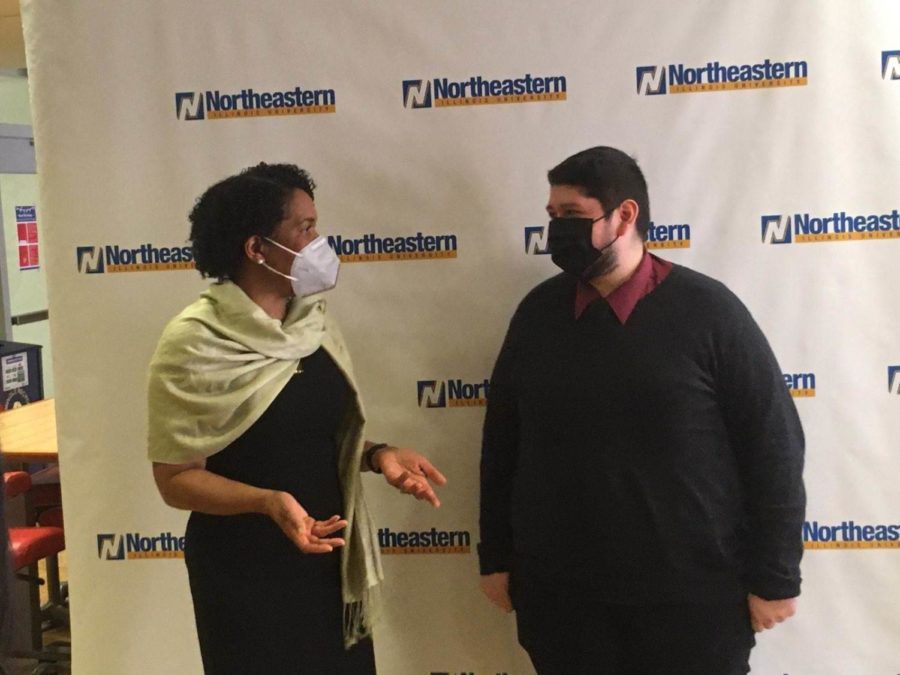 Lieutenant Governor Juliana Stratton Visits NEIU Talks About Importance of Teachers And Education
April 29, 2022
Juliana Stratton, Lieutenant Governor of the State of Illinois, paid a visit to NEIU on April 21, 2022 and spoke about the issues of education in the state, among them are teachers dropping out of the system. Stratton said that Governor Pritzker's main goal is to make education more accessible, diverse and affordable for everyone in Illinois so no one is left behind or denied access to education.
The other goal of the administration is to get teachers better pay and work care, so we can have more teachers back into the education field. Teachers all over Illinois have been leaving positions in numbers due to not being paid enough or feeling their profession is disrespected.
This is especially crucial in minority areas of the state where students find themselves with limited access to education like in Chicago's west and south sides.
During the interview with Stratton, The Independent asked two questions that related more to her goals and to the students who are affected by this issue:
Q:"What inspired you to come here?"
A:"I kind of saw what was happening with, you know, the teacher shortage…so the goal was to recognize that we need to make sure that everyone continues to have a quality education. But if we have quality teachers leaving the profession and we have students who don't want to go into the profession, that's going to create a real crisis.
"So Governor Pritzker and I wanted to make sure that whether it's on this campus or any of the other campuses of our public institutions, that we really focus on how to support our educators. And I think the last thing is just that there's a lot of great things happening on this campus to support teachers. I understand this was originally a teacher's college and so what better place to really hear from those on the faculty and staff and to hear from the students…who could tell me a little bit more about what is important to think about. How do you get into this profession and what the state can do to better support our educators and those in the Teacher preparation program."
Q: "What would you advise for those who are trying to become teachers?"
A: "Let me pick up on something you said first, Eterniti, and that is that we do want to get every student, every young person in our state knows that they're being supported as they're pursuing their dreams. And you're so right, a teacher shortage doesn't just affect the field of education, a teacher shortage affects every field, because we need teachers to teach those who want to be engineers, and lawyers, and doctors, and nurses and artists.
"And then in terms of the advice that I would give, one of the things that we're trying to do is we're trying to listen to students to hear what those solutions are. It's one thing for me as an elected official to come in and say 'well this is what I think.' But I think it's really important to hear from students about what they need and how to better meet their needs. And we're hearing everything from the issue of scholarships and making more scholarships available, and that's why in our fiscal year 23 budget we see more investments in our MAP grants and also that MAP grants can now cover up to 50% of the tuition for college students.
"We have minority teachers, scholarships that we have funded, we are trying to make college more affordable for young people…students need to recognize that there are a lot of people trying to help support them. And you might look and say, 'maybe I'm the first one going to college in my family. And maybe I looked at the website and when I saw how much college costs, I'm not sure that that's something that I can do.'
"Don't stop there. Contact the university, contact your high school counselor, talk to people who have some knowledge about what scholarships are available, what are some of the things that you can do that they might be able to work out so that you can have the support you need to go and help you get into the college you need to go to.
"Don't look at it and say 'yeah, it's a barrier.' Look at it as, 'okay, it's a hurdle, but it doesn't mean it's a hurdle I can't get over."'
NEIU OPPORTUNITY FOR A WEST SIDE CHICAGO GIRL
After this interview, I reflected on myself as I was that student who couldn't get the help I needed and was looked down upon. When I was graduating from my high school, I was told by a few teachers that due to my low ACT score, I could only go to a community college for higher education. I come from a violent area of West Chicago where education was quite hard to achieve satisfactorily and getting help with disabilities was a hurdle at the time. I was given an opportunity by NEIU, a scholarship deal from Project Success. I also had some support from my disability teacher to convince my mother that commuting is just an hour or two by bus and that I am a talented child who needed this push to improve her art and skills.
When I decided to give Project Success and the university a shot, my opportunities and life changed greatly. I learned to be more reasonable, taking risks with my arts and skills, and more importantly I am able to meet a lot of friends who accept me as a person, teachers in my field of interests who are willing to not only help me improve my skills but let me go beyond and take class as my career, and I was given open doors to be a illustrator, reviewer of video games, and journalist at The Independent team. So there are many young students out there like me, who have not gotten this chance and now are the pure force of the education movement.
Looking back now, if I didn't take the opportunity from NEIU and let those words and fears get to me, as Lt. Gov. Stratton said, I would never be in the life I'm in right now, so I hope many other students will be granted a chance to show more than just a test score number, they are the future and all people in America who need a little push and lots of love and support.