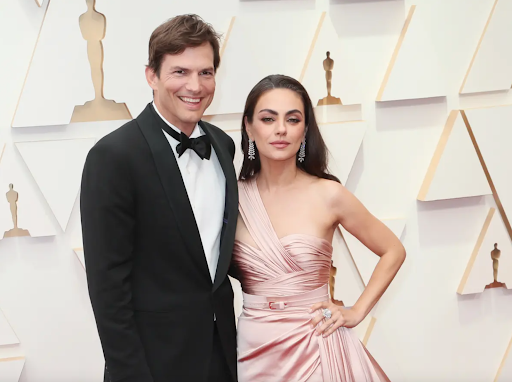 Mila Kunis and Ashton Kutcher Surpass $3 Million Refugee Campaign Goal for Ukraine
April 28, 2022
Celebrity couple Mila Kunis and Ashton Kutcher launched a GoFundMe fundraiser last month to support Ukrainian refugees. The couple promised to match $3 million in donations to help refugees from Ukraine and managed to surpass their goal by earning more than $30 million with the help of their followers.
In a video posted to Kutcher's Instagram and Twitter accounts, Kunis, who was born in Ukraine and immigrated to the United States when she was just 7 years old, expressed her grief over Russia's war in Ukraine.
"I have always considered myself a proud American. I love everything this country has done for me and my family," said Kunis. "But today more than ever I am so proud to be Ukrainian. The events that have unfolded in Ukraine are devastating; there is no place in this world for this unwarranted attack on humanity." It is great to see Kunis honor her Ukrainian heritage and use her platform to speak up about what is happening in the world. 
"While we are witnessing the bravery of the country she was born into, we are also witnessing the needs of those who have chosen safety," Kutcher said in the video.
Kunis and Kutcher, who have been married since 2015 and starred on the sitcom "That '70s Show" together, said the GoFundMe donations will go to Flexport, which is organizing shipments of relief supplies to refugee sites in Poland, Romania, Hungary, Slovakia and Moldova. Additionally, funds will go to Airbnb, which provides free short-term accommodation to refugees fleeing Ukraine.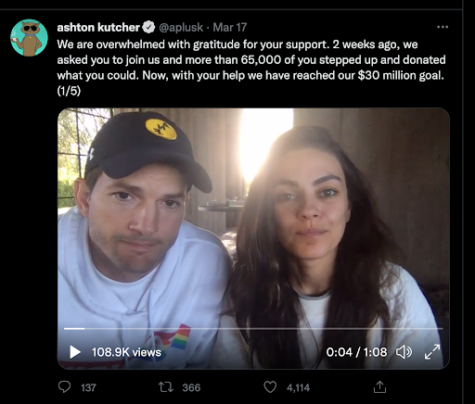 Tweet shared by Ashton Kutcher via Twitter @aplusk.
"We are overwhelmed with gratitude for your support. [Two] weeks ago, we asked you to join us and more than 65,000 of you stepped up and donated what you could. Now, with your help we have reached our $30 million goal," said Kutcher in a tweet. https://twitter.com/aplusk/status/1504508504677109794?s=20&t=ngmj90m2YWlizAwXFet2YQ
Kunis continued to show support for Ukraine at the 2022 Academy Awards ceremony, where she participated as a presenter.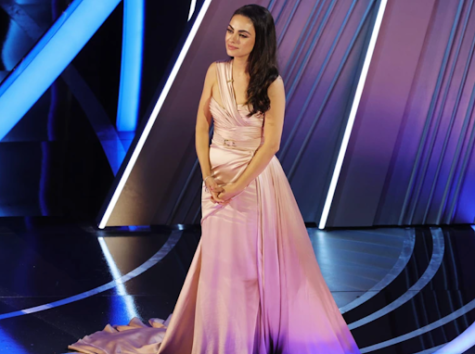 Mila Kunis giving a speech at the 2022 Academy Awards. Photo by Neilson Barnard.
"Recent global events have left many of us feeling gutted," the actress said in reference to Russia's war against Ukraine. Kunis said she is moved by people's resilience and is in awe of "those who find strength" amid the darkness.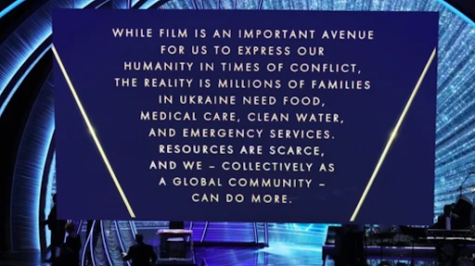 A message appeared on the giant screen at the Dolby Theatre during the 2022 Academy Awards ceremony. Credit: ABC.
Following Kunis's speech, a message informing viewers to support Ukraine appeared on the screen. It said, "While film is an important avenue for us to express our humanity in times of conflict, the reality is millions of families in Ukraine need food, medical care, clean water, and emergency services. Resources are scarce, and we  —  collectively as a global community  —  can do more."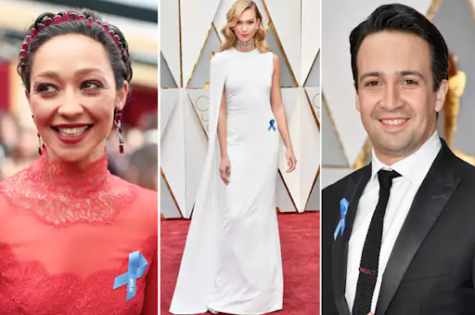 Celebrities wearing a #WithRefugees blue ribbon. From left to right, actress Ruth Negga, model Karlie Kloss, actor/filmmaker Lin Manuel Miranda. Photo by Noel West
Several celebrities also made their voice heard by wearing blue ribbons that sported the hashtag #WithRefugees to represent Ukraine at the event.
You can donate to Kunis's and Kutcher's GoFundMe fundraiser by visiting: www.gofundme.com/f/stand-with-ukraine