Diversity Food Fest brings NEIU flavors from all around the world
April 14, 2022
After starting off with a table dedicated to intricate henna tattoos on Monday afternoon, Diversity Week began at NEIU, a week full of events to promote the inclusion and discovery of other cultures with events like an Origami and Snack Bar with sweets from Japan or Korea, or  Hula Dance Night. But without a doubt, one of the more popular events of this week is Diversity Food Fest.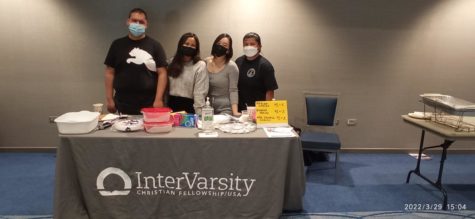 On Tuesday, March 29, student organizations sold all kinds of dishes, snacks, sweets, and drinks from around the world to raise funds for their organizations. With the promise of various types of foods, along with the affordable prices offered there, plenty of people from the NEIU community come out to the event. Not only students but also faculty and staff stopped by  Diversity Food Fest to try something new and support the student organizations that largely represent and advocate for the diversity of backgrounds and interests of NEIU students.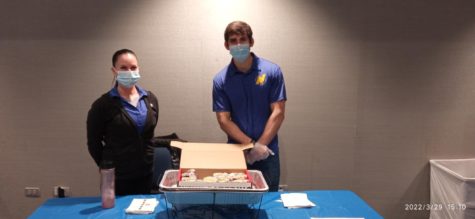 Eleven organizations participated in this new edition of Diversity Food Fest: Association for Supply Chain Management (ASCM), Asian American InterVarsity, Black Caucus, Chess Club, Delta Tau Lambda, Gamma Phi Omega, Health and P.E, NEIU International Club, Omega Delta, Sigma Lambda Gamma and Undocumented Resilient & Organized club (URO). Some of the most popular dishes were the Popusas from Gamma Phi Omega and the menu from Black Caucus with its Jerk Plate and Macaroni & Cheese.
For Chess Club and NEIU International Club, it was their first time participating in Diversity Food Fest. Chess club members went with a sweet display offering Root Beer Float, Ice Cream Sundae and horchata. Chess Club president Anthony Gunderson was ready for the occasion in a chef's uniform. As for NEIU International Club, they brought together in one table dishes from Pakistan and France, as well as home-baked Guava and Cheese Pastelitos and Banana Mini Bundt Cakes.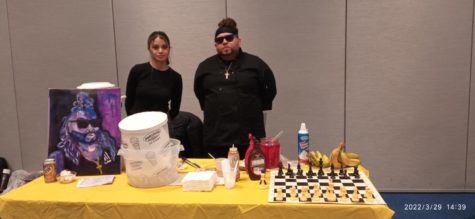 Diversity Food Fest was also a great opportunity to take a little break from the daily routine, to socialize and have a good time. Although on this occasion it was not allowed to eat in the same room where the organizations were selling their products, tables set up in Alumni Hall South provided the perfect environment for a more relaxed atmosphere for conversation.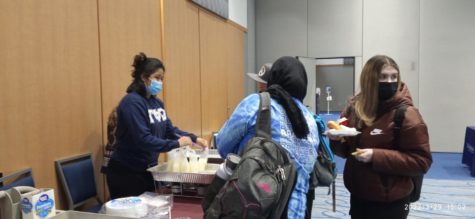 The NEIU Student Media Board was also represented at Diversity Food Fest with a table for the organizations associated such as The Independent, Seeds and Que Ondee Sola (QOS) and a table for rotating WZRD DJ's throughout the afternoon livened up the event by playing some original songs, and hits that made more than one attender dance along.