NEIU Artist Interview
April 4, 2022
What's your background and how do you think it has affected your work?
I've always made weird connections between people, objects, ideas, theories, etc, and it's recently been a big influence in my work. I don't want to say I have synesthesia, but I do view certain people as colors or feelings as shapes, which has been the focus of my newest project. Before this project, I was largely affected by the area I grew up in and currently live in. I live across the street from the Chicago River and the woods surrounding it, so a lot of my earlier work was based on colors, textures, animals, and objects that I'd find while out and about in the woods.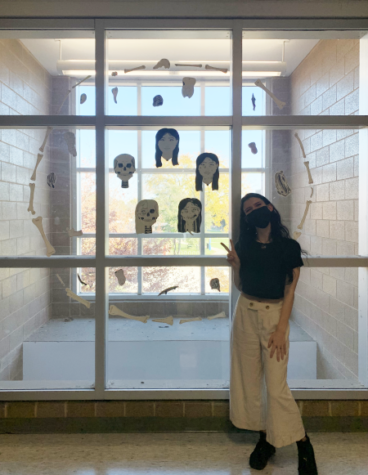 What type of art do you create and what motivates you to make it? 
My concentration is in drawing, which I do most often, but I'd also consider myself a painter. I recently started combining the two mediums, which has been really exciting! I think I'm motivated by a lot of things, my family and friends have always been a huge part of it. I'm also motivated by the idea of my future, I love the work I make now, but I'm excited to see how it grows and transforms throughout my life.
What's the purpose or goal of your work?
When I only used black ink, I used to say that the purpose was to make people focus on the beauty of texture and surface values rather than how objects are seen in the wild, but I think that's completely changed. I think the new purpose would be to try to make people see things the way I do, not as if my opinion is 100% correct, but combining the use of your senses in order to change subject matter; seeing the world in a new perspective.
Who are your biggest influences? 
Edward Gorey, Tim Burton, and Tim McDonagh are the biggest ones I can think of, especially Tim Burton. I'd also add Keith Haring to the list, but that's definitely the most recent addition. I'd also say I'm influenced by my professors and other students in the art department, seeing the wide range of styles and work being put out in the galleries each semester has definitely inspired some of my work since I've been a student here.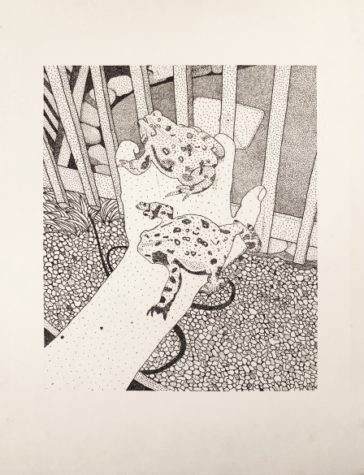 Where do you find inspiration?
Everywhere! Most recently it's been based on the connections I have with people, but it's come from so many things in the past. I've been inspired by the patterns of tree bark, seeing classical paintings at the Art Institute, and the colors of the leaves changing in the Fall. But I think that anyone who knows me will say that a big inspiration of mine is frogs, as ridiculous as it sounds, I don't think I could count how many drawings I've done of them in the past few semesters. 
How do you define success as an artist? 
I don't think it's up to me to define it for everyone, but defining it for myself would be having satisfaction with the work I'm putting out. I went for a long time making art just to make art, and it wasn't what I wanted to do. I'm at the point where I'm happy with what I'm making, and I'm excited to make more, and I think that's my personal success. (Although getting into exhibitions or selling pieces is super cool too).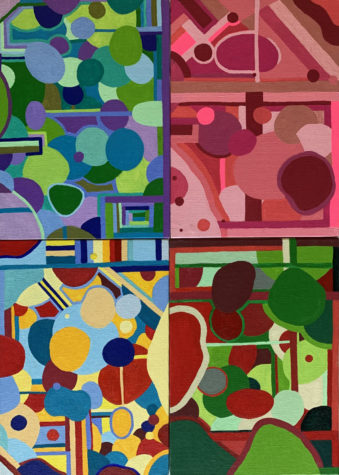 How do you market yourself and your work? 
I have a website! gracewinterart.com (works a lot better on a computer than on mobile), and I post a lot of my art on my instagram stories. I don't have any accounts purely for my artwork, but hopefully in the near future I'll have one up and running. 
What do you believe is the role of an artist in society? 
An artist is someone who's able to share what they're creating with the world, and I think that's both a wonderful and terrifying power to have. I think that the role of someone with this 'power,' is to use it in the best way possible. Sharing work, seeing people smile when they look at it, finding resources for other artists, and supporting those who need it are some of the best feelings possible. I don't know if I'm answering this correctly, but I think there's a million roles an artist can have in society, and each individual artist should fit the role that they think suits them best.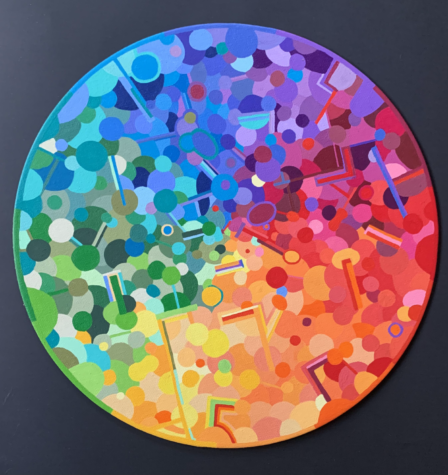 If you could give one piece of advice to another artist trying to navigate their way in the artworld, what would it be?
Do not compare yourself to other artists. This is one of the hardest things that you have to learn as an artist, and I still find myself doing it. Critiques are scary, and seeing work that doesn't look like yours is scary too, but my friend Venus once said that "just like you think you couldn't make the art that other people make, no one else can make the art that you make." Everyone's style is different, and art isn't meant to look exactly the same, and I think that's a very important thing to remember.
What are your handles, or contact information so people can check out your work?
My website is gracewinterart.com! On my website I do have a contact form if anyone would want to reach out directly. My instagram is @grxcewinter, and I have a highlights tab with all of the art that I've posted on that account.