Rise Up: George Floyd Social Justice Scholarship Recipients 2022 in a candid conversation
March 1, 2022
NEIU created the George Floyd Social Justice Scholarship in 2020 as a response to the global call for social justice after a video captured the brutal police murder of George Floyd, an unarmed 46-year-old Black man in Minneapolis, Minnesota. This scholarship honors the memory of George Floyd and invests in student leaders who are dedicated to advancing the collective work of social justice.
This year, more than 2,000 applications for the scholarship were submitted. In the past weeks, NEIU's President Dr. Gloria J. Gibson announced the two winners Tamaya Levy (current graduate student, Linguistics), and Javonti Mordican (current undergraduate student, Communication, Media and Theatre), who have been selected to receive a $5,000 grant. As part of the Black History Month celebrations, Levy and Mordican took part in an informal gathering  "Rise Up: A Candid Conversation" moderated by Dr. Sharon Bethea at the Alumni Hall.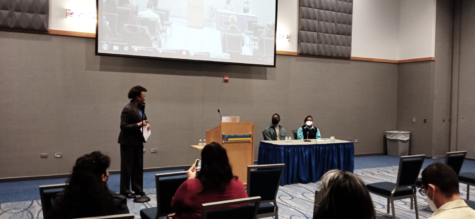 The conversation began with some introductory words from President Gloria J. Gibson that congratulated Levy and Mordican and at the same time called attention to "The number of applications that represents the numerous NEIU students who are actively engaged in various types of social justice work." In a year, the number of applications has quadrupled, from 50 to 200 due also to the remarkable efforts of the scholarship committee.
Levy's social justice work is focused on the academic research on racial linguistics in two different branches: education and deconstructing stereotypes. "I took a History of American Education Policy Class, and it changed the trajectory of my academic career because I saw parallels between 19th century education and now. Specifically in cultural assimilation and disregard for cultural diversity. We should accept the backgrounds, identities, and cultures of students, they do not have to disregard what they are to be successful in society. On the other hand, I work on speech perception and stereotypes of black women, especially the stereotype of the angry black woman and how it is persistent and pervasive in the media." explained Levy.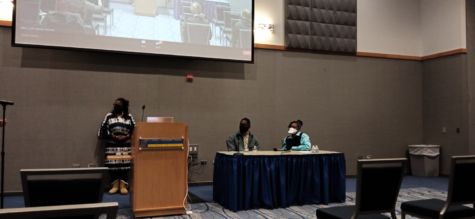 Mordican, for his part, concentrates his efforts on developing a leadership role based on community and relationships building, as well as representation of black students. He is a peer mentor, works as a resident assistant at The Nest, and serves as the Student Trustee. All of these roles allow him to be in touch with the necessities and different realities of black students advocating for them. But not with the leadership style of the activist in the forefront. "My social justice work didn't necessarily lie in the form of protests, or being a part of black movement organizations around Chicago, but because that's how social justice is defined, other kinds of social justice work like community work and activities in other spaces aren't really noticed as much." pointed out Mordican, that through his work wants "Black students to know that their experience is validated, and feel inspired to develop leadership roles too."
Mordican and Levy are both first-generation students so they also shared some of their experiences and difficulties navigating the process of getting into college and achieving academic success. Both agreed that in that journey, especially for African-Americans and first-generation students, it is vital to have the support and advice of a mentor or tutor. "I probably wouldn't be here, right now, if it wasn't for the relationships that I had with people like Dr. Thea. People like Maria Luna Duarte. I feel like what is needed to succeed here is relationship building, to understand that a lot of first-generation students don't get the same support at home, we rely on the resources on campus to get us through." said Mordican. 
Also further in the conversation, some important topics for NEIU like retention rates were addressed. "I believe that a lot of black students from what I hear, and what I've been told, is that that message and communication often makes them feel alienated, in a way where it's like, well, this is Hispanic Serving Institution. So they ask themselves where's my space, where's the area where I could get support. Black students need to understand that they are recognized when they ask for certain resources and I think there should be intentional efforts done to bring them forth." commented Mordican. 
Receiving this scholarship is a meaningful experience for Levy and Mordicani, not only for the substantial amount but for what it represents. For Mordicani "that NEIU decided to put this scholarship the name of George Floyd honors his life, death, and the sacrifice that he made. It creates awareness of the consequences of anti-blackness, police brutality, and racism. Additionally, sometimes, it's easy to take yourself out of the equation when you're seeing it happen to another person. But I had this moment where I realized that being an African American man that could have been me, a friend of mine, a dad, my brother….anyone who looks like me." 
"There's this blatant disregard for black lives that was fully visible with the murder of George Floyd, and especially during the Trump era. It was just important to understand what we're doing and what needs to change. Today receiving this scholarship that honors George Floyd is just reaffirming, confirms that I'm not alone. And I think that's really important about the work that we do, that is more collective action." declared Levy.