"Violeta" Review
February 4, 2022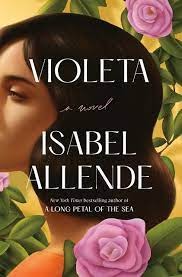 As the saying goes, history tends to repeat itself. Isabel Allende artfully tells the tale of Violeta del Valle and the life she lived during the time of the Spanish Flu. Reading this novel was truly a recounting of what we are living through now – almost, that is. The common becomes extraordinary: travel, finding food, health-care, mask-wearing, mandates, and general living was seen as hard to do.
The reader traverses through times of a world war, the birth of a child, the traditions of Hispanic families rich in traditions, the failing of a stock market, and of course the pandemic that would claim over one-third of the world's population.  The art of the written word is lost.  Taking time to write a love letter or any letter at all is also a dying format.  An all-encompassing goodbye letter from a grandmother to a grandson captivates the reader. Violeta tells her century in the making life story, a story that begins during one worldwide pandemic and is coming to an end during another.  Violeta gives us a front-roll seat to her life.  
Within the pages of "Violeta," one finds the pages dripping with the traditions that existed within her life. Violeta's father is paid tribute to through the author's words that are given life with the flowing words of Violeta. Her father was a man of vision. who ensured the influenza was kept away from his home. Larger than life, the father contributes to this tale via traditions and forcefulness. She fills the pages with power and weakness.  
The characters such as Ms. Taylor leap from the pages. The taming of Violeta was an artful task taken on by Ms. Taylor and one she achieved quickly.  Violeta, a once overbearing child spoiled rotten by her botting aunts, went through a metamorphosis giving way to a well-bred young lady. Ms. Taylor became a part of this foreign family and was valuable to achieving a sense of humanity within the pages of this novel. Ms. Taylor is also able to challenge a young man's life by teaching him the value of living a life of value. Ms. Taylor drew out of this young man a love forbidden because of differences in heritage. Friendship, love, intimacy, attention, sensuality, and innocence fill this story. Hurt than happiness. Fear and love. Transitions and taboos. Life and death. 
This book is full of flowery imagery that somehow is still able to show the gruffness and reality of life. Living during these times is hard and challenging, but full of traditions, historical events, and is told in the voice of someone who is able to capture and hold the reader's attention until the last word is read. It seems that many other topics are also covered in this tale. homophobia, thrifting, education, women's suffrage, and urbanization are but a few. It is an amazing weaving of life into the words that flow on these well-written pages. Find yourself lost within the chapters of this novel and find yourself seeing the similarities between then and now. "Violeta" is well written – a tale rich and consuming of one's imagination. Get it. Read it. Cherish it. This tale will captivate you from start to finish as it's part history lesson, part romance story, full of passion, regret, and the plight of so many different types of people. I highly recommend "Violeta".