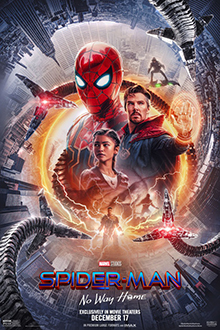 "Spiderman: No Way Home" Review
February 4, 2022
"Spiderman: No Way Home," the latest film in the Marvel Cinematic Universe, appeared on the silver screen in late December 2021 and is still a highly popular movie one month on. For those that have not seen the movie yet, this is a warning that there will be spoilers. 
As seen in the final moments from "Spiderman: Far From Home," Mysterio exposed Peter Parker as being Spiderman to the world. Throughout the first half of the film, this causes several stressful situations in which Peter, MJ and Ned have to deal with the fallout of Peter's home, school and life being public knowledge. 
All of this leads to Peter going to Dr. Strange in order to find some way of resolving his situation. Which he does – in the form of creating a spell that would erase the memory of Peter Parker being Spiderman. A few adjustments later by Peter causes the spell to be unsuccessful in its intent, but it manages to be powerful enough to break down the walls of the universe and draw in everyone who knows Peter Parker as Spiderman. 
This film was a huge crossover of all those who have appeared in past Spiderman films, spanning 20 years and three different film franchises. Not only that, a large part of the film centers on several of the past major villains from the prior film franchises, with the main focus of turning them to the side of good.
The film allows time for most of the villains to have their moment before and after they have been cured. Of note is the fact that Norman Osborn, unlike the last time he appeared in "Spiderman" (2002), is just a man who is frightened by the Green Goblin entity – a terrifying force that brings out the worst in our Spiderman. 
The film also gives considerable character focus to those who have previously played Spiderman. In the case of Andrew Garfield's Spiderman, there is a sense of closure from his two-film series, when it comes to the death of Gwen Stacy. With Tobey Maguire's Spiderman, while he does not have that much of an emotional arc throughout the film, he does have a sense of maturity that he had not reached when his three-film series ended. 
As for this film's Spiderman, as played by Tom Holland, what this film ends up being is the start of Spiderman, rather than the end of one. Throughout the past three films, we have seen our version of Spiderman grow into the role of being a hero; from the first film where he had to navigate being a student in high school and his role being Spiderman, the second film where he grew more confidence in handling responsibilities and this film where he truly grows up and becomes an adult on his own, taking ownership of his actions. Over the course of this film, we can see how much he leans on his support system, his family, which is eventually torn apart by the end of the film, as he wanted an easy fix to his problems and was unwilling at that time to do the hard work himself. Now, he must face the consequences as a lonely friendly neighborhood Spiderman.  
"Spiderman: No Way Home" is still in theaters, and will eventually be released on DVD, Blu Ray and other streaming services.