Feature: Jennifer's Thrill for Vintage Frills
February 4, 2022
Lifelong Chicagoan and millennial, Jennifer Kelly, owns Vintage Frills, a resale boutique located on 2846 N. Milwaukee Avenue.
Kelly soft launched her boutique on June 1, 2021 and has since been interviewed for media outlets including Block Club Chicago and WTTW for offering consumers affordable, sustainable fashion and home items. 
When approaching Vintage Frills, customers will notice a rack of coats outside dating from the 1980s to 1990s and signs labeled 'Black Lives Matter' and 'Stop Asian Hate.' Inside are jewelry items by The Vintage Royalty, furniture pieces, 80s music – think Tears for Fears' "Everybody Wants to Rule the World" – and limitless décor.
There are four miniature rooms, housing his and hers vintage clothing, accessories and antiques dating from the 1950s to the Y2K era. Each space, themed red, yellow, blue or dark green, is not strictly dedicated to a decade of fashion, but Kelly labels each item based on personal knowledge, as well as fashion history and design courses she took during her college years.
Jennifer Kelly runs Vintage Frills full-time, but her love for second-hand fashion began as a teenager. "My family, sisters and I always thrifted, and it became a normal part of my life. It was always exciting, because you never know what you [will] come across and the items have more value than what you end up paying." 
Kelly continued thrifting as a college student at Columbia College Chicago, the Illinois Institute of Art , and the International Academy of Design and Technology. "I bounced around schools a lot, mostly for financial reasons, but I never got a degree," she added. "At times, I had one credit or one class left and thought, 'I'll just work.'"
 Kelly has worked retail since her teen years and eventually began working at luxury stores like Chanel, Neiman Marcus then Saks Fifth Avenue in 2019. Kelly's last retail position was at Tiffany & Co., but her luxury experience involved limited room for growth and trivial customers.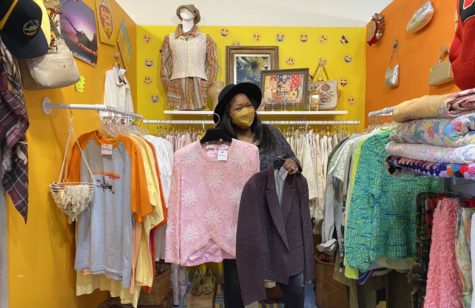 Despite being surrounded by luxurious products, she continued thrifting on Sundays with her sister. When 2020's coronavirus lockdown began, Kelly had an office job at Uber Corporate and considered opening Vintage Frills.
"I was not intending to return to retail," Kelly said. "Most people locked down and I worked on my business plan. Working in luxury can be abusive, [but] my past retail positions helped give me the experience needed to run my own shop."
Behind the scenes, Kelly hunts vintage merchandise for her boutique at weekly estate sales with her husband, James.
"James works a full-time job, but he finds a way to help me," said Kelly. "He also assists with business financing, uses Excel spreadsheets and helps me figure out where I am." The Kellys also have a young son and apart from Vintage Frills, Kelly owns Style Rivals, a business endeavor "for fashion stylists who have difficulty getting into fashion shows," Kelly said. "Starting this endeavor was a way to help people who were like me, a student with fewer resources."
A small business challenge Kelly has navigated is pricing. By attending estate sales, Kelly is providing a service. "Thrifting is a lot of work. Some people will spend hours in a thrift store; you have to find your diamond in the rough." 
For example, Vintage Frill's current best-selling items are handknit vintage sweaters, which can range anywhere from $15-$36. For comparison, she adds, "Today, if you went into a Neiman's looking for a handknit sweater, it could cost anywhere from $300-$400." 
Jennifer Kelly also acknowledges another business obstacle – COVID-19 regulations. She asks that customers wear a facemask and offers curbside pickup via Instagram direct messaging @vintagefrills. 
Currently, Vintage Frills does not have an official website and has been open for less than a year, so Kelly utilizes bootstrapping. "Bootstrapping is when you take every dime you get and feed it back into your business," Kelly explained. "That is my biggest struggle, but it is worth the investment."
Despite the challenges of business ownership, Kelly says her favorite career aspects are being her own boss, flexible scheduling and her customers' openness to second-hand fashion. Kelly explains, "now more than ever, people are not ashamed of thrifting." Stigma surrounding thrifting involves a lower perception of value. 
In a 2020 report, Kimberly Santos of UC-Berkeley said, "Before becoming trendy, walking into thrift stores [was] highly stigmatized and … seen to be for people who could [not] afford new clothes."  
However, online platforms like Instagram and Tik-Tok have recently helped popularize second-hand fashion while highlighting concerns of fast fashion like pollution and questionable workers' rights; fast fashion refers to a quick, cheap manufacturing practice used by retailers like Shein and Forever 21, as examples.
Kelly said, "I would say do more thrifting. If you have to buy new [items], like underwear and plus or petite-sized items that can be difficult to thrift, just educate yourself on where [they are] coming from." 
For context, a 2021 Vox report by Terry Nguyen on fast fashion reveals since the 1990s, "Retailers migrated most of their manufacturing process overseas to countries with lax labor laws, where wages can be low and working overtime (without additional pay) is common." 
While providing alternatives to fast fashion cons,  Kelly hopes to open more Vintage Frills boutiques in the Hyde Park, Lincoln Park and Wicker Park neighborhoods and maintain the ethical entrepreneurship that has become custom in her family. Despite current hardships, she continues pushing through fear.
For aspiring entrepreneurs and students discovering their purpose, Kelly advised, "Be prepared to invest blood, sweat and tears if you have a dream. Do not feel chained down. Get experience and work in the area you want to own. Do what is going to make you happy, one step at a time."