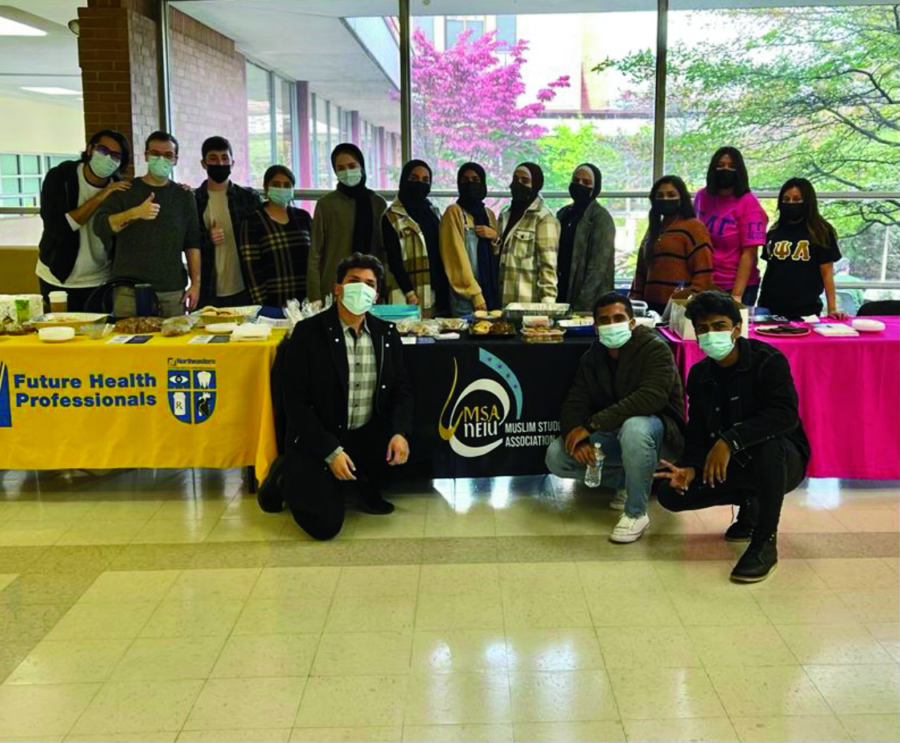 NEIU Clubs Host Bake Sale to Raise Funds for Refugees
November 16, 2021
On Nov. 10, various NEIU student-run clubs and organizations hosted a bake sale to raise proceeds for refugees that have been entering the U.S.. The collaboration for this bake sale consisted of five different clubs and organizations: the Muslim Student Association (MSA), Future Health Professionals (FHP), the Pre-Dental Club, the Sigma Lambda Gamma National Sorority and the Alpha Psi Lambda Rho Chapter. 
The goal of this event, as specified by the many clubs involved, was to provide support for refugees who are in need of basic needs such as food, water and shelter. In order to fulfill this mission, the clubs donated all of the bake sale's proceeds to Heartland Alliance, an organization that serves and provides safety and justice for immigrants, refugees, asylum seekers and victims of trafficking.
"Unfortunately, this type of stuff doesn't get a lot of news coverage," said Usaid Mahmud, senior and President of the MSA. "There are children who not only need this [money] for schooling, but some of these refugees are orphans as well. … So they're coming in and they don't even have the most basic necessities, and governmental funding can only do so much."
Senior and President of FHP, Hanna Baral echoed a similar sentiment as Mahmud, "We think it's especially important right now because the borders have been closed for so long, and they just recently opened. So there's this influx of like, thousands of refugees that are trying to get in. They need our help."
Seeing as how this issue transcends the university and warrants not just nationwide, but worldwide, attention, the clubs involved in the bake sale noted the importance of being able to collaborate in order to support such a pressing subject.
"Usaid [Mahmud] approached me and said 'Hey, I had this idea where I wanted to raise money for Afghan refugees that are currently coming in,'" Baral said. Through our discussion, we decided that we wanted to raise money for all of the refugees that are coming in, so we coordinated this big bake sale."
Although the five clubs involved haven't collaborated before, at least not to such a large, on-campus fundraiser extent, Baral and Mahmud reiterated how clubs from different fields of study and concentration were able to work together. 
On this notion, Mahmud said, "When I thought of this idea, I immediately knew that we should work with FHP and a few other clubs to not only raise some good money, but at the same time, to come together as Northeastern students and do something that we can give back to the community."
In regards to how the clubs involved got into contact with Heartland Alliance, Mahmud noted that this was another one of the benefits of collaborating with different NEIU organizations. 
"When we were doing our early planning, Hanna had mentioned that FHP had worked with Heartland Alliance before, and I loved the idea," Mahmud said. "After doing some research, we met with one of the representatives from Heartland and I fell in love with the idea of donating to this organization."
During the Independent's interview with Mahmud and Baral, NEIU's Vice President of Student Affairs and Dean of Students, Terry Mena, overheard the conversation and commended the two for their efforts. 
"Thank you for your leadership," Mena said. "What you're doing is very, very important. Your drive to help these good, healthy transitions happen for these refugees is incredible,".
Mena also informed the Independent, Mahmud and Baral on NEIU's Afghan Transition Program, which was created to show support for the incoming Afghan refugees. This program will cover the cost of tuition, housing, and other fees for up to 15 continuing and prospective students. More information about the Afghan Transition Program can be found on NEIU's website.
After the bake sale had concluded, the clubs announced that they were able to raise a total of $580 and, as previously stated, all of the proceeds will be donated to Heartland Alliance.