Nuevas Voces Art Festival
October 21, 2021
"Nuevas Voces" brings the theater back to NEIU's Stage Center Theatre
After almost a year and a half immersed in silence and with the curtain drawn, the applause and the magic of the theater have returned to the Northeastern Illinois University (NEIU) stage and they have done so by the hand of Nuevas Voces, with the three winning plays of this edition.
Nuevas Voces is a 10-minute festival and contest founded in 2017 by former NEIU  student and professor Jim Blair, which encourages the entire university to channel their creativity through theater as a form of artistic expression and reflection of the realities faced by NEIU students and their communities.
In this edition the winning works were revealed: "Oh Snap!" by Alex Chicas which came in first, Wyn Thomas with "Scared" in second and Mara Galeno's "The Better Life" coming in third. Honorable mentions were included as well: Brenda Gilmore's "Holiday Plays," Mary Kroeck's "6 Feet" and Zaria McDonald's "The Right Decision." The three winning works were represented on Thursday night, as well as on Friday and Saturday at noon with two passes. On opening day, tickets quickly sold out.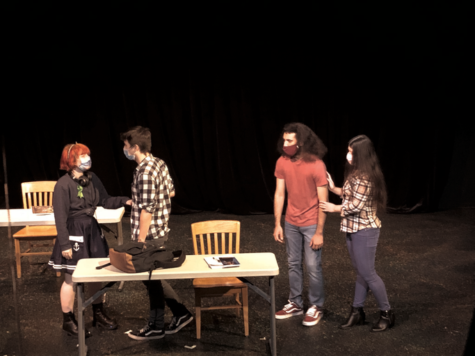 The show began with words from the Director of NEIU Stage Center Theatre, John Bliss, who expressed his joy as he once again stepped on the stage boards after almost a year and a half of remote activities and without the adrenaline of live performances.
After the applause had started, "The Better Life" by Mara Galeno had begun. "The Better Life" is a play that reflects hot issues such as racism, sexist attitudes and the fall of the myth of the American Dream. With a plot reminiscent of the 1967 film "Guess Who's Coming to Dinner," the play tells the story of an interracial couple Victoria (Esperanza Sandoval), a young woman of Puerto Rican origin, who introduces Josh (Javonti Mordican), a young black doctor to her parents who are a conservative Puerto Rican couple that know nothing about Josh's "appearance." Through convincing performances, Esperanza Sandoval and Javonti Mordican convey to the audience the nerves of before the arrival of Esperanza's parents and the tension of those uncomfortable situations that make you turn around in your seat.
Next came "Scared" by Wyn Thomas, which is a play about the effects of violence, especially its impact on children. Elizabeth Sacha plays Morgan, a young woman who is caring for little Cate (Olivia Mulder). The play begins with Cate waking up and spying on Morgan as she watches the news about a school shooting. From there, a dialogue begins in which not only little Cate's fears come to light, but also Morgan's, who doesn't know how to answer Cate's questions and also feels insecure. The two actresses manage to fill the stage with a scene of daily life through a natural dialogue that has the innocence, grace and tenderness of children and reflects the chilling harshness and proximity of violence.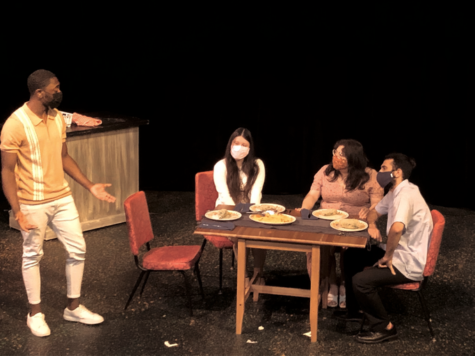 The last work represented and the first place winner of this year's edition was "Ho Snap!" by Alex Chicas, a fresh and fun work that manages to speak in a friendly and casual tone about a subject as serious and deep as mourning. In "Oh Snap!," there are two parallel worlds that only Troy (Luke Steadman) can see. When Troy snaps his fingers, time stops with a fantastic lighting effect that manages to change the atmosphere and transport the viewer. At that moment, Jamie (José Perez) and Shirley (Esperanza Sandoval) appear on stage and try to give Troy some advice on how to talk to Cece (Ariel Stump), a student who smiles at him from the back of the class. The highly remarkable originality of the script and the great performance of Luke Steadman made for an incredible work. In only ten minutes Steadman goes through an authentic emotional journey from sadness, to frustration and anger all the way to hope and the euphoria of falling in love.