Engine #89 Demonstrates to Students of the College of Business and Technology
Students were able to participate in a real-world demonstration after spending months behind a screen.
September 22, 2021
For the sixth time in seven years, Engine Company #89 came to the NEIU campus to demonstrate to Pat Delaney's Operations Management class the functionality of a fire engine. 
On Wednesday Sept. 1, Capt. Fred Exter and his crew parked the engine in the northeast parking lot and explained to the students a host of topics ranging from hydrant colors and codes to the average psi (pounds per square inch) of water in the hydrant system.
"The whole idea behind [the demonstration,] is to …  look at the water usage, the water department, like the whole cycle of how water comes into the city, which touches everybody," said Delaney.
Delaney, the first geology student to graduate from NEIU, has split his time between academia and industry. He has worked for universities sprinkled throughout the Chicagoland area and spent some time working for different industrial chemical companies before returning to his alma mater seven years ago.
He said one of the reasons he includes demonstrations like the engine company coming to campus is to get the college mindset back for face to face training and education.
Prior to Covid, Delaney said he would teach 100 students a semester in Operations Management. Now, he teaches 20. 
The pandemic still persists, so it is understandable that some students would rather continue to take online classes as opposed to taking them on campus, but Delaney said he believes that the benefits of face to face instruction are more beneficial to the student.
"Student interfaces, and frequently asked questions in a classroom or even after class are much broader in scope," said Delaney. "And much more understandable, and much better in terms of giving the student the true picture or the true story about his or her question."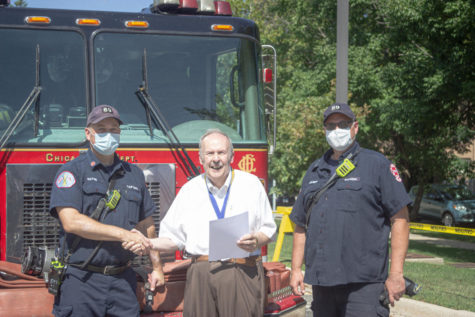 According to the Chicago Water Department, Chicago pumps over 1 billion gallons of water out of Lake Michigan every day. That water supplies everything in the city from residences and businesses to the hydrant system that is buried underground.
If you were to open one of the four-colored hydrants that are placed throughout the city, the same water as that from your kitchen faucet would stream out.
Knowing a piece of information like this may not be pertinent to the layperson, but it is just the type of information that one will obtain in the Operations Management course.
Whether you are a marketing major, a finance major or a general management major, Operations Management is a mandatory course for everybody graduating from the College of Business and Technology. Delaney said the goal of the course is to provide the students with an understanding of engineering, of operations of the factory and the process of making a product.
The operations, in this case, were that of the fire engine.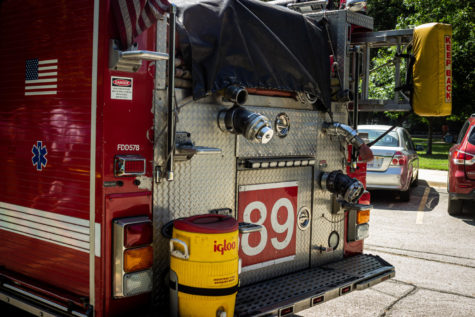 Capt. Exter said that the engine is the first arm of defense to arrive on the scene. When it arrives it has 500 gallons of water in its reserve and will be released from the deck gun that adorns the top of the engine. 
"It's a helpful tool if you pull up on a house and there's nothing but fire," said Capt. Exter. "It will knock it down and then you can go out with a traditional hose."
Each engine has multiple sections of hoses of various diameters and lengths, Capt. Exter said. Each diameter has a different purpose and every length of hose has a number painted on it for easier reference, so that when an engine arrives at a fire, the crew doesn't have to spend valuable time looking for the correct length or diameter of hose.
Capt. Exter showed the class the backside of the engine where there were two beds that held 700 feet of 2 ½-inch hose. This type of hose is designed to connect to a standpipe — a 4-inch pipe that runs from the bottom of a building to the top floor.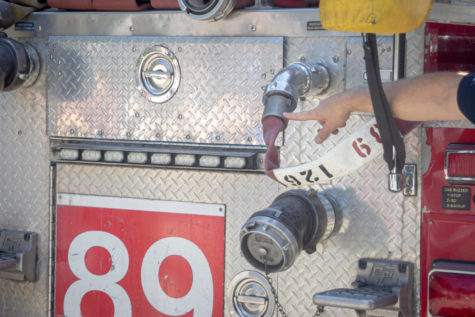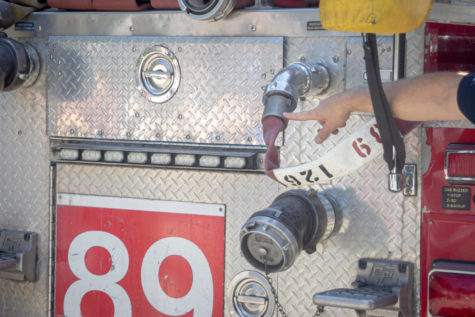 Delaney assigned the class a handout with a series of questions that they were supposed to answer from Engine #89's demonstration. One of the questions was what the psi reduction is for every 100 feet of hose on level ground. Even though many of them probably won't go on to be firefighters, these are the types of things that Delaney hopes the class will think of when they get into their respective fields.
"That's kind of the focus of what's expected out of the course," said Delaney. "It is that they become smarter about seeing red flags or problem areas, or if there is a problem, kind of understanding where they really should be identifying their efforts."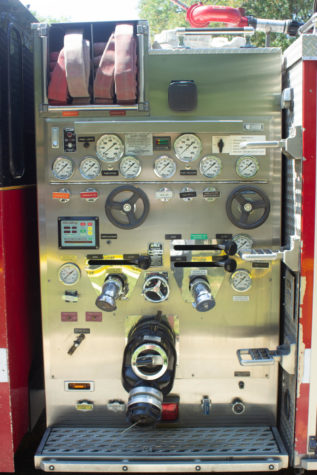 This demonstration won't be the only one that students will see throughout the course of the semester. Delaney said that he would like to do one or two more. 
He requires every student to write a mid-term equivalent paper worth 75 points and the subject of which is going to a product-based company and understanding how that company runs its operations.
Some of his past students have written papers on the Port of Milwaukee, ALDI Foods, the US Air Force Air Refueling Base and Disney World, to name only a few.
The pandemic has been hard for everyone, but especially for students. Fortunately, services like Zoom allowed the university to stay open, albeit in a virtual sense, and made it possible to move students to the completion of their degrees.
"Instructors like myself were happy to have Zoom to keep our courses active and to maintain our seniority as instructors and show a continuous line of teaching for the past years," said Delaney.
Now that the campus has reopened, Delaney said that he hopes more students will attend in-person classes. Demonstrations like that of Engine #89 can only happen in a face to face setting. Not only do they allow students to put theory into practice, but they also provide an arena for students to ask questions and have conversations with members of the industry that they wish to become a part of.
If a student feels more comfortable taking classes online, then they have every right to do so. But Delaney said that since he returned to NEIU seven years ago, he makes sure that his students know they are appreciated in his classroom. 
"I would be at the back door of the room, or the front door. And I would shake hands with every student that left and say, "I'm glad you're here. I enjoyed having you here. I'll see you next week.""