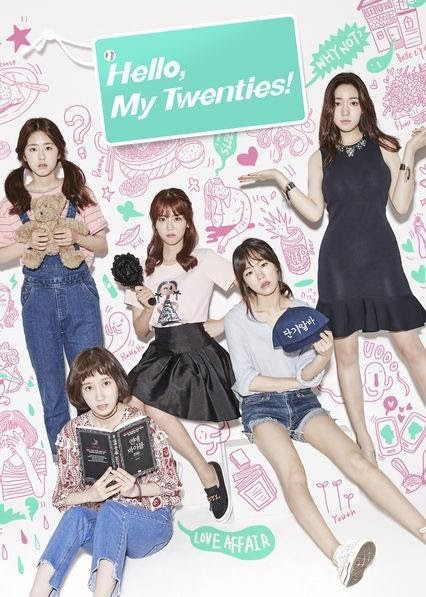 "Hello, My Twenties!" Review
September 10, 2021
"Hello, My Twenties!" is an interesting college-age drama that is set in Seoul, South Korea. On the surface, it appears to be a slice of life hour-long series set in an apartment for college students — and one older adult with an interesting job. There are a few things that help it stand out. 
We are introduced to the lives of our main characters through Eun-jae,  who had just moved into the shared apartment. "Hello" promises something more by the end of the first episode, which sets up almost all of the female residents' lives and the local college that most of the main characters attend. One of the main characters who was introduced near the end of said episode said something that is intertwined with three of the main characters' arc for the first season.
Given that there are five residents within the shared apartment, this is an ensemble show meaning that everyone gets an episode that focuses just on them. Over the course of the show almost all of the residents of the Belle Epoque have at least one love interest. Despite this, romance is not the main focus of "Hello." More often than not, the relationships between the residents take focus.
While the focus of the show is centered around college-aged students, there are age appropriate storylines for people who are young adults. For anyone who has seen "Riverdale" or other high-school oriented shows that have improbable circumstances that happen to 16-year-olds, "Hello" is a refreshing change of pace.
For some reason, it uses stock footage in every episode. Sometimes that stock footage relates to the episodes and sometimes it is just there. It is almost as if the editor just didn't care. 
It's somewhat Americanized for a show set in South Korea. Aside from the expected English words on t-shirts, there are signs in English, which are not consistent over the course of the show. There are also random words said in English in conversation. 
While it is a fun and lighthearted show at times, it is considered a Korean drama at the end of the day. The rating for this show is "MA" for mature, it includes some scenes that may trigger some viewers.
There are two sexual assaults — one in each season. It isn't shown in graphic detail, but it does affect the character involved, as well as the other characters around them. Additionally, there is an abusive relationship depicted in the show. At least more than one character almost dies at some point throughout the show, and at least two people die in tragic ways. 
If you are interested in finding that one rare college-age drama that isn't focused entirely on living on campus, check out this series. If you are also interested in dipping your toes in Korean dramas, this would be a good fit.  
The full two first seasons of "Hello, my Twenties!"  can be found on Netflix, with each having 12 and 14 episodes, respectively.