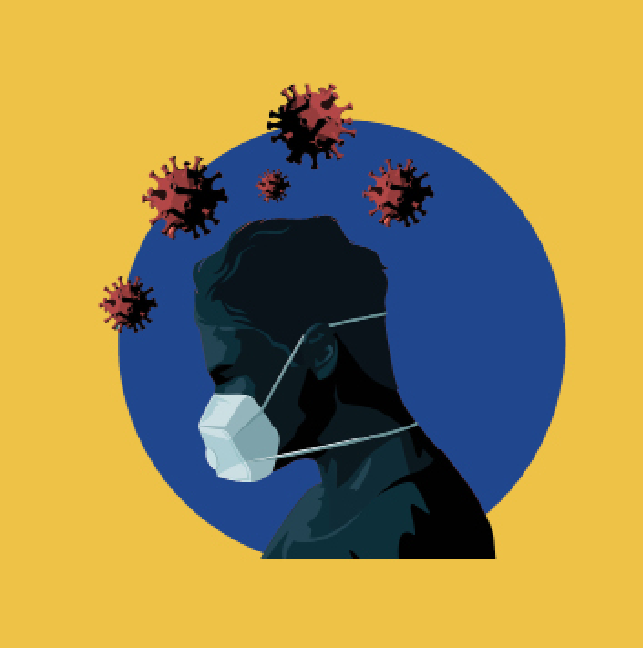 An Overly Cautious Return
August 26, 2021
The NEIU campus is reopening for in-person learning with a host of both useful and theatrical precautions against further transmission of the delta variant of Sars-CoV-2. The administration's covid task force created a "Return to Campus" web page for incoming students and has been providing regular updates via email listing the requirements for students to be able to return to campus. 
One excellent precaution against the spread of infection is the vaccines, therefore the administration requires that all on-campus students and faculty must show proof of vaccination, and if they cannot, they must submit to weekly covid testing. Add to this the updated HVAC system and filters—in compliance with EPA and CDC guidelines—and there are multiple steps being taken to reduce the likelihood of covid transmission.
About staying home if sick, all that is mentioned on the "Return to Campus" page is, "please stay home if you are experiencing upper respiratory symptoms." However, upper respiratory symptoms are not the only symptoms associated with Sars-CoV-2; they are not even the telltale signs of contracting covid, whereas the loss of taste and smell is. Meanwhile, the common cold—the common cold is a coronavirus—can also cause respiratory symptoms. 
In a theatrical bit of safetyism, the administration also mandates all faculty and students, regardless of vaccination status, wear a mask indoors at all times, excepting "when alone in a private office, personal residence hall room or when dining in a designated eating area." With this mask mandate, the university unfortunately recommends people not wear the highly effective N95 masks, saying they are "intended for healthcare workers," citing the CDC on these being critical supplies.
How does the university intend to enforce such a mask mandate? Will they enforce a standardization of masking, i.e masks that cover the mouth and nose snuggly? Or will any old face covering do? On the "Return to Campus" web page they specifically say not to get the N95 mask—the one mask most likely to prevent viral spread—a mask with a breathing valve or a mask that is too difficult to breathe through. Leaving all other masking options open as possibilities for students and staff, from cloth and surgical masks to bandanas, this mandate is security theater that does almost nothing to prevent spread but merely gives the appearance of safety. 
It is also concerning that nowhere is there any mention of contact tracing. What practices will there be for identifying and contacting those who may have been exposed to someone who tested positive? A practice that would likely do more to prevent and contain transmission is not at all visited, yet the school mandates wearing the kinds of masks that are poor in preventing the virus from aerosolizing.
Overly cautious safetyism, instead of effective action, will do little more than provide greater doubt to the effectiveness of the available vaccines—and they are very effective at preventing both overall infection and severe disease.
The administration should not require faculty and students to wear masks on campus unless they are experiencing upper respiratory symptoms and still wish to attend class or use campus facilities. And if one does want to come to campus because they think it might only be a cold, N95 masks should be available for them because, as mentioned before, they are the most effective at preventing respiratory viral spread. Combine all this above with the required proof of vaccination—if not vaccinated then tested weekly—and implement a contact tracing program for those who may be sick or who later test positive, and we will not need to continue this charade of face covering.