Black Lives Matter Co-founder Patrisse-Khan Cullors Called For Investigation
April 20, 2021
Patrisse Khan-Cullors, cofounder of the Black Lives Matter movement, has come under fire for buying a $1.4 million home in a predominantly white neighborhood in California. Cullors is being publicly shamed on various social media outlets since Dirt.com revealed the activist's latest real estate purchase. 
Currently, Cullors owns a total of 4 homes valued at over $3.2 million dollars. She has also been criticized for her lavish home in Atlanta which features a private airplane hangar with a studio apartment above it.  
According to the New York Post, Cullors also eyed property in the Bahamas at an ultra-exclusive resort where both Justin Timberlake and Tiger Woods have homes.
After Cullors bought her fourth house in a predominantly white community through a corporate entity under her control, she was criticized on Twitter for allegedly being a "hypocrite." 
Cullors' critics accuse her of turning her back on the people she was supposed to be fighting for. 
In an interview on "Tucker Carlson Tonight", Candice Owens, an American political commentator, weighed in on this controversial topic, saying, "According to Black Lives Matter, they've earned over $90 million dollars. How much over, we will never know."
Owens added, "$21 million dollars are committed to go to building the Black Movement. I don't even know what that means. Apparently, the Black Movement was Patrisse, a black woman moving herself into other communities where people she claims are oppressing Black Americans. She is fearful of white people, if white people are so bad then why doesn't she want to live amongst black people? Why is she choosing to move herself into an all-white neighborhood? These are important questions."
On April 2, former ESPN columnist and Fox Sports commentator Jason Whitlock was suspended from Twitter for calling out the Black Lives Matter co-founder.
"She is with her people" Whitlock tweeted. "There's so much hypocrisy here."
"They want the state to own all the property, but she's out buying property across the country. She is acting like a capitalist." Whitlock said in an interview with Curtis Scoon on the YouTube channel ScoonTV.
Whitlock added, "BLM founders like Cullors were making millions of dollars off the backs of these dead black men who they wouldn't spit on if they were on fire and alive."
A spokesperson for Twitter said Whitlock's tweet was deleted for violating Twitter's rules on private information. Later, Twitter apologized in a letter to Whitlock, "without directly addressing his name."
This was not the first time that Twitter has had to issue apologies for deleted tweets or suspended accounts. In October 2020, founder and CEO of Twitter Jack Dorsey was also forced to apologize for blocking a news story featuring allegations about Hunter Biden's business dealings.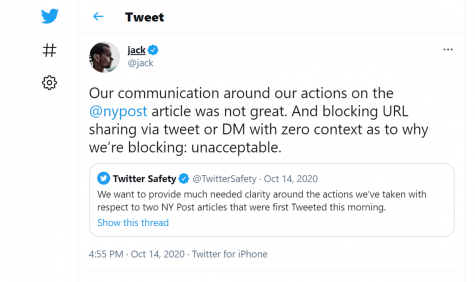 Whitlock's account was not the only one that was suspended.
Scoon Tv was temporarily suspended for sharing an article about Cullors buying her latest house.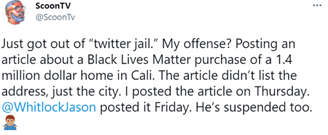 Others have disagreed and quickly stood up for Cullors, stating that the cofounder of BLMGF bought the house with the money she had made from a movie deal she signed with Warner Brothers.
On Dec. 10,2020, The Economist published an article in which it was announced that BLMGNF raised $10.6 billion dollars in donations. 
The article read, 
"Donations to BLM-related causes since May were $10.6bn. Exact sums received will be known when the central body overseeing BLM spending publishes its finances (confusingly it relies on another entity, a "fiscal sponsor", the Tides Foundation, to oversee its books). A leading figure talks of "incredible financial growth and capacity", and a huge surge in "the number of folks who want to throw down with us", meaning long-term partners."
In 2017, Cullors incorporated the non-profit BLMGF, at the same time, she also set up the similarly named Black Lives Matter Global Network Foundation (BLMGNF) – for-profit which is not required to disclose how much it spends, makes, or pays its executives.
According to POLITIFACT, BLMGNF is not a recognized IRS charity and raises funds through fiscal sponsors.
Additionally, IRS records show that BLM charities in New York, Vermont, Florida, and South Carolina and Georgia have had their nonprofit status revoked by the IRS for failing to file annual returns.
According to Fox 5 Atlanta, the FBI charged Sir Maejor Page, whose real name is Tyree Conyers-Page, with one count of wire fraud and two counts of money laundering.
Page founded Black Lives Matter of Greater Atlanta in 2016 and took in more than $466,000 in donations in June, July, and August of 2020.
'He's accused of fraudulently using his Black Lives Matter of Greater Atlanta organization by spending $200,000 of the non-profit's funds for his personal use" stated Fox 5 Atlanta.
According to the FBI agent Matthew Desorbo Page pledged to use those donations "for George Floyd" but instead used the money to make purchases related to food, dining, entertainment, clothing, furniture, a home security system, tailored suits and accessories.
According to the bureau, Page also used $112,000 of the donated money to purchase a house for himself in Toledo, Ohio. 
Page's BLM front group lost its ability to solicit donations in 2019 after the IRS put a stop on their tax-exempt status following the group's failure to submit the required 990 tax return to the Internal Revenue Service, according to the Fox News report.
Hawk Nesome, the head of Black Lives Matter of Greater New York, is currently requesting an immediate investigation into Cullors' finances and how much money BLMGNF contributes to charity.
"We need black firms and black accountants to go in there and find out where the money is going." Nesome said. He has also noted that his group does not receive any financial support from BLMGNF.
The International Black Freedom Alliance (IBFA) and Mike Brown, Sr. – the father of Michael Brown, a black teenager who was fatally shot in Ferguson, Missouri in 2014 – posted a video sending a direct message to BLMGNF.
 "On behalf of many activists in the St. Louis area, I am joined by Mike Brown, Sr., the father of Mike Brown, Jr. Today, we hold Black Lives Matter accountable," said IBFA organizer Tony Russell.  
According to IBFA, Brown's foundation has only received $500 from BLMGN since the 2014 incident.
Currently, Brown is demanding $20 million dollars from BLMGN for the community that helped put the issue of racist police violence firmly into the public's conscience.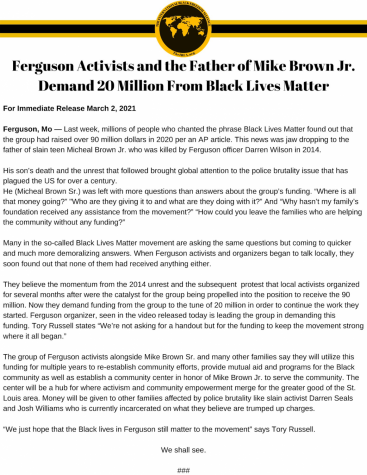 Samaria Rice, the mother of Tamir Rice who was shot in 2014, and Lisa Simpson, the mother of Richard Risher, who was shot in 2016 issued a joint letter criticizing Cullors and other activists for promising financial support they too never received.
In the letter, the mothers demanded the activists stop taking "the spotlight of our fights" and asked that activists not do interviews, make t-shirts, hold press conferences or create events using the names of the loved ones they lost.
"Do not use our loved ones to market any events. Stop clout chasing and ambulance chasing these families," the letter added.
"We don't want or need y'all parading in the streets accumulating donations, platforms, movie deals, etc. off the death of our loved ones, while the families and communities are left clueless and broken. Don't say our loved ones' names period! That's our truth!" the letter read.
Simpson is also demanding funds from BLMGN as she is currently battling homelessness with her children and living in a motel. She said she was never offered any assistance from BLMGN.
On March 16, Rice shared her thoughts with Cleveland.com News "You're not going to continue to benefit from the blood of these families. If you're fighting for justice for the families, make sure you've got the families on the front line. Don't make a career out of this, when your loved ones aren't the ones who were killed." 
On April 13, 2021 Rice wrote a Facebook post noting she was back "after being in jail for 30 days"- a reference to her account being suspended for trying to inform the public about the misinformation that BLMGN spreads.
In December 2020, ten local chapters known as #BLM10, including BLM Chicago, announced they were severing ties with BLMGNF. These chapters wrote an open letter in which they stated that Patrisse Cullors became Executive Director of BLM Global Network Foundation against the will of most chapters and without their knowledge and that its sister organization, BLM Grassroots, does not have the support of – was created without consultation with most chapters. 
The letter also stated that since the launch of BLM in 2013, there was no financial help despite millions of dollars that were being raised. These chapters were upset and did not know where all that money was going. The full statement can be viewed here: Statement From The Frontlines of BLM
Not long after the #BLM10 open letter was issued, the group formally known as Black Lives Matter – Inland Empire (BLM IE) California, also announced their separation from BLMGNF
in harsh words. 
The statement began, "The use of the BLM name, which we believed was intended to unify our struggle, has been commodified and debased. "It goes on to add that "the issue of greatest concern for us is the relationship between the Global Network and the Democratic Party. 
This is hypocritical at best, as the Democratic Party has historically rejected and ignored BLM's demands and has made it clear that they are pro-police, pro-prison, and committed to capitalism."
Fox News reporter Eli Steele visited Pastor Corey Brooks, who has established Project H.O.O.D., a non-profit community center in the heart of the Woodlawn neighborhood in Chicago. Brooks said his community greatly suffered after the death of George Floyd in 2020. Pharmacies and grocery stores were destroyed, and many residents were left without basic necessities. 
Brooks has served in his community for over two decades working to end violence, teaching local people how to be better. 
When Brooks was asked if his community center had received any of the $90 million that BLMGNF had raised since the death of George Floyd, his answer was no. 
We reached out to our local BLM Chicago chapter for comment. The BLM Chicago chapter promised to get back to us.
There is no evidence indicating Cullors used money from BLMGNF to buy her multi-million-dollar homes. She expressed her concerns through her Instagram posts saying, 
"This movement began as and will always remain a love letter to Black people. Three words: Black Lives Matter, serve as a reminder to Black people that we are human and deserve to live vibrant and full lives."
Continuing in the next post,
"I've worked multiple jobs across many organizations my entire life. I'm also a published author, writer, producer, professor, public speaker, and performance artist. I love my work in all of these areas and I work hard to provide for my family."
"This effort to discredit and harass me and my family is not new nor is acceptable. It has taken away from where the focus should be — ending white supremacy" she added.
 BLMGNF issued an online statement on Cullors's behalf, saying she works for the organization in a "volunteer capacity and does not receive a salary or benefits." The statement further read that the criticisms she's received are "generated by right-wing forces."