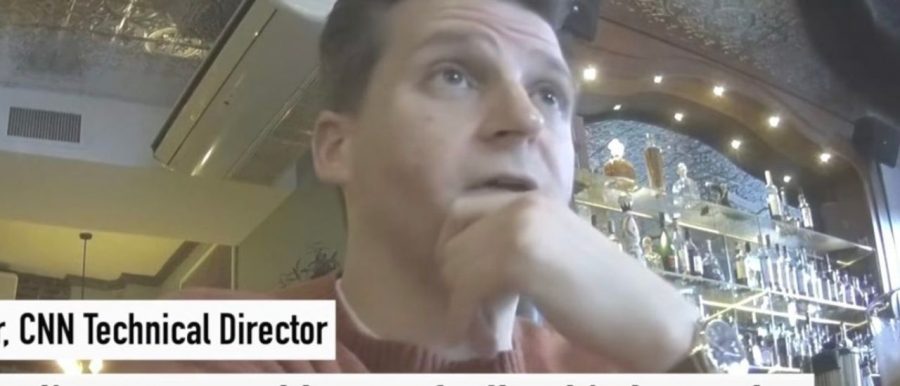 "FEAR SELLS" SAYS CNN DIRECTOR CHARLIE CHESTER
April 20, 2021
In Apr. 2021, Project Veritas released a 3 part video exposing technical director Charlie Chester admitting his network CNN was "creating stories" to get previous President Donald Trump out of the office. 
Project Veritas, a non-profit legally recognized journalism enterprise, was created by James O'Keefe in 2011.
According to Veritas website, the enterprise "investigates, exposes corruption, dishonesty, self-dealing, waste, fraud, and other misconduct in both public and private institutions to achieve a more ethical and transparent society".
Chester continued spilling CNN secrets, saying "I am a hundred percent going to say this and I a hundred percent believe it that if it wasn't for CNN, I don't know that Trump would have gotten voted out".
According to Project Veritas, these videos were secretly recorded while Chester was on his Tinder (dating app) dates with a female Veritas journalist working undercover.
In the video, Chester states that the "Covid-19 story should be coming to an end", and that CNN is prepared to focus on "selling" the climate change story and promote "fear". 
Chester also shared, "I was trying to do some research on the Asian hate, like the people who are getting attacked and whatnot. A bunch of black men have been attacking Asians. I'm like 'What are you doing? Like, we [CNN] are trying to help BLM."
When an undercover journalist asked Chester to define propaganda, Chester said,
"Like, you can shape an entire people's perception about anything based on how you do it. Right? Just by forcing a story, to help like your platform, you know?"
Chester opened up further, "Pandemic-like story that we'll beat to death, but that one's got longevity. You know what I mean? Like there's a definitive ending to the pandemic. It'll taper off to a point that it's not a problem anymore. Climate change can take years, so they'll [CNN] probably be able to milk that quite a bit."
Chester continued, "Be prepared, it's coming. Climate change is going to be the next COVID thing for CNN. We are going to hone in on it".
O'Keefe's personal Twitter account was permanently suspended after CNN video tapes were exposed to the public. 
Just months before, Twitter had also suspended accounts for Project Veritas and Project Veritas Action.
A Twitter spokesperson confirmed O'Keefe has been permanently banned "for violating the Twitter Rules on platform manipulation and spam."
O'Keefe is planning to sue and file a complaint against Twitter immediately. 
O'Keefe stated, "I am suing Twitter for defamation because they said I, James O'Keefe, 'operated fake accounts.' This is false, this is defamatory, and they will pay. Section 230 may have protected them before, but it will not protect them from me. The complaint will be filed Monday."
 On Apr. 16, 2021, Wikipedia immediately edited their page on Project Veritas which now reads,  
"The group produces deceptively edited videos of its undercover operations which use secret recordings to allege misconduct and corruption in mainstream media organizations and progressive groups. Project Veritas uses entrapment to generate bad publicity for its targets and has propagated disinformation and conspiracy theories in its videos and operations". 
In March 2021, Project Veritas won an early round in a defamation lawsuit against New York Times. 
In September 2020, Project Veritas released a video exposing illegal voting practices within the Somali-American community in Rep. Ilhan Omar's congressional district in Minneapolis, Minnesota. Both Reporters Maggie Astor and Tiffany Hsu wrote in the New York Times that the video was "deceptive," "false," and "with no verifiable evidence."
Project Veritas filed a defamation lawsuit against Astor, Hsu and the New York Times.
The New York Times attempted to get the defamation lawsuit against it dismissed but failed.
The judge ruled the lawsuit can go forward, finding that Project Veritas showed sufficient evidence that The New York Times may have been motivated by "actual malice" and acted with "reckless disregard" when it ran several articles against the investigative journalism enterprise.
According to Project Veritas, "to date, over 300 "journalists" just couldn't stick to the facts in their reporting and were forced to print the glorious retractions."
Videos can be found on Project Veritas website with transcript: 
Part 1 https://www.projectveritas.com/news/part-1-cnn-director-admits-network-engaged-in-propaganda-to-remove-trump/
Part 2
https://www.projectveritas.com/news/part-2-cnn-director-charlie-chester-reveals-how-network-practices/
Part 3 
https://www.projectveritas.com/news/part-3-cnn-director-charlie-chester-says-network-is-trying-to-help-the-black/
Videos Can also be found on Youtube: https://www.youtube.com/watch?v=Dv8Zy-JwXr4&t=306s
Illegal voting practices undercover video 
https://www.projectveritas.com/video/omar-connected-harvester-seen-exchanging-usd200-for-general-election-ballot/