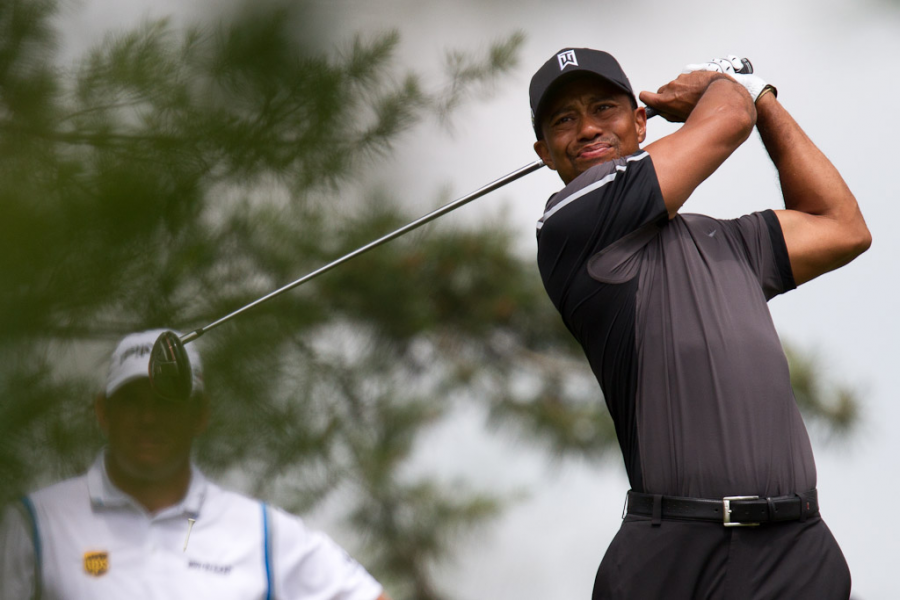 The Importance of Tiger Woods to the Sport of Golf
March 9, 2021
For a sport that has always been associated with a smaller following, golf has undeniably never been at the center of attention, foregrounding more traditional, contact sports like football and basketball in the process. Because of its slower pacing and lack of racial diversity, implementing its beauty into the minds of sports fans everywhere had seemingly been impossible. Legendary figures within the sport, such as Jack Nicklaus and Arnold Palmer, certainly revolutionized the game for what it was; still, the idea of golf being in the same conversation as the aforementioned more traditional sports, for a while, was difficult to fathom. However, during an age where the separation in popularity between golf and other American sports was becoming more apparent, 20-year-old African American prodigy Eldrick Tont "Tiger" Woods stepped onto the playing field in 1996 and changed the sport of golf as we knew it forever.
Coming out of Stanford with 10 collegiate event wins under his belt, Tiger Woods was destined for greatness at such a young age. At only 21 years old, Woods won the Professional Golf Association's (PGA hereafter) most illustrious tournament, the Masters, with an astonishing score of 18 strokes under par, or 270 total strokes, which hadn't been topped until the 2020 Masters. Not only was Woods the youngest player to ever win the Masters tournament, but to this day, the record he set for the largest margin between the winner and the runner-up (12 strokes) still remains. Comparable to the importance that Michael Jordan and Serena Williams had on their respective sports, the young Tiger Woods would soon have a career that would bring the sport of golf to its insurmountable peak. 
Throughout his illustrious career, specifically in the late 1990s and early 2000s, Woods was winning tournaments and setting records that warranted praise from fans of any and every sport. From 1996-2002, Woods impressively won 34 PGA Tour tournaments, 15 of which were major championships, and up until 2006, he achieved an extraordinary record of 39 consecutive cuts made. Although the overwhelming abundance of accolades Woods has acquired over the years has been nothing short of greatest-of-all-time level, the swagger Woods exhibited while playing the game of golf is what really made his influence on the game noticeable.
Whether Woods was playing at some no-name event or at the biggest tournament that golf had to offer, Tiger Woods was, and always has been, must-watch TV. What made Woods' bouts so surreal was how his play style, emotion and crowd involvement affected his game so much, showing the public how much fun one could have while playing the game of golf. Perhaps the most memorable moment in Woods' career was during the 2005 Masters, where he made arguably the hardest golf shot ever.

With the ball lying just off of the green and having to go at a downward angle, Woods made a read that, in no exaggeration, only he could make. After Woods chipped the ball seemingly 15 feet away from the hole, and during a sequence that had the longevity of an eternity but was actually only 15 seconds in duration, the ball slowly rolled down the green and miraculously dropped into the hole. Immediately after, Woods vigorously pumped his fist and was met by a thunderous ovation from the hundreds in attendance; one that a golfer would be lucky to hear once in their entire career. In a perfect recount of this shot, after it had been made and amid the crowd's eruption, commentator Verne Lundquist yelled in disbelief, "In your life have you seen anything like that?" Not only was this moment a turning point in Woods' career and for the game of golf, but a moment like this clearly demonstrates that Woods knows how to blur the lines between what's possible and impossible on a golf course. 
When it seemed like Woods was on top of the world and nothing could possibly slow him down, like all good athletes experience, especially those who consistently perform at such a high level, Woods encountered the inevitable. The year of 2008 would mark the beginning of a series of injuries that would soon prove to be detrimental to Woods' career. A ruptured ACL, repetitive Achilles tendon injuries, bulging disks and multiple back surgeries made Woods' appearances at major tournaments spotty for years, and it was only a matter of time before the injuries visibly took a toll on Woods' game. 
During a 2013 PGA tournament, after what looked like a very routine shot, Woods instantly dropped to his knees in what looked like excruciating pain. What made this moment so important is how it made fans of the sport realize just how important Woods is to the game of golf. Seeing Woods lie on the grass in pain is like seeing Michael Jordan drop to his knees in pain after making a routine shot; when the saving graces of these sports show signs of slowing down, the idea of them no longer being able to compete makes any fan sick to their stomach. However, like any good athlete does, Woods was able to bounce back, winning a variety of tournaments in the latter part of the 2010s, most notably the 2019 Masters. As a result, Woods truly solidified how he will certainly go down in history as the poster child for golf.
As the year of 2021 continues to unfold, golf fans everywhere can't help but beg the question: "Is Tiger Woods going to retire this year?" In recent days, though, the golf world may have gotten their answer, but not in the way that they would've expected. On Feb. 23, 2021, Woods was involved in a single-car accident, in which Woods' car struck a sign and tree as it rolled over off the side of the road. According to CNN, the accident "… resulted in significant leg injuries and [Woods] required an extraction from his vehicle by first responders …" If golf fans were unsure if Woods would ever return to the playing field as a competitor ever again, this unfortunate turn of events, barring some miracle, has certainly ended Woods' professional career.
If 2021 marks the end of Woods' brilliant 25-year career, the legacy he has defined till this point and the influence he has left on the game is unfathomable. In addition to being one of the biggest names in the Nike brand and even having countless video games named after him, Woods has ascended to the status of being a household name among sports fans worldwide. A sports icon that has transcended the game of golf, Tiger Woods will forever be known as one of the best and most popular athletes of his generation. The way Woods played the game of golf exemplified just how dynamic the sport can actually be, especially at the professional level. 
Whether he was fist pumping his way to one of his many victories or putting his head down and accepting defeat, since the very first tournament of his prominent career, essentially every golf fan has proudly been in his corner, and for a fanbase that certainly needed it the most, golf fans will forever be grateful for the impact Tiger Woods has had on the game.