Oakley Union Elementary School District Board Caught Mocking and Trashing Parents on Zoom.
"They Want Their Babysitters Back."
February 23, 2021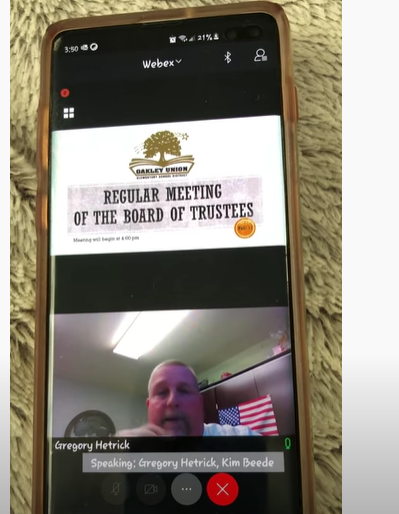 On Feb. 17, The Oakley Union Elementary School District (OUESD) located east of San Francisco came under fire Wednesday following a leaked Zoom meeting.
The board members of Oakley Union Elementary School District, a district serving approximately 5,000 students, openly mocked parents online and made inappropriate comments believing the meeting was not yet open to the public.
"Are we alone?" asked board member Kim Beede before adding, "B—- , if you're going to call me out, I'm going to f— you up."
School Board president Lisa Brizendine expressed her frustration over pressure to resume in-person instruction for students.
"They forget that there's real people on the other side of those letters that they're writing," said Brizendine. "It's really unfortunate that they want to pick on us, because they want their babysitters back."
 "I totally hear that, because my brother had a delivery service for medical marijuana, and the clientele were parents with their kids in school," replied board member Richie Masadas, who had served on the OUESD board since November of 2019.
"When you got your kids at home, no more smoking," he added.
Every board member proceeded to laugh out loud.
While the board members continued to have a converse, Beede realized that the meeting was public. She panicked immediately.
"Uh oh, We have the meeting open to the public right now," Beede said.
"Nuh uh," said Brizendine.
"Great," said another board member, before a black screen with the text "practice session in progress" appears.
One person watching the meeting, however, immediately started recording the conversation between the board members after the first inappropriate comment was made.
The meeting then immediately was switched to private.
The next day, the video was posted on YouTube anonymously and parents were outraged.
"I thought the board members were also advocates for my child and had her best interests at heart," " said Ashley Stalf, an Oakley Union parent. "After I saw this video, it really has me thinking that they do not."
"They see us writing letters monthly, weekly, to the board members, detailing our stresses and grief about distance learning," she added. "For them to say we are doing nothing and sitting home, and smoking pot is far from the truth."
An online petition emerged after the meeting demanding that the board members resign immediately. Two days after the meeting, the petition accumulated 7,000 signatures, prompting he mayor of Oakley Mayor Sue Higgins to issue  a statement to East County Today urging the board members to "do the right thing and step down."
"A recall would cost the district money that should be going to the kid," read the petition. "I am asking that the board members resign immediately due to their egregious behavior. They should no longer represent the parents, teachers, and children in this school district."
All the board members issued public apologies and resigned by Friday.
Superintendent Greg Hetrick also resigned issuing a public apology.
"Last night at the Oakley Union Elementary School District Regular Board Meeting there were unfortunate and truly inappropriate comments made that were heard by many." he stated. "These comments are not typical and more importantly they are not what the community should expect from our school district."
He continued: "The comments made were not in alignment with our vision and are definitely not what any of us stand for as leaders. I know that we lost trust with the community. I will not make excuses for what happened or why it happened. I am the superintendent. I am responsible and accountable, and I am truly sorry for what took place. … I know that our students deserve better from us."
According to superintendent Hetrick, the county board of education will be serving as interim board members until a new Oakley Union Elementary School District board is established.
All the names of resigned board members were scrubbed from the district website and as of Saturday, their seats remain vacant.