Not Your Average Student
January 12, 2021
It was cut and dry for many Generation X'er's, very simple even. A blueprint for success: finish high school, go to college, meet your husband/wife, graduate, marry, he works, we have children maybe later return to work, and get the house, the American dream concept of success. Unfortunately, this was not the case for everybody. "life" happened, unlike in the movies. Real-life – some good, some bad, some terrible, but life occurred. Dreams on pause, as the old saying goes, principles before personalities. One looks up, and 10, 20, 30 years have passed, and one continues to think about the opportunity not grabbed, as researched by Paul Fain, P.R. ed for inside Higher Ed. 
Times have evolved, and now it is our time to go for the goal. Looking around at classmates, An individual cannot help but notice that 90%  are young enough to be your children or even your grandchildren, and you think to yourself, what did" I' not have to be as focused years ago that this younger generation has? Before giving scientific research examples on older students going back to college, Thinking it would be a great idea to express viewpoints that so many in my shoes may share. I have learned that when one feels that they are alone on an idea, more than likely, they are not alone; this is the point in case. 
More individuals from all walks of life who have lived life after 30, 40, and 50 have decided to go back and sprout that seed planted so long ago. Being a mature student has its perks and disadvantages. One positive is that you have matured and can stay the plan. You know what you want and are willing to go that extra mile to get it, giving yourself entirely to pursuing your goal, and having found your calling, you generally know where you want to go for the remainder of your life. There are not many outside expectations to meet, like having children and getting married. The disadvantage is that one must reinvent themselves to keep up with the times' pace, which may get out of your comfort zone, and you must learn to learn from unexpected resources – in other words, respect the message and do not judge the messenger. It is not a matter of competition but more so a purpose of life, for life. A beacon of survival throughout all the trials and tribulations, and for those that mean so much to you want to instill never give up and that it is never too late – and I am living proof of that.
Now for the good stuff. According to several sources, returning to academia/pursuing where one left off to finish that degree is the new norm, unlike, as I mentioned earlier, the complete opposite less than four decades earlier. For example, in an article from Forbes, Laurie Quinn, provost and senior vice president for Champlain College in Vermont, notes, "Today's university degree-seeking students are adult learners." Quinn continues in a summary of quotes: "Also, but not always the case, most adult online students have already achieved careers with a decent earning per capita." continuing to paraphrase from Quinn's observation, Some may have served in the military; some may have started families. In contrast, others needed to provide for their families, and as stated earlier, "real life" took over, and obtaining an education was sidelined. In the last two instances, I can contest that this was a genuine fact of life. 
Not all is gloom returning to college.  Quinn also reported that in 2018, there are other reasons for adult learners returning to college, some may be as simple as the joy of learning. Being that the job market is competitive may not be the first reason why so many adult learners return to college is a real fact of life. Besides, Quinn reported that according to the most recent statistics to date, contemporary adult learners comprise 60% of  U.S. adults ages 23-55 without a bachelor's degree and have considered returning to college, but the cost is another real deterrent. Forbes calls these "Second Chapter Career Seekers." Reasons vary, but this is the consensus:
Many adult workers want to work their remaining working years doing what they

want

to do versus what they had to do to provide.

Fulfillment of a lifelong passion/goal, whether it is for personal reasons,

work-related advancement, or finishing what we started, which is fulfilling within itself.

A newly released report from the National Student Clearinghouse Research Center helps fill in some of the blanks. The nonprofit group used data from institutions that collectively account for 97 percent of the nation's postsecondary enrollments. Researchers were able to track individual students across institutional boundaries, including when they left college and later enrolled at another institution. The result is a pervasive view of the 36 million Americans' educational trajectories the center identified as having left college without receiving a degree or certificate. Several experts said the findings have broad implications for colleges, systems, and federal and state policymakers.
As of December 2018,  36 million people from the center's database had attended college since 1993 but failed to earn a credential at any U.S. institution and were no longer enrolled in college. That figure was up 6.6 million (22%) during the five years since the center first released a data report on this population. The center was able to make some conclusions about whom these former students tend to be. Its findings included:
Most are nearing middle age, with a median age of 39 and an average age of 42.

Fifty-six percent left postsecondary education when they were in their 20s or younger.

Fifty-one percent are women.

The typical American with some college but no degree left postsecondary education a decade ago.

These people had a short college career (53% left within two years).

Most attended one institution (74%).

Community colleges were the starting and last-enrolled institution for two-thirds of study participants (67%).
Finding Likely Completers
A growing number of colleges and organizations seek to find these students and encourage them to return to college and earn a credential, in part, so they did not spend time racking up debt without seeing a payoff in the job market.
Perhaps most notable is the Institute for Higher Education Policy's ongoing three-year initiative, dubbed Degrees When Due, which helps colleges and states identify former students who earned college credit but did not complete it.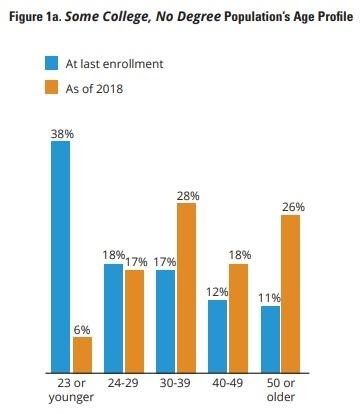 The institute's new data shows that roughly 10 percent of people with some college but no degree have a high potential to earn a credential if they re-enroll. These 3.5 million "potential completers" carry the equivalent of at least two years' worth of full-time college enrollment during the past decade.
"These students are the most likely to return and finish college," the institute said.
Potential completers are younger than the rest of their peers with some college but no degree. Most (58%) are under age 30, compared to 23 percent overall. They also were more likely to have been in their 20s when they last attended college (75% compared to 56%) and were enrolled more recently." Information acquired from Insider Ed. Reports that this trend of returning adults to learners is here to stay. Individuals live longer and healthier lives, following dreams regardless of what life has thrown at these moms, dads, grandmothers, and grandfathers. They never gave up, and never regretted their life because it has made them the person they are today. It is time for them to look forward to the future and give it their best shot. The past is the past, and the present is a gift, take that gift and create a fantastic future.