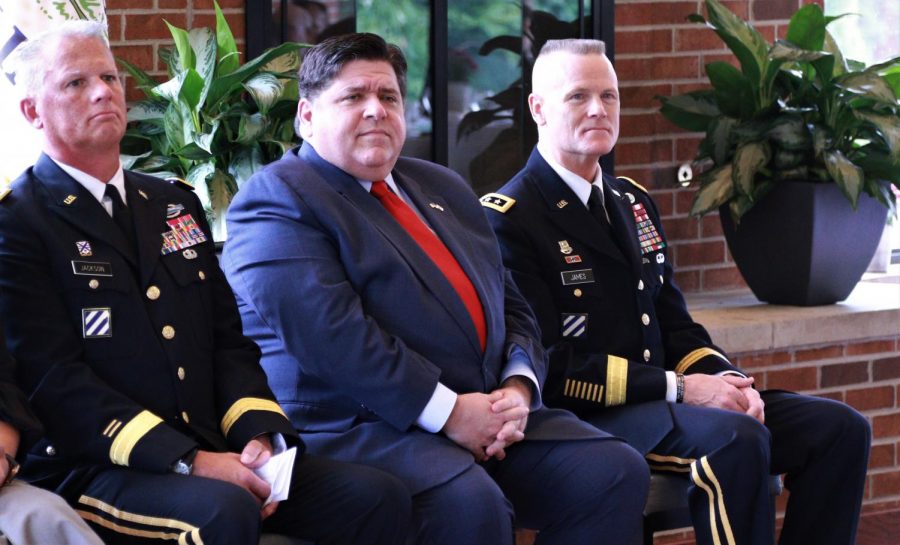 Illinois Gov. J.B. Pritzker anticipates delay in COVID-19 peak, Illinois announces arrival of COVID-19 trial drug
May 11, 2020
Illinois health officials announced Monday the arrival of 140 cases of the investigative antiviral drug Remdesivir, a prospective treatment used to combat the effects of the novel coronavirus COVID-19.
According to Illinois Director of Public Health Dr. Ngozi Ezike, Illinois officials distributed the 140 cases of Remdesivir across 14 state hospitals, with medical centers experiencing the highest number of critical COVID-19 hospitalizations, "safety net hospitals" and hospitals treating vulnerable demographics receiving priority allocation.
Ezike cited research conducted by the National Institute of Allergy and Infectious Disease (NIAID), which discovered patients treated with Remdesivir experienced "a statistically significant shorter time to recovery compared to those receiving a placebo," as reason for optimism.
"Each case contains approximately enough vials to treat five or so patients depending on if the five-day or 10-day protocol is employed," said Ezike.
Ezike also announced that Illinois health officials reported 1,266 new COVID-19 cases and 54 deaths over the past 24 hours, raising the state total to 79,007 cases and 3,459 deaths.
Speaking from his Springfield home after a staff member tested positive for COVID-19, Illinois Gov. J.B. Pritzker opined that the delay of Illinois' peak in COVID-19 cases is a "natural consequence of flattening the curve."
"Compared to the forecast that I shared with you on April 23, which predicted peaking between late April and early May, that timeframe of plateauing near a peak has been expanded from mid-May to mid-June," said Pritzker. "In many ways, this news is disheartening."
Pritzker also stated that while Illinois continues reporting steady numbers, the state has not experienced declines in "key metrics," including hospitalizations. "We have made great progress but it's forced us to remain at a moderated yet high level of key metrics for this extended period," said Pritzker.
The Illinois governor reiterated the importance of gradually reopening Illinois, despite vocal pushback from factions opposing his stay-at-home mandates. According to Pritzker, prematurely reopening indoor facilities or popular outdoor destinations increases the risk of a second wave of COVID-19 affecting Illinois residents.
"Lifting all of our mitigations at the end of May would likely lead to a second wave of outbreak in each and every one of our four regions," said Pritzker. "That's why the Restore Illinois plan gradually loosens mitigations in each phase while introducing the face-covering requirement, which is one of the best public health measures to keep the transmission rate low."
Three of Illinois' four regions remain on pace to satisfy benchmarks required to progress to stage three of Pritzker's Restore Illinois plan. Pritzker announced Illinois' Northeast region as the lone exception after the region's positivity rate among tested residents climbed to 22.3%, 2.3 points higher than the 20% threshold required to advance to the next phase.
Illinois' Central region paced all regions with a 6.0% positivity rate while Illinois' North Central and Southern regions experienced a 9.1% and 10.5% positivity rate, respectively.
However, all four regions experienced decreases in hospitalizations since May 1, with the Southern region leading all regions with a 54.3% reduction in hospitalizations. The Northeast region experienced the lowest rate of decrease, reporting 16% less hospitalizations relative to May 1.