WWE: Six takeaways from Money In The Bank
May 11, 2020
With Money In The Banks officially in the books, it's time to take a look at some of the implications and of last night's performance. The NEIU Independent lists six observations from last night's show from the WWE Performance Center:
Bayley needs a breakout performance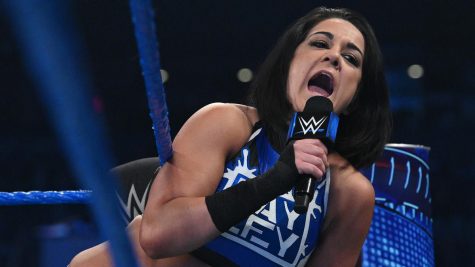 Bayley's incredible main event effort against Sasha Banks at NXT TakeOver: Respect feels like a lifetime ago. While the NXT universe adored the current Smackdown Women's Champion, her main roster performances remain underwhelming, subsequently crippling her appeal.
Earlier this year, Bayley mercifully abandoned the childish gimmick that stunted her main roster momentum, commencing an expert heel turn that saw the San Jose native lean into nefarious tendencies. Nevertheless, lackluster in-ring performances continue to plague the effectiveness of Bayley's character development.
There's seemingly no synergy between Bayley and WWE producers. Part of that can be attributed to the performer, though at some point, WWE needs to decide on who Bayley is as a wrestler. As Smackdown Women's Champion, Bayley's matches too often devolve into gimmickry, suffering through relentless interference from Banks.
On the other hand, Bayley needs to carve out a distinct in-ring identity. She's not a powerhouse, but also isn't a capable high-flyer, save for the occasional high-risk move. The in-ring psychology that once propelled Bayley's performances is largely absent from her recent performances, mirroring the issues that hampered Kevin Owens' 2016-17 run as Universal Champion.
Consequently, the Smackdown Women's Championship scene has suffered tremendously, relegated to an afterthought relative to its Raw counterpart.
New life for the "Almighty One"
Bobby Lashley's teased alliance with MVP rejuvenates a character that seemingly stagnated upon his reintroduction to the WWE Universe.
WWE would be wise to revisit and reinvent the partnership that propelled Lashley to the top of TNA. His storyline marriage to Lana operated as an engine to advance his extinct storyline with Rusev, though since the Bulgarian Brute's departure, the kayfabe relationship serves little purpose.
Despite being 43 years old, Lashley brims with potential, as his formidable physique and mixed martial arts background makes him a viable opponent for anyone under the WWE banner, including Brock Lesnar. After being bypassed for championship opportunities in favor of smaller performers, positioning MVP as Lashley's mouthpiece carries the potential to launch the latter into WWE's main event scene.
It's time to shake up the tag team divisions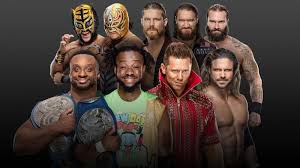 Despite the abundance of talent featured in WWE's tag team division, the tag ranks collectively feel barren. On Smackdown, the New Day are engaged in their eighth reign as tag team champions, resulting in creative entropy. The Miz and John Morrison each outgrew the division a long time, so their abbreviated stay in the division feels more like a cameo than a permanent fixture. 
Smackdown attempted to present both The Forgotten Sons and Lucha House Party as viable challengers, though neither unit accrued enough momentum to justify their inclusion in the Fatal Four-Way match.
Raw is in a healthier place. The Viking Raiders reclaimed a throne they admittedly never should have relinquished after taking down The Street Profits last Monday. The combination of Cedric Alexander and Ricochet possesses the potential to be one of the greatest tag teams of all time if both are willing to abandon ego and fully commit to tag team wrestling. 
However, with the Authors of Pain sidelined, Otis embarking on a singles run and Jimmy Uso out for six to nine months, the tag tanks desperately need replenishing. Hopefully, the team of Shane Thorne and Brendan Vink make good on their surprise mini-push, but WWE may be wise to pair a few underutilized singles stars together for the sake of infusing fresh energy into a neutered tag scene. 
Braun Strowman is entering no-man's land
WWE historically struggles to book its resident monsters as top champions. After all, the appeal of larger-than-average athletes is that their menacing pursuit of championship gold. 
Strowman's first run as Universal Champion feels undeserved, despite his convincing victory over Goldberg at Wrestlemania. Following Roman Reigns' decision to forego Wrestlemania amid concerns surrounding the novel coronavirus COVID-19 pandemic, "The Monster Amongst Men," once one of WWE's most over performers, suddenly feels a band-aid champion. 
Presenting him as a victim of Bray Wyatt's mind games felt premature. Strowman is best cast as a hunter, so entrenched in his thirst for destruction that he's willing to wreak havoc on anyone unfortunate enough to cross his path. Booking the Universal Champion to wrestle with Wyatt's psychological warfare this early in his title reign runs the risk of sabotaging the marginal momentum he's collected since Wrestlemania. 
Drew McIntyre's full-blown babyface persona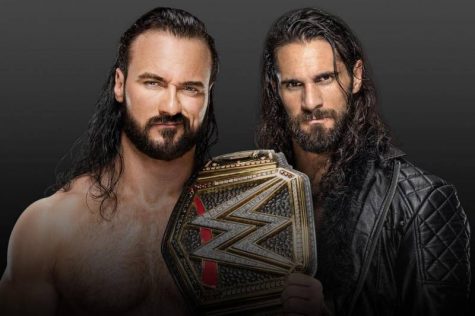 Drew McIntyre impressed live audiences with his stoic demeanor, angry exchanges and galvanizing promos. However, after winning the WWE Championship from Lesnar at Wrestlemania, McIntyre suddenly transformed into a chuckling, happy-go-lucky babyface who cracks jokes while offering over-the-top expressions of respect toward his fallen opponents. 
The "Scottish Psychopath" needs to rediscover the unbridled ferocity that engendered loyalty from the WWE faithful. This current rendition of McIntyre feels forced, campy and misaligned with his previous character trajectory, particularly without a live audience to transact with.
With that said, McIntyre put on a hell of performance opposite Seth Rollins. The two brutalized one another before sprinting to a finish that cast McIntyre's ability to retain in doubt. Kudos to both performers for finding a way to entertain absent a live crowd to play off.
Money In The Bank match didn't work
Credit WWE for attempting to expand its creative parameters for the 2020 Money In The Bank contest. However, the match simply came off as clunky, poorly scripted and a caricature of what MITB should be. 
For the sake of transparency, this writer loved Asuka's well-deserved victory. At the same time, Otis of Heavy Machinery emerging from the match with the briefcase is representative of WWE's perceived indifference toward the current state of wrestling. More on that in a minute. 
Viewers who predicted 25-plus minutes of wrestlers punching one another and fake throwing each other into walls were vindicated in their skepticism. The dangerous spots and innovation associated with multi-person ladder matches all but conceded to a Rat Race-esque journey through WWE Corporate Headquarters, subsequently sacrificing what makes MITB matches tick. 
Instead of watching men and women plunge off ladders, WWE treated its audience to two "big" spots that were really just camera tricks. Cameos from Brother Love, Vince McMahon and Paul Heyman provided a few laughs, but overall, the match was a boring watch.
The women also came off as afterthoughts. After presenting Shayna Baszler as a merciless assassin, the "Queen of Spades" failed to progress to the rooftop. None of the women benefitted from an unforgettable moment, with Dana Brooke's briefcase gaffe being the only memorable, albeit embarrassing, bit across 27 minutes. 
Otis emerging as Mr. Money In The Bank seems impulsive. The former collegiate wrestler still occupies a comedic role on the roster while proving himself to be extremely limited in the ring, despite the occasional exhibition of agility.
It's tough to buy the idea that WWE plans to promote Otis as its next top champion. Instead, one must wonder if WWE intends to either retire a championship, the Money In The Bank concept or whether WWE Creative will weave Otis' victory into his storyline relationship with Mandy Rose.