Chicago White Sox roster: the good and the bad
May 6, 2020
Despite all five Chicago teams failing to qualify for postseason play for the first time since 2004, Chicago remains a proud fan base. While some hometown teams offer cause for hope, others appear destined to labor through an extended rebuild or quick retool. The Independent breaks down the forecast for the five major Chicago sports team, starting with the resurgent Chicago White Sox.
The Upside
On the surface, the Chicago White Sox appear to possess the brightest long-term future of any Chicago sports team.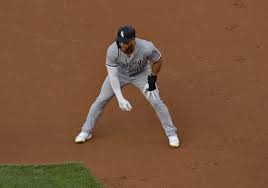 Following a decade-long sentence in baseball purgatory during a spell that featured uninspired free-agent courtings and reckless trades (remember Fernando Tatis?), the Sox embarked on their long-awaited rebuild in 2016 after trading former staff ace Chris Sale to the Boston Red Sox for MLB Pipeline's former No. 1 overall prospect Yoan Moncada, current No. 17 prospect Michael Kopech, Luis Basabe and Victor Diaz.
While the growing pains were barely endurable at times–the White Sox weathered the franchise's first 100 loss season since 1970 in 2018–things appeared to turn around in 2019.
The emergence of left fielder Eloy Jimenez (acquired in the Jose Quintana deal) coincided with the rebirth of shortstop Tim Anderson, who claimed the 2019 American League (AL) Batting Title. Before a string of injuries interrupted Jimenez's rookie campaign, the 23-year-old sat on pace to belt 39 home runs across a full season.
When Spring Training resumes, Cuban phenom Luis Robert will arrive following a monster minor-league effort that saw the 22-year-old center fielder haunt opposition to the tune of 32 home runs, 92 RBIs and a .328 batting average. As if that stat line wasn't enough reason for unbridled optimism, the USA Today 2019 Minor League Player of the Year also swiped 32 bases atop a 1.001 On-Base Plus Slugging Percentage (OPS).
The excitement surrounding the Sox' young core almost overshadows an uncharacteristically successful offseason. General manager Rick Hahn acquired on-base machine Yasmani Grandal to serve as the Sox' starting catcher, subsequently relegating 2019 All-Star James McCann to backup duties.
Former Cy Young winner Dallas Keuchel joins emerging staff ace Lucas Giolito atop the Sox rotation, forming a chilling one-two punch. Once Kopech returns from injury, the White Sox will possess three pitchers capable of manipulating the strike zone–the Sox also signed Gio Gonzalez away from the Milwaukee Brewers–alongside two flamethrowing youngsters, with former top-20 prospect Dylan Cease exhibiting an ability to reach 100 miles per hour (mph).
The Sox also possess two veterans capable of anchoring the middle of the order in first baseman Jose Abreu and designated hitter Edwin Encarnacion.
Though Abreu's diminishing ability to hit for average is cause for concern, he remains a perennial threat to lead the league in RBIs, as evidenced by his 2019 American League RBI Crown.
Meanwhile, Encarnacion stood on pace to hit 45 home runs in 2019 before an errant pitch resulted in a hairline fracture in his right wrist. For the sake of comparison, the 2019 White Sox afforded 2,140 plate appearances to Yolmer Sanchez, Ryan Cordell, Charlie Tilson, Yonder Alonso, Wellington Castillo, Adam Engel, Jon Jay and Jose Rendon, none of whom are still with the team. Those eight position players combined to hit .200 with 40 home runs and 195 RBIs.
Regardless of vantage point, it's impossible to deny the Pale Hose improved across the board. Former leadoff hitter Leury Garcia, who performed capably in his role in 2019, now operates super-utility man while the ninth spot in a suddenly-formidable White Sox lineup is occupied by a player capable of hitting .270 with 20 home runs and 80 RBIs in Nomar Mazara.
That's not even mentioning the inevitable promotion of top-40 prospect Nick Madrigal.
The Downside
The White Sox' return to relevancy is flooded with uncertainty.
Giolito and Moncada are each one season removed from being emblazoned with the unenviable "bust" label, which they each escaped admirably. However, though there's no indication that the latter's breakout performance was a fluke, Giolito's earned run average (ERA) ballooned from 2.54 to 3.41 between June 2 and Sept. 12. A regression from either cripples the White Sox' revived rebuild.
Anderson is unlikely to replicate his 2019 success. The free-swinging shortstop raised his batting average by 95 points on the strength of an unsustainable .399 batting average on balls in play (BABIP). Furthermore, despite Anderson's improved average, his on-base percentage (OBP) sat at an underwhelming .357, just 22 points higher than his batting average.
If Anderson finds himself unable to resemble his 2019 self, his propensity for committing fielding errors makes him a liability.
Youth also slightly arrests Sox fans' reason for optimism. While the promise and hype surrounding Jimenez, Madrigal and Robert are enticing and warranted, each is too young to consider a sure thing at this stage of his career.
While that might read like a pessimistic statement on the surface, consider the collection of once-heralded prospects who failed to realize their considerable potential. Former Sox prospect Joe Borchard comes to mind, though more recent examples such as former No. 1 overall prospects Jurickson Profar and Byron Buxton, the latter who admittedly emerged as a defensive ace, should also serve as cautionary tales.
Despite indisputable improvements via free agency, the Sox pitching staff remains a daunting question mark. Both Kopech and former staff ace Carlos Rodon return from Tommy John surgery, with Rodon enduring his third surgery in as many seasons.
If both return to form, the White Sox potentially possess a World Series pitching staff. If not, the Southsiders suddenly find themselves plugging holes at the back of their rotation with Gonzalez also returning from injury, though his ability to control the strike zone buffers him from the same concerns surrounding Rodon and Kopech.
Reynaldo Lopez, once a candidate to emerge as a staff ace, regressed so thoroughly in 2019 that he appears destined for a demotion to the bullpen to begin 2020.
After pitching to a 3.91 ERA in 2018, Lopez allowed the most earned runs in the American League in 2020. A renewed focus and fresh slate should lower Lopez's 9.9 home runs per nine innings (HR9) and 1.457 walks and hits per innings pitched (WHIP), though superstitious fans may contend that two consecutive bounce-back seasons from former top prospects is an ambitious ask.
Finally, the Sox bullpen appears ready to implode. The Sox will rely on 31-year-old Alex Colome, who Forbes ranked as the MLB's most overrated closer, to finish games in 2020.
While Colome was one of only five closers in 2019 to earn a save percentage of 90% or higher, his 22.1% strikeout percentage ranked 29th of 30 eligible closers. Furthermore, following a scorching start to the season that saw Colome enter the All-Star break with a 2.02 ERA, the 2019 All-Star's ERA increased to 2.80 to finish the season.
Though the Sox enter 2020 with set-up man Aaron Bummer and free-agent acquisition Steve Cishek as reliable back-end options, the pairing of Colome and two-time All-Star Kelvin Herrara, who risks being outrighted if he can't improve upon his unsightly 6.14 ERA from 2019, carry red flags.
Conclusion
The coronavirus-imposed break couldn't have come at a worse time for a young White Sox core looking to compound upon the momentum accrued in 2019. While the Southsiders feature endless promise, uncertainty stemming from injuries and inexperience punctured a roster that possesses the raw talent to compete for a World Series.