'If people are persistently defiant, they can be put in jail': Illinois Gov. J.B. Pritzker announces 17% COVID-19 positivity rate over past 24 hours
May 4, 2020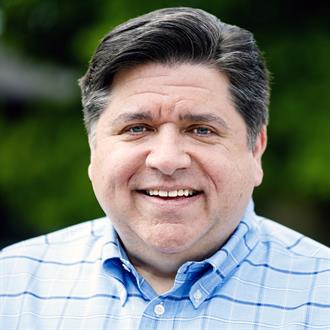 After announcing that 17% of Illinois residents tested for the novel coronavirus COVID-19 over the past 24 hours came back positive, Illinois Gov. J.B. Pritzker stated that local law enforcement can arrest "persistent" offenders of social distancing mandates.
Standing in front of staggered American and Illinois state flags, Pritzker also confirmed an additional 2,341 new cases and 46 deaths over the past 24 hours, bringing Illinois state totals to 63,840 and 2,662, respectively. However, though the quantity of COVID-19 patients and "assumed COVID-19 patients" increased since April 5, the rate of increase over the past week decreased, down 3.8% from April 26.
Pritzker appeared encouraged by the state's 22% ventilator usage, a figure he attributed to the successes of Illinois' stay at home mandate. "That's a lot lower than we expected at this point and it's because of the amazing work people have done staying and home and following our executive orders," said Pritzker.
While Pritzker acknowledged the state's plan to dismantle the emergency care center erected at McCormick Center, the governor also announced that only 17% of intensive care unit (ICU) beds remain available throughout Cook County. Northwest Suburbs collectively possess 152 available beds (38.3% of total ICU beds) while the North Suburbs carry only 27 available beds (11.9%).
In response to Chicagoland pastors continuing church services amid social distancing mandates, Pritzker stated that he preferred to remind parties resisting Illinois' stay at home order of the dangers of large gatherings. However, Pritzker clarified that individuals who continue to ignore social distancing warnings may be incarcerated.
"We're asking them to disperse, that's the most important thing," said Pritzker. "It's not an intention that people will go to jail. I will say that if people are persistently defiant, they can be put in jail. I'm not suggesting that that is the best answer of the first answer, but that is an option for local law enforcement."
Pritzker's stance follows a weekend involving over 1,000 police dispersals in Chicago. However, despite Chicago residents defying Pritzker plea to refrain from nonessential activity, law enforcement issued zero citations.
"People should really understand if our numbers flatten and get better–and that's where we seem to be at right now–it's because people followed the rules," said Pritzker. "And to the extent that people are not following them and gathering in groups, they're going to spread the virus and cause us to go back into a previous executive order if in fact there is a spike in cases."
When asked if he considered following New York Gov. Andrew Cuomo's model to reopen the state by May 15, Pritzker balked at the prospectof  setting a date. Instead, Pritzker said the state will consider a multitude of factors, including population densities, before announcing a plan to reopen the state economy.
Said Pritzker, "It really needs to be based on data and metrics. My guess is knowing [Gov. Cuomo], that he was really talking and hoping that that might be a date that they can do it. But you really need to do this based on the data and that's what we're following very closely.
"I want to open it as fast as anybody does, I just want to make sure we're doing it in a safe fashion."
Nevertheless, Pritzker stated the state's intention to declare a plan to reopen the economy ahead of May 30. According to Pritzker, Illinois state representatives are organizing different phases to gradually reopen Illinois.
Despite over 1.2 million confirmed cases in the United States, Pritzker suggested a need to accelerate availability for testing nationwide. As of May 4, Illinois confirmed the fourth-most coronavirus COVID-19 diagnosis among U.S. states, trailing only New York, New Jersey and Massachusetts.
"We're doing a lot of testing, but no state is doing enough testing," said Pritzker.
Read more by Matthew Rago:
"It's not a hoax"; Illinois officials warn of second wave as state reports record death toll