The Pippen myth: How Scottie Pippen went from underrated to overrated
April 28, 2020
For decades, NBA Hall of Famer Scottie Pippen remained criminally underrated, emblazoned with the inescapable label of Robin to Michael Jordan's Batman. Standing 6-foot-8 and 210 pounds, the six-time NBA Champion is celebrated for both his defensive tenacity and offensive skill set, capable of defending the opposition's best ball handler while retaining the ability to pour in 20-30 points on any given night.
Over the course of a 17-year career that saw Pippen dress for the Chicago Bulls, Houston Rockets and Portland Trailblazers, the University of Central Arkansas product bathed in Jordan's formidable shadow, unable to garner the recognition a player of his caliber–Pippen earned inclusion on the NBA's 50 Greatest Players of All Time list in 1996–deserves. 
Fast forward to 2020 and Pippen is arguably the most overrated player in NBA history.
Of course, that's not a slight on Pippen. The seven-time All-Star played an invaluable role for a Bulls dynasty that monopolized the 1990s, save for two seasons where Jordan sampled professional baseball. As evidenced by his six consecutive All-Star appearances between 1991-92 and 1996-97, Pippen's talent was well-respected and recognized among both spectators and league personnel alike.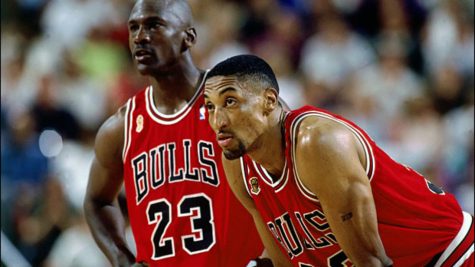 However, within the vigor that consumes the debate surrounding the greatest players in NBA history, factions arguing against Jordan's standing as the greatest of all time retroactively inflated Pippen's reputation.
Since the time LeBron James surfaced as a viable contender to claim the coveted title of greatest of all time (or G.O.A.T), his most ardent supporters cite Pippen's contributions as a buffer between Jordan and the failures that beleaguer James' legacy.  
As a consequence, a vocal minority of NBA fans now cast Pippen as Jordan's equal, an assertion predicated on superficial research and selective memory.
Let's start with the most common argument. In 1993-94, after Jordan announced an indefinite hiatus to pursue professional baseball in honor of his slain father, Pippen propelled the Bulls to the No. 3 seed in the Eastern Conference on the strength of a 55-win season. 
That year, Chicago reached the Eastern Conference Semifinals before bowing out to the Knicks in seven games. 
Pippen's brief run as the Bulls undisputed number one option deserves acknowledgment. Without Pippen, the Bulls most likely stumble to a lottery berth that perhaps irreparably stunts the momentum of a franchise that would later earn its second three-peat within a decade.
However, leading a team to home-court advantage and a 50-win season isn't an accomplishment exclusive to superstar performers. 
During the 2003-04 NBA season, Pau Gasol led the Memphis Grizzlies to the franchise's first 50-win season. While the 2003-04 Grizzlies finished sixth in a comically deep Western Conference, their 50-32 record would have earned them the fourth seed in the 1993-94 Eastern Conference standings, tied with the Shaquille O'Neal and Penny Hardaway-led Orlando Magic.
Make no mistake about it, Gasol was a great power forward whose name will be enshrined in the NBA Hall of Fame once he formally retires from the NBA,
However, Gasol never emerged as a bonafide superstar.  Like Pippen, the seven-foot Spaniard was better suited to play second-fiddle on a great team than assume primary responsibilities on a middling roster. 
Furthermore, following their 55-win season in 1993-1994, Pippen and the Bulls encored with a 34-31 record in the 65 games before Jordan returned from his first retirement to play the final 17 games of the 1994-1995 season.
The Bulls 52% win percentage (34-31) with Pippen at the helm would have positioned the Bulls outside  at least one conference's playoffs in 17 of the past 20 seasons, with the 2006-07, 2016-17 and 2019-20 campaigns serving as the lone exceptions. 
A narrative contending that Pippen is responsible for the Bulls championship glory recently surfaced on social media. 
Fans adhering to the idea that Pippen served as Jordan's peer often cite aggregate finals stats, arguing that during the Bulls two three-peats, Pippen led the Bulls in assists, rebounds, steals and blocks.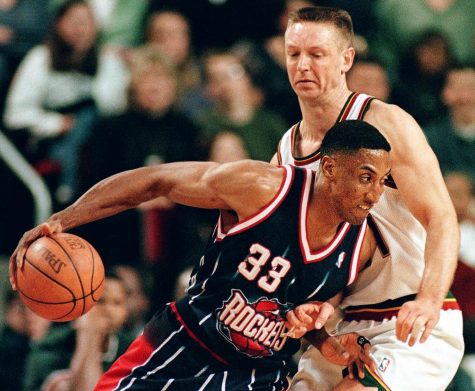 Despite being inaccurate–Jordan collected two more assists than Pippen across the Bulls' six finals appearances–the argument fails to highlight that Jordan outscored his All-Star teammate by 510 points, almost doubling Pippen's scoring output.
Pippen also exhibited a tendency to disappear offensively during the most important contests. In both the 1996 NBA Finals against the Seattle SuperSonics and the 1998 NBA Finals against the Utah Jazz, Pippen averaged 15.7 points per game, though the latter could be attributed to a back injury suffered in Game 3 and exacerbated following a slam dunk in Game 6. 
For comparison's sake, Austin Croshere averaged 15.2 ppg for the Indiana Pacers during the 2000 NBA Finals.  A year later, a 34-year-old Dikembe Mutombo contributed 16.8 ppg for the Philadelphia 76ers.
Finally, Pippen's run atop the NBA was painfully abbreviated and tethered to Jordan's scoring prowess. Following the conclusion of the 1997-98 season, The Bulls traded Pippen to the Houston Rockets for Roy Rogers and a second-round pick in the following years draft. 
Despite playing alongside an aging Charles Barkley and Hakeem Olajuwon, Pippen found himself relegated to third fiddle, averaging a pedestrian 14.4 ppg along with 6.5 rpg and 5.9 apg. 
Over the next three seasons, Pippen commenced a steady decline with the Portland Trailblazers, never topping 12 ppg again for his career.
Unlike Jordan, the twilight of Pippen's career was not adorned with accolades. Where Jordan won three titles between his age 32-34 campaigns, Pippen regressed to an afterthought, a complementary piece on teams that required All-Star contributions from Pippen to reach championship heights. 
Pippen's contributions to the Bulls dynasty remain indispensable. His defensive prowess made for a fearsome tandem alongside Jordan. His slashing ability expertly complemented Jordan's strengths while his multidimensional game allowed the seven-time All-NBA selection to conform to whatever role the Bulls needed. 
But indispensable and irreplaceable are not synonymous. Pippen never matured into a franchise cornerstone, unable to penetrate the upper echelon of the NBA elite. Where players like Jordan, Magic Johnson, Kareem Abdul-Jabbar, LeBron James and Kobe Bryant each emerged as once-in-a-generation talents, Pippen's skill set was tailor-made to be a supplementary option.
Despite the infinite hypotheticals and "what-if" scenarios floating around social media today, Pippen never was "the guy."