INTERVIEW | Four Year Strong talks Brain Pain, upcoming tour
February 28, 2020
Following a five-year hiatus from music production, anthemic punk rockers Four Year Strong returned energized, rejuvenated and ready to take the pop punk world by storm. On Feb. 28, the Worcester quartet are scheduled to release Brain Pain, their seventh studio album, via Pure Noise Records. The very same day, Four Year Strong–vocalist/guitarist Dan O'Connor, vocalist/guitarist Alan Day, bassist Joe Weiss and drummer Jake Massucco–will fuse the calamity of post-hardcore with the acceleration of pop punk as they tour in support of Silverstein's 20th Anniversary Tour.
Throughout their 19-year tenure, Four Year Strong has been celebrated for their unruly energy, with each effort interpretable as a rallying cry for a forlorn generation. While the first three singles off Brain Pain–"Talking Myself In Circles," "Learn to Love the Lie" and the eponymous "Brain Pain"– represent different ends of the instrumental spectrum, each number illustrates an evocative sense of indefiniteness and aimlessness.
According to O'Connor, the decision to introduce the band's first studio album in over five years with "Talking Myself In Circles" and "Brain Pain" was a calculated decision meant to advertise both sides of the record. While those involved favored "Talking Myself In Circles," O'Connor admits that the decision to subsequently release "Brain Pain" was an attempt to offset what some fans might perceive as a milder direction.
"[We] were a little worried about releasing '[Talking Myself in] Circles' first because it could give the impression that the record is in [a milder] vein and less heavy," said O'Connor. "We were kind of like, 'Well why not release "Circles" to show what one end of the spectrum is and also release "Brain Pain," which is kind of the opposite end of the spectrum."
While Four Year Strong blends the elements of post-hardcore, pop punk and emo to interrogate the impact of emotional and psychological traumas, the band's trademark intensity is readily present throughout "Brain Pain."
O'Connor says "Brain Pain," which operates as a tormenting depiction of the desire for security amid self-inflicted chaos, developed through O'Connor and Day's struggle with self-recognition. Referencing the title track's first verse, O'Connor cites "Smash it all, catch me as I fall" as the best representation of the album's thematic direction.
"It starts out being such an aggressive sentiment, but ends up being a plea for help," explained O'Connor. "Everyone goes through those situations where you just think, 'F*ck it, I don't give a sh*t,' and you're ready to burn it all to the ground. But if someone extended a hand, you'll probably take it."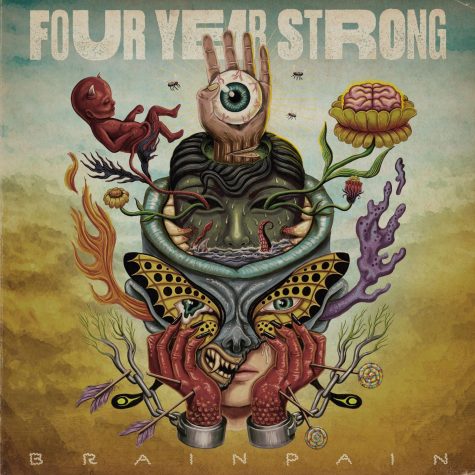 Balancing fatherhood against the demands of pop punk, O'Connor states that the purpose behind the album developed organically. Spawned from a series of internal dilemmas encountered by Day and O'Connor, both "Brain Pain" and "Talking Myself In Circles" detail the juxtaposition between a desire for routine and the agitation of redundancy masquerading as comfort.
"When we were writing this record, [Alan and I] were both going through this, for lack of a better term, identity crisis," said O'Connor. "When I'm on tour, I'm the guy on stage who screams at kids to go crazy and jump off stuff. Then when I'm at home, I have two daughters and I spend a lot of my time with them trying to be really active in their lives–PTA conferences, trying to be professional here and do all that stuff.
"A lot of the record actually deals with that. 'Brain Pain' and '[Talking Myself in] Circles' kind of deal with different aspects, where 'Circles' deals with the idea that you're constantly doing the same thing over and over again with no different results, which is the definition of insanity. 'Brain Pain' is more about trying to leave your mark on the world and if you are leaving the mark you want to leave."
But while both "Brain Pain" and "Talking Myself In Circles" are built on a foundation of pointed lyricism and relatable narratives, each is abstract enough for listeners to inject their own interpretations. O'Connor says that he and Day strive to share their story in a way that allows their audience to relate to the music on the most intimate level.
Collectively, Four Year Strong brought ideas to fruition that would have gone unrealized under different circumstances. According to O'Connor, a stronger grasp on the nuances of songwriting combined with the luxury of thoroughly explored proposals to make Brain Pain one of–if not the–best album under the Four Year Strong banner.
O'Connor's evident pride in Brain Pain is reflected through his unbridled enthusiasm. Untethered to personal or professional deadlines, the care put into assembling Brain Pain led to what O'Connor describes as a reawakening for Four Year Strong.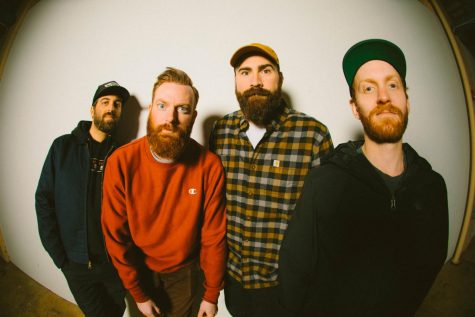 "It's the first time we ever did that without any kind of time or personal restraints that we put on ourselves," said O'Connor. "But I think this record as a whole will speak for itself. Especially when trying to pick singles, I'd just point to a song and that'd be fine to put out as a single. We never really had that feeling. Instead of it being a couple of singles and a bunch of fillers, for the first time we put out a record that has all the dynamics and storytelling. Musically and lyrically, that kind of fits together as a whole."
The ability to probe and scrutinize their own musical genius was therapeutic for a band entering their third decade together. Haunted by a graveyard of abandoned concepts, Four Year Strong afforded themselves the opportunity to harness their artistic capacity.
Says O'Connor, "I think that really helped us exorcise our musical demons in some ways. I have this weird theory when you have an idea that you don't fully take to fruition and finish, where you just kind of move on from it, I feel like that idea keeps coming back up until you fully realize it and every time we wrote a song we were able to fully realize an idea."
Throughout their 19-year tenure as a band, Four Year Strong has collected five top-100 Billboard releases. They've shared the stage with acts such as Blink-182, Rise Against and Bring Me The Horizon. Yet despite their commercial success and reputation for influencing pop punk's newer, edgier direction, O'Connor states that the band refuses to rest on its laurels, instead of relying on authenticity and humility to enhance the Four Year Strong brand.
Says O'Connor, "Brain Pain is going to be seen as the beginning of a 2.0 renaissance for Four Year Strong. We've been a band for almost 20 years. I don't have to tell you that any band that's been together that long usually doesn't have this burst of inspiration, renewed passion and drive.
"We wanted to give ourselves the opportunity to be creative and figuratively spread our wings as much as we can," said O'Connor. "[We wanted to] push back the boundaries of what people and ourselves see as what defines the edge of Four Year Strong. And the fact that we did this record and it came out like it did–we love it so much. I feel like the band is going to be a much stronger entity because of this record."
Socialized by the aggression and disorderliness of the Boston pop punk scene, Four Year Strong is recognized for putting their heart and soul into every performance. O'Connor and Day will yell in your face and demand reciprocation, emboldening seasoned fans of Four Year Strong while coaxing those unfamiliar with their brand of pop punk into forfeiting their reservations.
Later this month, Four Year Strong will embark upon a tour alongside Silverstein and I the Mighty in support of Silverstein's 20th Anniversary tour. Galvanized by the staying power of MySpace-era pop punk, O'Connor says he expects the diverse lineup to recruit fans of rock's adjacent subgenres to one place.
"I think it's going to work in everybody's favor," said O'Connor. "I think Silverstein's going to have more of the heavy, screamo kind of vibe and we're going to bring in more of the pop punk, rock music kind of crowd and I think they are all going to find a common synergy in the crowd. We've both been around for a long time and I think we both understand what we need to do to put on the best show possible so. I think it's going to be a really awesome fun night of music. "
O'Connor was transparent about his expectations ahead of their April 7 tour date in Chicago. Citing Chicago as one of the turbulent environments for pop punk, O'Connor reminisced on Four Year Strong's first trip to Chicago, a sold out performance at the Metro in 2009. Eager and riotous, O'Connor asks Chicago fans to anticipate Four Year Strong's trademark intensity when they visit Concord Music Hall.
"There will be more energy than you know what to do with. Every night when we play, we try to give everything we have to that show. My job is to not only get the kids who do know my band excited but also kids who have never heard our band before. By the end of our show, my job is to get them into it and excited to be part of our world no matter how big or how small the venue is."