INTERVIEW: Theory talks new album, pointed lyricism
February 28, 2020
Theory (formerly Theory of a Deadman) wants listeners to open their minds, expand their parameters and join them on their voyage from anthemic party rockers to interrogators of society's most glaring faults. Once celebrated for resounding riffs atop youthful expressions of recklessness, the multi-platinum Canadian rockers recently adopted a more contemporary approach to songwriting, a direction drummer Joey Dandaneau describes as purposeful and intentional.
Last month, Theory–Dandaneau, vocalist Tyler Connolly, bassist Dean Beck and guitarist Dave Brenner–released their seventh studio album, Say Nothing, a 10-song collection which examines blind political allegiances, the traumas of domestic abuse and society's inability to reconcile its ideological fissures. However, despite its forthright lyricism, Say Nothing is most notable for its scaled back instrumental direction. According to Dandaneau, cooperative instrumentals allow the band to concede the spotlight to the album's message.
"We had strong messages that we needed to convey," said Dandaneau. "Lyrically, we felt as a band that simplifying our music would allow us to have more attention focused on the lyrics. As musicians, we've grown. We've learned that more is less."
Say Nothing mirrors the maturation of a band willing to adapt to the current music scene without deviating too far away from their own identity.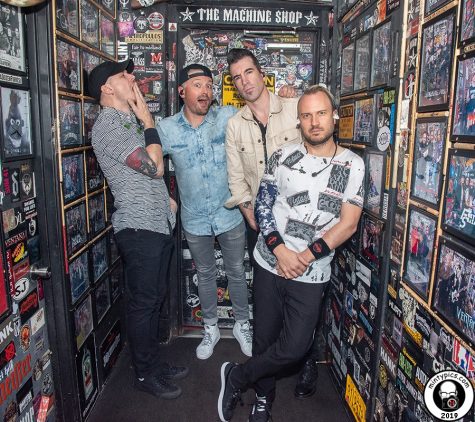 According to Dandaneau, Theory "still wants to be a current band and make current music." However, rather than promote superficial messages, Say Nothing takes a sobering, nonpartisan look at today's social climate.
Unfortunately, despite the devastating impacts of domestic violence and America's drug epidemic, misinformation has run rampant, suppressing meaningful dialogue. According to Dandaneau, the album title serves as a plea to "say nothing" in lieu of spreading and defending misinformed opinions.
"You can't get away from it," said Dandaneau. "There's just things we need to talk about now that are problems. And some people are affected by it in one way, shape or form. Lyrically, we're not leaning to one side when it comes to something political. All we're talking about are the issues at the forefront and allowing people to be more aware of it, if they aren't already. Issues like domestic violence, drug addiction and things like that. We are trying to connect with people that may have experienced it firsthand or maybe they know somebody that's gone through it. Everybody's got a story.
"I know a lot of people don't know where to get proper information from because there's so many avenues of information on what's real, what's not, what's right and what's wrong. So, this term 'say nothing' is that sometimes people just need to stop talking."
But while Dandaneau admits that Theory isn't trying to lecture their audience, they do hope to use their platform and charitable contributions to connect with fans and help bring awareness to persistent issues. Referencing the lyricism in "Strangers," Dandaneau says it's "goofy" that neighbors can't look one another in the eye without rehashing political disagreements. Dandaneau asks listeners to "do their homework and find the vetted solution," rather than allowing bias reporting to indoctrinate listeners
More important than playing hero or political martyr is basic human kindness. Dandaneau hopes to use his spotlight to stunt the hostility that drives a wedge between family, friends and countrymen. "If we can help one person, then we've done our job," explained Dandaneau. "If we can get 1% [of the world] on board to try and make the world a better place, then we've done our jobs."
While Theory's instrumentals surrender the spotlight to Say Nothing's blunt lyricism, Dandaneau states that there's a lot to appreciate about the musicianship. An increased emphasis on purposeful drumming, Brenner's weeping guitar and vocalist Tyler Connolly's newfound passion for the piano–which Dandaneau describes as a new beginning to Connolly's songwriting– drive the band's evolution into minimalist artists.
Dandaneau says, "I think there's still a lot of great stuff that [fans] need to listen to. Listen to the simplicity of it. If you listen to the drumming, for example, you can literally hear every single tiny part that I'm playing. Every snare roll makes such a massive difference to the song. I think that's more exciting."
According to Dandaneau, adopting the piano into the Theory brand opened up new horizons for a band that has already collected four No. 1 hits on Billboard's Mainstream Rock Charts. The Theory drummer says that once the band exhausted traditional chord progressions, the discovery of the piano uncovered avenues previously unexplored, providing a new dynamic for Theory fan base to consider.
"It sounds massive, it sounds dramatic," gushed Dandaneau. "And it has this feel that you can't get from a guitar. I think Say Nothing is massive sounding because of that. It adds this ominous, dark and dramatic feel that I think has taken our sound to the next level."
With the melodic "History of Violence" rising to No. 1 on Billboard's Mainstream Rock Songs chart, the sky is the limit for the Canadian rock quartet. In an era suffering through clumsy attempts at reinventing rock to appeal to fans of adjacent genres, Theory appears to have discovered the elusive balance between the calamity of yesterday and the tranquility of tomorrow. But while the future remains bright for Theory, Dandaneau says they are content living in the present.
"This record is our main focus and we are going to tour the pants off of it and get in as many shows as possible, in front of as many people as possible to get our message across. People are going to realize that we aren't one-dimensional."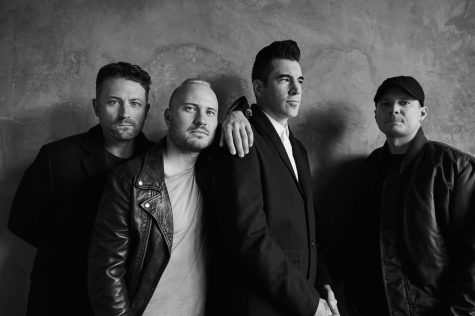 Theory will bring their Say Nothing World Tour 2020 to the Rave in Milwaukee, Wis., on May 2, with 10 Years playing in support. Dandaneau says that while the band won't overwhelm concertgoers with blinding light shows or an exaggerated stage presence, Theory will offer a dramatic ambiance that complements both their message and sound.
"We've never been a run around stage, jump on and off of ramps, pyro kind of band," said Dandaneau. "Never have been. We've always been quieter and slower. We've designed with our director a really dramatic kind of show.
"We of course have to play the older stuff, we always will. But with this new stuff, we've designed a lighting package that has enabled us to create this dark, ominous, dramatic show. We incorporate the piano and we roll the piano out in the middle of the set. We have a lighting design that really encompasses this feeling. Everything that we've done on stage is done on purpose. It's a very cool show to look at."
With Theory's headlining tour in full swing and fans digesting Say Nothing–Dandaneau cites "Ted Bundy" as a surprise hit–Theory are soaring high above the rock mountain. With an album that offers narratives that mirror Theory's maturation from an act defined by high-energy to purpose-driven storytellers, it feels as though nothing can slow Theory down.
Offering a message of optimism for those impacted by the themes of Say Nothing, Theory has partnered with PLUS1 to donate $1 from every ticket sold to help combat domestic violence. Speaking on behalf of Theory, Dandaneau offers refuge for those affected by mental health issues or physical or emotional abuse.
Says Dandaneau, "It seems like anxiety and depression is so vast in the world we live in today. I think a lot of people who have never heard [World Keeps Spinning] might hear that song and connect with it immediately because chances are they've experienced anxiety or depression in some way, shape or form in their life."
Dandaneau's passion reverberates with every word he speaks. His love for his craft is readily apparent as he details his appreciation for having a platform to inspire others. Dandaneau asks for fans to join hands with Theory as they attempt to make a difference one lyric at a time.
"We put our heart and soul into this stuff and we love what we do. And we want as many people to come on this journey with us as possible. As we change as individuals, we want our fans to do the same and move forward in life and be happy. We want them to help people, not tear them down. We just want to grab as many as possible. We need everybody's support to do that. We want to build this brand and we want people to support it. We want everyone to be a part of it."