Community Get Down: A showcase of Chicago's house music culture
February 25, 2020
Recognized as the birthplace of house music, Chicago has a rich heritage of thumping bass and strobing lights. Once confined to a single club on the South Side of Chicago, house music has experienced a remarkable surge in popularity, becoming the central point of populous festivals and clubs worldwide, as well as nurturing a vibrant community. The Community Get Down maintains the Windy City's house music pulse, offering an event defined by a sense of camaraderie and celebration.
Music, food, games and friendship defined the fourth installation of the Community Get Down, which lasted 12 hours (1 p.m. to 1 a.m.) at Replay Arcade Bar in Lincoln Park on Feb. 16. The event is hosted by What's Good Chicago?, a Facebook community of 13,000 dedicated to promoting the diversity of Chicago's social scenes. The Community Get Down events were started by Humberto Villegas, also known as DJ Eleven11, and Steven Royale, founder of What's Good Chicago?, whose birthday celebrations coincided with the event.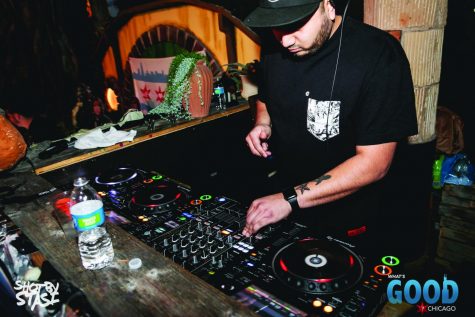 The fourth Community Get Down included intricately designed Lord of the Rings decorations to go along with over 65 arcade games. The soundtrack for the night was provided by a lineup which showcased eleven DJs, including Dead Space–a tech house artist from Orlando, Fla. Dead Space performed a two-hour set at 7:30 P.M., invigorating and impressing the crowd throughout what can be described as a musical expedition.
The lineup also showcased rising talents including, Desadeca, Alan Ray, Brittany Beers and many more. Eleven11 put on a strong performance to follow up Dead Space's set. Local up-and-coming producer and DJ, Mekington, closed out the night by keeping the pulsating house music vibes flowing for all those who couldn't get enough of the Community Get Down atmosphere.
Upon entering, attendees were welcomed by cosmic sounds vibrating through the speakers. The rhythm and energy throughout the venue was immediately palpable and smiles could be seen across the sea of faces in the crowd. The feeling of friendship and love was in the air as people danced, grabbed drinks and mingled.
On the dance floor, members of the Chicago Shufflers, a family-oriented dance community in Chicago, impressed attendees with their enthusiasm and spirited energy. The performers strutted their stuff and showed off their talents and individuality through dance while the crowd and their friends cheered.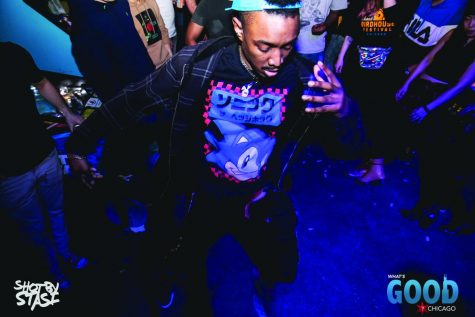 The Community Get Down felt like a place to laugh, dance and play with your friends as people bobbed their heads to the music while unleashing their inner child, taking advantage of an abundance of nostalgic arcade games available at the event.
Villegas, one of the founders of Community Get Down spoke with "The Independent" regarding the origins and motivation behind the event series and what people can expect when attending one.
Villegas explained, "We [Villegas and Royale] really just wanted a place for all of our friends to play and to showcase what we were all about, and that house music and dance music and our community, in general, was about lifting each other up and it's about giving people opportunities and everything to showcase that Chicago is the home of a very talented and diverse cultural group."
The Community Get Down events aim to encapsulate friendship, art, music and most importantly a sense of community and belonging into an experience that brings people from any and all backgrounds together to celebrate life.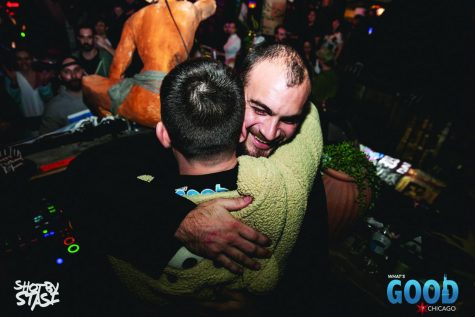 Said Villegas, "When you come to a 'Community Get Down' you obviously get the music and you get the bar, but aside from that you also get a bunch of free arcade games, you get the networking, you get the various art installations that are built around the venue, you also get to experience different merch and artist vendors that are local to the community."
What also sets the Community Get Down events apart from other events happening across the city is the welcoming, all-inclusive atmosphere. The house/techno music scene was curated in Chicago back in the late 70s, with principles that encouraged unity through a shared love for the music. The house music community was and is a place of acceptance where anyone is welcomed and able to freely be their authentic self without judgment.
The values of the house music community carry on today in Chicago, Villegas noted. "The 'Community Get Down' event is basically about getting people together to celebrate life through music, food and art and through positive interactions," he said. "That's exactly what it is, it's different people from every way of life come together to come as one, you know, essentially it's basically the mantra of why we started the 'Community Get Down.'"
Villegas fostered an ever growing passion for music starting in his early youth.
"I actually grew up on house music. I grew up on house music, freestyle, hip hop, rock and punk since I was a kid."
Villegas's mother played a vital role in his exploration and exposure to all kinds of music while he grew up.
"My mom was born in [19]68 but she grew up in Chicago on the South Side. She's from Mexico though, but she moved here when she was around 12 years old…She really allowed me to open my mind up to certain things and she had a really open mind to everything. So when I was growing up, literally my parents' house was filled with Mexican music, banda, cumbia and then it was also like hip hop, freestyle, house music and like club music and like all sorts of things."
Villegas decided on the name Eleven11 two years ago. He pulled the inspiration from the timestamp 11:11 which has different meanings in numerology relating to introspection, intuition and manifestation. People are encouraged to make a wish if they happen to glance at the time and it is 11:11.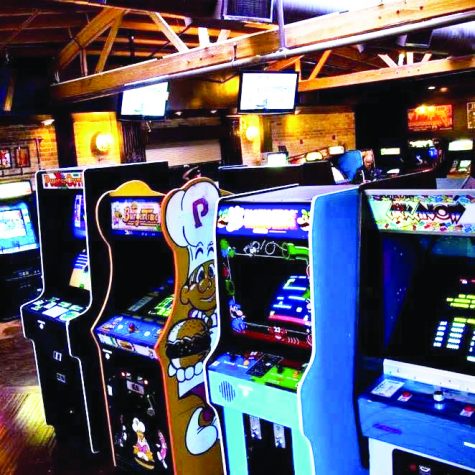 For Villegas, making a wish at 11:11 was something that helped him persevere through tough times and obstacles that transpired during his upbringing in the Little Village neighborhood of Chicago.
"For me growing up, that was my crutch, you know? Like that's what got me through everything was just that. I would at 11:11 every night, I would wish that something good would happen to my mom, to my brother, to my sister, to myself, to my family… That we could just make it through the year or through the day in general. You know, to pay our rent, eat food, and have clothes and stuff."
It was only fitting that Eleven11 would be Villegas's name as an artist.
"I embraced that number and I just really wanted it to be something that was part of me cause it was like literally growing up every single year, every single day I would literally say at 11:11, 'I wish that my family would be better.' I would you know, look up to the stars and everything like that."
Villegas, who has compassion for those in need built from his childhood experiences, made sure that the Community Get Down gives back to people in the Chicago community. Through their past events, they have organized drives for meaningful causes like "Toys for Tots" and collected warm clothes for donations to the homeless and people in need.
Future Community Get Down events will carry the same positive, accepting energy that makes the house music community a special place. All are encouraged to come out to these events to celebrate friendship and prosperity through music, food, games and fun. The 5th Community Get Down will take place on April 19, 2020.
If you want to know more about some of the artists featured, check out:
Dead Space: https://www.facebook.com/deadspacemusic/
What's Good Chicago?: https://www.facebook.com/chicagowhatsgood/
Eleven11: https://www.facebook.com/Eleven11DJ/
Mekington: https://www.facebook.com/Mekington/
Brittany Beers: https://www.facebook.com/BeerBrittany/