CONCERT REVIEW: Dirty Honey heats up the Windy City
February 13, 2020
On a cold Tuesday night, Los Angeles hard rockers Dirty Honey brought their modern interpretation of classic rock to Bottom Lounge in Chicago, Ill. Touring with United Kingdom rockers The Amazons, Dirty Honey impressed with intoxicating riffs, crescendoing vocals and their intrepid stage presence.
Approximately half the size of Chicago's House of Blues, Bottom Lounge is the perfect venue for an intimate rock performance. The concert hall's strategic design suggests a purposeful state of disrepair, subsequently epitomizing the soul of underground rock n' roll.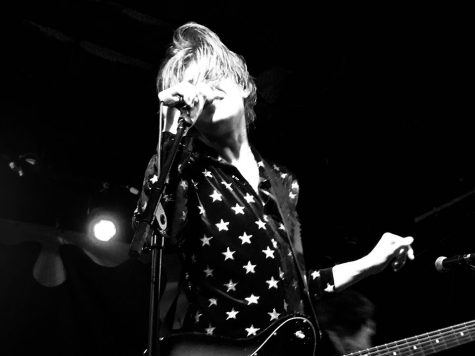 The Amazons opened the night with a set which bordered on Britpop. The rockers out of Reading, Berkshire dressed like a caricature of 1960s America; guitarist Chris Alterton's slicked back hair and tucked in cutoff tee shirt was reminiscent of the rockabilly era while vocalist Matt Thomson and bassist Elliot Briggs bore a disconcerting resemblance to The Outsiders' Ponyboy Curtis and Johnny Cade, respectively.
The Amazons' set started relatively nondescript. Playing in front of a predominantly apathetic crowd, the group weathered an awkward start before persuading concertgoers into receiving their brand. The set hit its stride with the heavily distorted "Mother," benefiting from Thomson's unbridled enthusiasm. By the time the Amazons closed with "Black Magic," the crowd was receptive and engaged, openly catcalling Briggs' for his boyish charm and impeccable fretting skills. 
Dirty Honey's rapid evolution from concert openers to headliners has been fascinating to watch.  During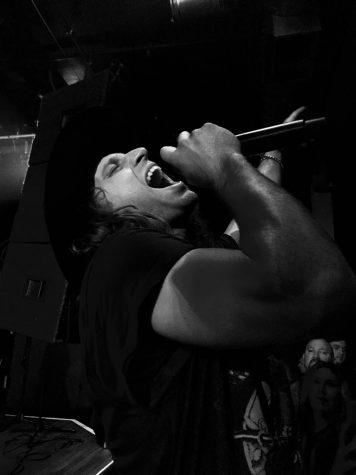 their first headlining trip to the Chicagoland area, the hard rock quartet played at the intimate Rochaus in West Dundee before approximately 25 curious fans. Less than a year later, Dirty Honey packed the midsized Bottom Lounge, a natural progression in their ascent toward superstardom. Previously tasked with earning support from reluctant crowds, fans now congregate to watch Dirty Honey perform their nostalgia-driven rendition of rock n' roll. 
Dirty Honey's budding confidence was readily apparent. Concurrently operating as both a commemoration of classic rock and a celebration of the genre's new direction, Dirty Honey's setlist provided optimism for a genre that legendary performers once left for dead. Featuring original hits, unreleased numbers and covers of legendary artists such as Led Zeppelin and Aerosmith, Dirty Honey treated Chicago to a rock n' roll party.
Everything about Dirty Honey's stage attire dripped with swagger. Guitarist John Notto surfaced wearing circle-rimmed sunglasses, striped pants and an ironic tie resting lazily atop an 80s-era suit jacket. Bassist Justin Smolian's tasseled buckskin jacket exuded the type of charisma befitting of a performer whose band is rocketing up domestic rock charts. Nevertheless, once the charade subsided and the music started playing, the guys in Dirty Honey reverted back to the same humble, ear-to-ear grinning guys we saw ensnare a crowd of dozens at Rochaus.
Dirty Honey opened their set with a slightly modified version of "Scars," adding perceptible subtleties that both enhanced the number and reflected the band's maturation as artists. Notto commanded center stage from the onset, racing to the front of the stage mid-riff while almost challenging the audience to overlook his musical prowess.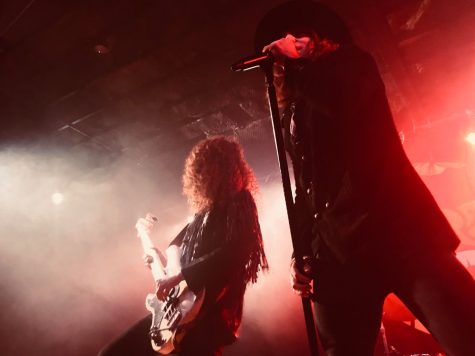 Notto's ability to seamlessly transition between broken chords and power chords was particularly impressive. His chord progressions were effortless, guided by an educated precision that evades even the most seasoned musicians. 
Despite being in the infant stages of his music career, vocalist Marc LaBelle is a budding star, as evidenced by his inclusion in Slash's All-Stars, a group including Billy Gibbons of ZZ Top, Lzzy Hale of Halestorm and Rick Nielsen of Cheap Trick. 
Draped in a Guns N' Roses tee shirt, LaBelle's vocal gymnastics demanded the audience's attention. While this may sound like irresponsible hyperbole, LaBelle might be the closest thing to this generation's Robert Plant as we'll ever see. His compressed vocals and nasalization allow him to perform scarcely paralleled vocal acrobatics, adding a fiery dynamic to Dirty Honey's efforts.
LaBelle also exhibited an authoritative stage presence. During "Fire Away," LaBelle puppeteered the audience, forfeiting the microphone to the crowd while peering wayward in an expecting manner. 
And his expectations were met.
As the microphone hovered over eager concertgoers, the audience ricocheted each and every Dirty Honey lyric back at the band, coaxing a reluctant smile from LaBelle. It was a beautiful display of cohesion from the rock faithful, a fan base eagerly embracing the Dirty Honey-led resurgence of classic hard rock.
After introducing a new song titled "The Wire," Dirty Honey played "Heartbreaker," which was supplemented by an enthralling guitar solo reminiscent of Slash of Guns N' Roses.  A standout on the Dirty Honey setlist, Notto once again differentiated himself thanks to his surgical exactness and unorthodox stance. Erecting his guitar in a vertical position, Notto's ability to perform absent of a standardized position was suggestive of both Notto and Dirty Honey's limitless potential. 
The setlist reached its zenith when the band transitioned into "Down the Road," a seductive anthem of indefiniteness and hopeful melancholy. A surefire staple of the Dirty Honey setlist, the sheer amount of talent that went into what this author considers to be the modern day "November Rain" sent the crowd into an impassioned frenzy as they collectively chanted "na, na, na, na" as the song reached its climax. Attendees also erupted at the ethereal sight of Notto fretting his soul out behind LaBelle's escalating vocals. 
Bassist Justin Smolian and drummer Corey Coverstone each received their moment in the spotlight,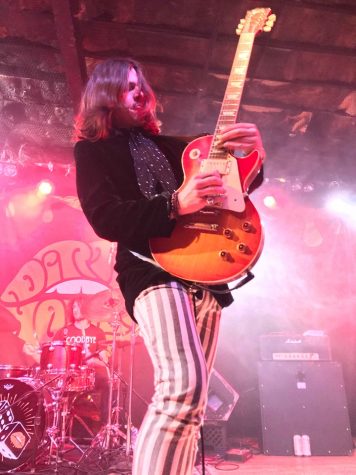 executing their own solos with an earned confidence. Smolian's bass solo was particularly captivating. While it didn't feature the same acceleration as Notto's scorching solos, there was a dystopian feel to it that operated in stark contrast to the remainder of the set, making it a welcome outlier among uniformity. 
The final portion of the setlist featured "When I'm Gone," a cover of Led Zeppelin's "Whole Lotta Love" and "Rolling 7s," three numbers that earned a ravenous response. While "Down the Road" warrants promotion to set closer, "Rolling 7s" profits from a dramatic outro that makes it a suitable choice. Both songs, particularly the latter, are sexy blues numbers that capably represent the integrity of the Dirty Honey brand. As their top two streamed songs, it came as no surprise that Dirty Honey selected those two numbers to conclude the night.
Since Dirty Honey burst onto the scene as the first unsigned artist to top Billboard's Mainstream Rock Chart in its four-decade history, the band's subscription to the principles of the golden era of rock have been evident. Watching LaBelle contorted expressions as he explores his full vocal spectrum is reminiscent of the great vocalists of yesteryear. Watching Notto navigate his fretboard with a cavalierness inconsistent with the complexity of his performance is the kind of experience that will undoubtedly propel Dirty Honey to the tops of charts for years to come. 
On this night, Dirty Honey ushered in a new era of rock n' roll. Their influences were discernible throughout the set–the band cites acts like Guns N' Roses and Aerosmith as inspiration–though they didn't borrow too heavily from either band, instead manufacturing their own unique identity. It will be fun watching Dirty Honey evolve as songwriters and performers.