Mac Miller lives on through Circles
February 11, 2020
Mac Miller Jan. 19, 1992 – Sept. 7, 2018
Malcolm James McCormick, commonly known as rapper Mac Miller, died Friday, Sept. 7, 2018, from an accidental drug overdose. Miller's sudden passing paralyzed the music industry and devastated fans worldwide.
Born and raised in Pittsburgh Pa., Miller achieved musical success in his early years.  Miller always had an ear for music, teaching himself to play several instruments by the age of 6. At the age of 15, he released his first mixtape under the name EZ Mac. Five years later, he was signed to Rostrum Records, where he recorded "Keep Floatin" alongside Wiz Khalifa, which was featured on Miller's fifth mixtape Best Day Ever (2011).
During his time with Rostrum Records, Miller released several successful projects including his first studio album in 2011, Blue Slide Park, which achieved success as the first independently distributed album to lead the U.S. Billboard 200 since 1995.  From then on, Miller's career took off. In 2013, Watching Movies with the Sound Off, his last record with Rostrum Records, showcased momentous artistic growth. In 2013, Miller also founded REMember Music, a record label imprint.
After departing from Rostrum Records, Miller signed with Warner Brother Records in 2014 where he would go on to release four stellar albums; GO:OD AM (2015), The Divine Feminine (2016), Swimming (2018) and the posthumous Circles (2020). Swimming was posthumously nominated Best Rap Album at the Grammy Awards in 2018. Miller, under the pseudonym Larry Fisherman, also produced for artists including Vince Staples, Ab-Soul and SZA. Miller continued to extend his impressive catalog of art, releasing upwards of 10 mixtapes over the span of his twenty-six-year career.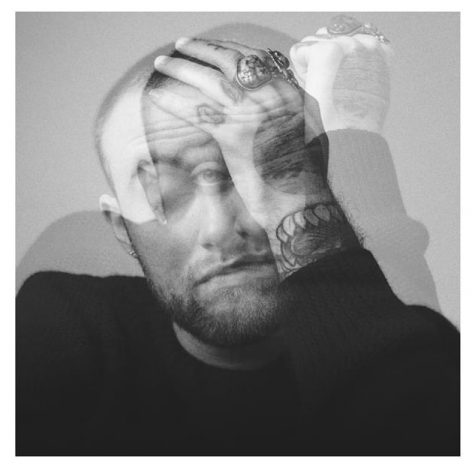 The world lost Mac Miller as he was embarking on a new chapter in his artistic endeavors. Circles, his 12-track posthumous album, correlates directly with his 2018 album, Swimming. His vision for the project carried a thoughtful and deep meaning. Miller transcended his feats as a rapper and embraced his developed knack for singing. Miller had been immersed in this project before his passing.
The album was completed by Jon Biron, who had worked with Miller as a co-producer on Swimming and had already begun collaborating with him on Circles prior to Miller's passing.  Biron completed the album based on conversations regarding the vision Miller shared with him during their time working on the album together.  Someone managing Miller's Instagram account explained the title Circles, the companion concept to Miller's album Swimming, the day Circles was released by writing: "Two different styles complementing each other, completing a circle- Swimming in Circles was the concept."
The analogy of "swimming in circles" seems fitting as fans of the bright, spirited rapper are left feeling blue, aimlessly looking to fill the void left behind by Miller's vibrant soul. Although Circles has an optimistic bite, the album is bittersweet and is a difficult listen at times. The light within the darkness is that after an artist passes, their soul is carried on through the music they made in their lifetime. Miller's soul can always be accessed and illuminated through the music he left behind.
"Blue World" begins with a sample from the 1950 track "It's A Blue World" by The Four Freshmen.  This song features an electronic-infused hip-hop beat courtesy of Guy Lawrence – part of the British EDM dyad Disclosure. Miller used this song to reflect on his life experiences and trials: "Think I lost my mind, reality's so hard to find / When the devil tryna call your line, but shit, I always shine."
The track "I Can See" carries the burden of heartbreak.  The inner turmoil and pensiveness Miller portrayed through his lyrics paint the struggles he was facing–"Cause Heaven too far when you live in the basement / I'm lookin' for balance, I'm in an oasis / Well, I need somebody to save me, hmm / Before I drive myself crazy."
In the sixth track "Everybody," Mac sings, "Everybody's gotta live, everybody's gotta die / Everybody's gonna try to have a good, good time, I think you know the reason why." This is another song that induces catharsis. Miller seems to accept his mortality and arrive at a place of peace with the ups and downs of life and its ultimate end.
His music spoke directly to the hearts of countless fans and listeners, many of whom grew up with Miller: Not knowing him personally, but growing up listening to his music, evolving as he evolved and maturing as he matured. Miller had a way of relating to people, and a considerable number of them feel as if he were a friend. His music explored themes of love, personal tribulations and the pitfalls of emotion. Miller also produced feel-good music that provided upbeat energy. Miller's music provided a soundtrack in people's lives over the course of many years.
Miller's radiant soul was always on display through his music. Eager anticipation bloomed before each new project. Fans never really knew what to expect from Miller, especially through his evolving individualistic sound and craft. With each album, song, lyric, and beat, fans were given a window into the mind and soul of Mac Miller. A special individual gone too soon, Mac Miller will forever be celebrated and remembered as the young dynamic, ambitious rapper who deeply touched the lives of many. "Somehow we gotta find a way / No matter how many miles it takes." 92' Til Infinity.