Katie Sowers inspires on the field, makes Super Bowl history
January 28, 2020
San Francisco 49er assistant coach Katie Sowers, the second woman and the first openly gay individual to be a full-time assistant coach in the National Football League, will be breaking down multiple barriers in the professional sporting world when Super Bowl LIV kicks off in Miami on Feb. 2. But perhaps ironically for Sowers, the game pits San Francisco against rivals the Kansas City Chiefs – Sowers was born in the small town of Hesston, Kan., where she embraced her passion for sports beginning when she was 8 years old. 
Sowers went on to play for the West Michigan Mayhem and the Kansas City Titans, both part of the Women's Football Alliance. During her run with the Kansas City Titans, Sowers was also a member of the United States Women's National American Football team that won the IFAF Women's World Championship in 2013. In 2016, Sowers injured her hip, leading to her retirement. 
Following her retirement from competition, she became a wide receivers intern with the Atlanta Falcons during the summer of 2016 and remained with the Falcons as a scouting intern until 2017. She joined the 49ers in June of 2017 and worked her way from a seasonal offensive assistant to the official offensive assistant coach.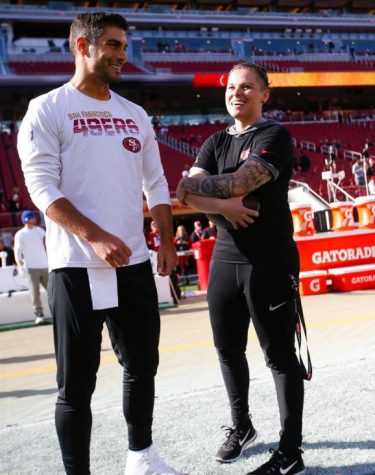 Her journey to assistant offensive coach was littered with obstacles. As an openly gay woman, Sowers faced discrimination throughout her life. In college, she was refused a volunteer coaching position because of her "lifestyle". 
Sowers explained how her experience with discrimination affected her in an interview with Outsports: "That moment really impacted me because it was the first time I truly felt judged because of my sexual orientation. I was so passionate about coaching and to feel like my opportunities were limited because of who I loved was hard to deal with. However, without that experience I would not be where I am today."
Sowers's story represents the harsh reality for many men and women across the country who face discrimination and judgment because of their sexual orientation. To overcome such adversity demonstrates Sowers' perseverance and tenacity to follow her passions no matter the obstacles.
In her interview with Outsports Sowers also said, "There are so many people who identify as LGBT in the NFL, as in any business, that do not feel comfortable being public about their sexual orientation."
Sowers's statement holds significant weight in today's climate where the views on the LGBTQ+ community are shifting in a more positive direction. Yet there are still sectors of society, such as sports, where it remains difficult to express pride in being openly gay or bisexual. Sowers serves as a pillar of hope for current and future athletes across all sports to begin fostering a culture that is more inclusive.
To have an open member of the LGBTQ+ community coaching on such a visible, male-dominated stage represents an enormous win for society. Sowers is a noble example of how gender and sexuality should not be an inhibitor from someone chasing their dreams. She has opened doors for young boys and girls whose talents and dreams should be nurtured and supported, regardless of social barriers that have held people back for so long. Katie Sowers will be remembered as the woman who trailblazed the path for women and people in the LGBTQ+ community in the professional sports world.