Dirty Honey talks sweet chart-topping success
January 29, 2020
It was a blustering May evening when Los Angeles rock quartet Dirty Honey first visited the Chicagoland area, a region renowned for jealously guarding its rock n' roll heritage. Nevertheless, despite tempered-yet-hopeful expectations, only a few dozen fans traveled to Rochaus in West Dundee to hear the then-emerging artists, leaving yards of room between c0ncertgoers and–perhaps more surprisingly–a humbling amount of space near the front of stage area. 
Fast forward five months and Dirty Honey is trailblazing an uncharted path to the top of the charts, using their uncompromising brand of rock to inject a stagnating genre with a much-needed shot of adrenaline.
On Oct. 5, Dirty Honey became the first unsigned band to top Billboard's Mainstream Rock Songs Chart when their single "When I'm Gone" reached No. 1. Navigating a path organized by Mark DiDia of Red Light Management, the blues rockers rejected traditional wisdom, proving that talent, ambition and passion are enough to appeal to the masses. 
Dirty Honey's success serves as a turning point for a genre suffering through a well-documented decline. Once the preeminent music genre, rock devolved into a caricature of itself, segregated into a series of subgenres ranging from post-hardcore to nu metal. Sure, exceptional artists were categorized under each of those respective subgenres, but collectively, rock music as a whole began to labor. 
Dirty Honey bassist Justin Smolian appreciates the magnitude of the band's accomplishments. He understands how Dirty Honey's success helps reshape the landscape of a genre that legends such as Gene Simmons of KISS and Scott Ian of Anthrax recently declared dead.
"It's cool that a band like us went No. 1 because there are not a lot of bands playing the style of rock that we are playing," said Smolian. "We're starting to feel a shift in rock n' roll. Maybe it's a little more fun, a little bit more blues based. It's solid rock n' roll, which I think everybody loves and is what I think a lot of people grew up listening to their parents' record collections. All my parents played in the car were Tom Petty, the Beatles and Led Zeppelin. I think a lot of people had the same experience."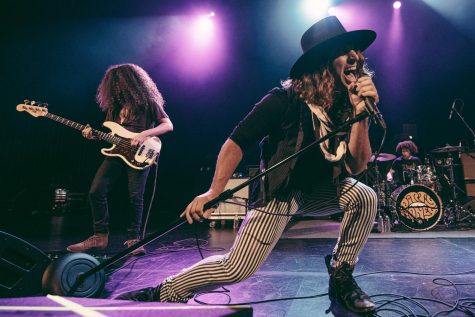 Smolian states that while Dirty Honey will continue recruiting a wider audience, the band is satisfied with their current direction. While it would be nice for top 40 radio stations to take notice of their music, it isn't their underlying goal to be featured on the same radio station as today's foremost pop, EDM and rap artists. "If you write good songs, people will listen to them," said Smolian, laughing. "We're pretty happy with the steps we're taking in the rock format. We always want to get bigger, but I don't think it's our immediate goal to be on the same radio station as, let's say, Katy Perry."
However, despite their rapid ascent up the rock charts, Dirty Honey began from humble beginnings, evolving from a cover band to a bonafide headlining act.
"To make money, we were doing a lot of cover gigs with different drummers with tons of drummers throughout Los Angeles," said Smolian. "[Dirty Honey lead guitarist] John Notto and I were both session musicians on the side playing with lots of artists."
According to Smolian, once DiDia got on board, the opportunity for the members of Dirty Honey to showcase their talent and establish a unique brand arose. From there, the band started creating more original content, committing to the fulfillment of their artistic potential.
"Once he got wind of 'When I'm Gone,' he totally jumped in,' said Smolian. "Once Mark DiDia got involved, it all just took off really fast. We were in Australia a couple months later recording our EP. Once that was done, we kind of just toured and haven't stopped since then."
Smolian also cites his chemistry with Notto and vocalist Marc LaBelle as an impetus for their progression from session guitarists to the opening act for rock legends such as Guns N' Roses, Alter Bridge and The Who. 
"The first time John and I met at a jam session, we kind of immediately locked in with each other and I was like, 'Okay, this is a person I can make music with.'  The first time I sat down to make music with Marc, we wrote a great song and finished it in like an hour."
That chemistry is apparent during Dirty Honey's performances. Watching LaBelle's contorted expressions as he explores the full range of his vocal spectrum is energizing. Seeing Notto expertly navigate the fretboard to create a blues rock sounds reminiscent of the great acts of yesteryear is invigorating. Witnessing Smolian and drummer Corey Coverstone dictate the tempo is a special experience. And Smolian, whose natural humbleness betrays his cool, charismatic onstage presence, seemingly knows it. 
Where many contemporary rock artists have abandoned traditional rock principles in an effort to recruit fans of neighboring genres, Dirty Honey generates inspiration by exploring the past. Smolian cites Coverstone's appreciation of Van Halen, LaBelle and Notto's love for The Black Crowes and Led Zeppelin and his own fondness of Guns N' Roses and the Beatles for helping sculpt their vision and inventiveness. Smolian states it bluntly: "we all love rock n' roll."
Learning from established rock acts has not only helped Dirty Honey's creative process, but has also helped guide their maturation as a live act. Smolian credits their performances in support of The Who for teaching them how to navigate larger stages during arena tours. He also credits Slash for helping reinvigorate his love for performing. 
"We all learned a lot from Slash," said Smolian. "Slash is a huge rock star. That guy has made a ton of money; he doesn't need to be doing this. But he's still backstage playing for three-and-a-half hours jamming on his guitar. They don't need to play for three-and-a-half hours, but that's their favorite part of the day. I want to have that when I get older; that's something I strive for. I want to still love playing music thirty years from now. I don't want to be jaded."
But despite the parallels in sound and creative drive, the trials and tribulations experienced by an embryonic Guns N' Roses differs from the obstacles facing modern rock acts like Dirty Honey. According to Smolian, modern artists benefit from the exposure offered by digital platforms such as Spotify and Apple Music. "Because of Spotify and Apple, we get messages from people from all over the world who love our music," said Smolian. "That's been really cool, to have people say 'come to Brazil' or 'come to Portugal' or 'come to Spain.'"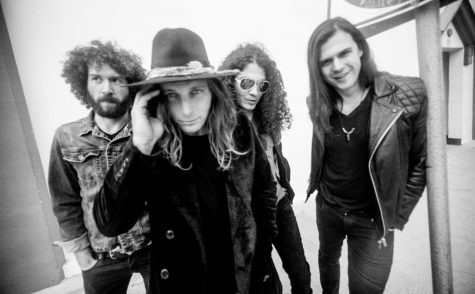 Untethered to a major label, Dirty Honey has been able to reach international fans without a concerted effort from a marketing team. Digital platforms have allowed good music to stand out, says Smolian, somewhat undercutting the need that once existed for bands to sign on with major labels. Furthermore, Dirty Honey's adherence to their unique songwriting process has allowed them to organically develop their brand.
While Smolian appreciates the complexity of the extended guitar solo, he gravitates toward simplicity. Dirty Honey's songs aren't meant to be a blind exhibition of talent. Instead, their self-titled EP relies on a collaborative effort that underscores their common vision. Smolian says Dirty Honey avoids micromanaging their musical offerings, instead allowing their songs to flourish through a loose songwriting process. 
"We all feel the same way," says Smolian. "The most important thing for the band as individuals is writing really good songs. It's fun playing a tough solo or playing a complicated song, but I'll tell you what, it's way more fun playing something that grooves really well and then the audience will singalong."
In an era where the nuances of rock have been replaced by conformity masquerading as an identity, Dirty Honey proudly flaunts their rock n' roll roots. In a generation that abandoned the guitar solo in favor of power chords, Dirty Honey explores the subtleties that propelled yesteryear's rock to the top of the charts. Dirty Honey offers refuge during an age where crescendoing vocals have been displaced by ear-splitting screams and stage presence has taken a backseat to props. And thanks to bands like Dirty Honey, rock n' roll is in a healthier place.
As the new year approaches, Dirty Honey looks to build on their momentum with the "Rolling 7s Tour," their first extended headlining tour. While Smolian balks at the idea of giving away too many secrets, he did share his expectations for crowd participation and a sense of community that stems from a common love of rock n' roll. "More solos, longer sets… it's going to be a blast," said Smolian.
The "Rolling 7s Tour" rolls through the Bottom Lounge in Chicago on Feb. 11, 2020. Dirty Honey will be supported by United Kingdom rockers, the Amazons. Tickets are available on TicketWeb or at the Bottom Lounge box office.