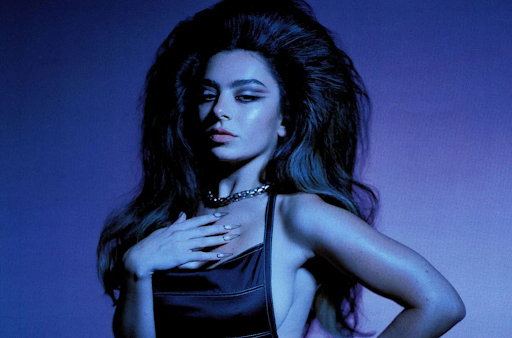 Anti-Pop Star Charli XCX Embodies Her Main Pop Girl Status on 'Crash'
The hyperpop connoisseur gives in to peer pressure from her record label.
April 29, 2022
British singer-songwriter, Charli XCX released her fifth studio pop album, "Crash" on March 18, 2022. The deluxe-version of the album contains a total of 16 tracks and runs 45 minutes. It has elements of dance-pop, synth-pop, and power-pop. XCX has referred to this mainstream project as her "main pop girl–era," and it is considered a big departure from the singer's previous underground work. XCX describes "Crash" as a breakup album that talks about moving on after a failed relationship. 
From top to bottom, the standard and deluxe album covers of Charli XCX's "Crash".
Photo Credit: Atlantic Records
The album covers feature the 29-year-old songstress on top of the hood of a car in a bikini and heels, staring through a shattered windshield with a gush of blood pouring from her forehead. XCX shared with Zane Lowe from Apple Music that the album was named "Crash" and its artwork depicts a car crash because, "they are fast, dangerous, and over in a flash, similar to a breakup," she explains.
"Crash" will also mark the end of XCX's five-album recording contract she signed at just 16-years-old with Atlantic Records—the home of artists like Bruno Mars, Cardi B, and Ed Sheeran.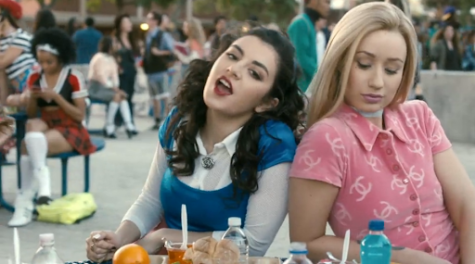 Charli XCX and Iggy Azalea during their music video for Fancy (2014).
Photo Credit: Virgin EMI Records
XCX, which stands for "Kiss Charli Kiss," who's real name is Charlotte Emma Aitchison, was born on August 2, 1992 in Cambridge, England to a Scottish father and Indian mother. XCX began posting self-written songs on her MySpace page in 2008 while in high school. Her musical talent was then discovered by a music promoter who invited her to perform at warehouse raves in London. During her sophomore year of college at University College London's Slade School of Fine Arts she decided to drop out and move to Los Angeles to focus on her music career. 
In 2013, XCX released her first major label album "True Romance" while also gaining international commercial success for writing and lending her vocals on huge pop songs. First, with Icona Pop's 2012 worldwide hit "I Love it," then collaborating with Iggy Azalea in 2014 on "Fancy," which spent 17 consecutive weeks at the top spot on the Billboard Hot 100. XCX also earned her first solo top ten hit in 2014 with "Boom Clap," and it became part of the soundtrack for the film "The Fault in Our Stars." Her witty songwriting skills and unique falsetto voice caught the attention of pop pioneers Gwen Stefani, Britney Spears, and Lady Gaga who all praised XCX's talent and reached out to work with the British starlet.
Tweets shared by Charli XCX and music producer Ricky Reed via Twitter.
However, despite XCX's mainstream success she revealed that she hated this time of her career because she lacked creative freedom and Atlantic Records forced her to work with music producers she disliked, specifically, Dr. Luke, who fat shamed her. Charli XCX tweeted her negative experience with Dr. Luke, who allegedly overheard him say, "She better lose some weight if she wants to be a pop star." to another producer. 
The singer confessed to Pitchfork how Dr. Luke wouldn't give her the time of day until she made a name for herself in the pop industry. 
"When True Romance came out, some people still doubted me as an artist and a songwriter. But once 'I Love It' appeared, and later 'Fancy' and 'Boom Clap,' people began to really pay attention," XCX said. "I find it difficult to deal with someone who rejects me and then kisses my ass later—even though I know that's what the whole music industry is."
XCX also called out the toxic producer, Dr. Luke on the title track of her second studio album, "Sucker."
The hyperpop artist believed she did not fit within the mainstream pop scene. XCX has labeled herself as an "anti-pop star" and instead wanted her music to have an experimental, avant-garde sound. This led to her incorporating hyperpop music in her following projects, such as 2016's "Vroom Vroom EP." The hyperpop genre has quickly grown in recent years, thanks to XCX who helped popularize it. Spotify even published a playlist titled "The Sound of Hyperpop" for listeners who are fans of the futuristic, anti-pop genre. You can listen to it here.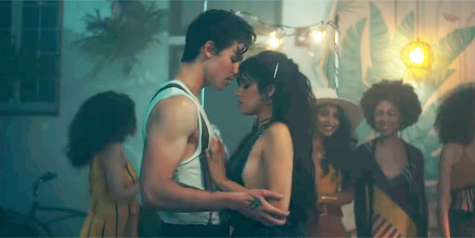 Shawn Mendes and Camila Cabello in their music video for the Charli XCX written song "Señorita" (2019). Photo Credit: Island Records
XCX's fans loved the sound of her new music, but her record label executives at Atlantic Records were not on board with XCX quitting pop music in favor of the underground hyperpop genre. This led to a lot of arguments and canceled albums because XCX was not willing to sing pop music she did not care for. XCX managed to keep her record label happy by generating income through her song writing. The hyperpop connoisseur knows a thing or two about crafting a catchy tune—XCX has written several mainstream pop hits for other artists including Selena Gomez, BTS, as well as Camila Cabello and Shawn Mendes. When asked about why she gives away her hit songs the singer-songwriter replied, "I have millions of songs that I'm never going to sing but someone else could sing a lot better than I could, so I'd rather give them to other people than have them sitting in my brain, festering away." 
Because her five album deal with Atlantic Records is coming to an end, XCX decided to finally give them what they want, a mainstream pop record. On April 6, 2020, XCX announced through a Zoom call with her fans—known as Angels—that she would begin working on her new "main pop girl" album. At the time she did not have a name for the "main pop girl" album and referred to it as the "Janet album." XCX cites Janet Jackson as her influence and wanted to recreate a sound similar to her '80s hits. This resulted in "Crash," a pop album that would reintroduce XCX to the mainstream. It would include radio airplay, high budget music videos, interviews, live performances, a worldwide tour, and tons of press. The album features a more conventional and commercial sound that takes inspiration from past and present pop icons. XCX's final major label album, "Crash" is filled with elements of pop music from the '80s, '90s, and early 2000s.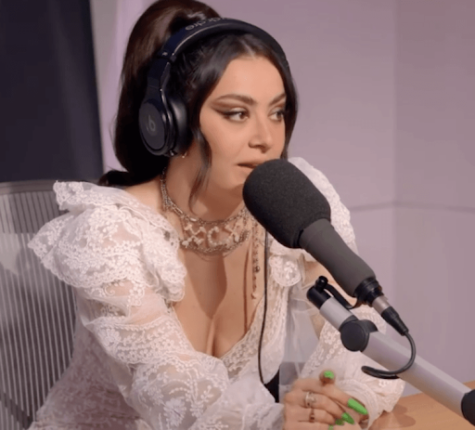 Charli XCX being interviewed by radio host, Zane Lowe.
Photo Credit: Apple Music
In an interview with Zane Lowe from Apple Music the singer talks about her last hurrah. You can watch the full interview here.
"I knew with this album [Crash] because I was talking a lot about pop music and pop rhetoric, I wanted to finally, in all the years that I've been signed to a major label, utilize the major label infrastructure in a way that I've never done before. I wanted to explore the idea of what it meant to be a 'traditional' pop artist," XCX said.
"Good Ones"
https://www.youtube.com/watch?v=kjAuUXdSFaM
XCX began the promotion of "Crash" in early September 2021 by releasing the first single, "Good Ones." In this track, the singer shows us she can let go of her hyperpop persona and immerse herself in the radio friendly pop landscape. The singer effortlessly embodies pop icons before her and delivers a catchy hook that oozes confidence. Although it's only 2 minutes and 17 seconds long, her falsetto and synth production remain stuck in your head after the first listen. She has mentioned that the best pop songs are short and prefers them over longer songs.
"New Shapes" feat. Caroline Polachek & Christina and the Queens
https://www.youtube.com/watch?v=2tvW25Qu5WE
The second single, "New Shapes," was released in November 2021 and features a collaboration with American singer, Caroline Polachek and French singer, Christine and the Queens, both of whom XCX has collaborated with on past albums. The track can be considered electro-funk; it is '80s influenced and filled with synth-heavy production, the same sound Janet Jackson incorporated in her iconic 1986 album "Control." XCX made sure each artist had enough time to shine in the song. Polachek's vocals are soothing and sound beautiful on the bridge, while Christine and the Queens' voice adds a certain je ne sais quoi. 
"Beg For You" feat. Rina Sawayama
https://www.youtube.com/watch?v=hw_Gtwdnp1Q
The third single was released in January 2022 and this time Japanese-British singer, Rina Sawayama joins XCX on the song, "Beg For You". The two went on tour together in 2019 and there has been rumors of recorded demos they did together, but unfortunately none were ever released. Both of their fan bases are glad to see the two finally release something, and it was well worth the wait! This 90's house music influenced track pays home to Swedish singer September. It samples September's 2006 RIAA Gold Certified song, "Cry For You." Sawayama and XCX recreated the song in a unique way that showcases both of their creativity. The track is an addicting club-anthem, and I can see it doing very well on the radio airwaves. 
"Lightning" 
https://www.youtube.com/watch?v=RJTv1KZrbuQ
The standout song on "Crash" is undeniably the eighth track, "Lightning." Here, we find out that XCX was not kidding when she said she wanted to utilize every resource a major label can provide, which is why she hired Britney Spears' producer Rami Yacoub, who worked on the groundbreaking 1999 track "…Baby One More Time" and helped make Spears the pop princess she is today. On this track we see XCX living her full pop star fantasy, while still incorporating her unforgettable hyperpop sound. The song is very '80s and is backed with electronic beats, drums, smooth flamenco-inspired nylon guitars, and a keyboard.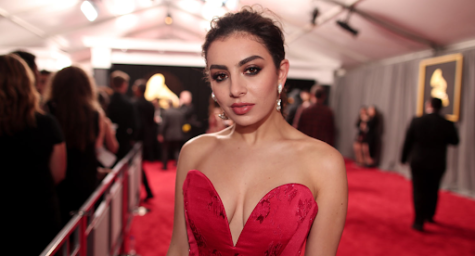 Charli XCX attends the 59th Grammy Awards at Staples Center on Feb. 12, 2017 
in Los Angeles, California. Photo Credit: Frazer Harrison
"Crash" can easily be labeled a pop masterpiece. The album was a huge milestone for XCX. This is her first album in her decade-long career to reach the top 10 on the U.S. Billboard 200 Chart, where it debuted at number 7, and in her home country, the United Kingdom, it became her first number one album. It is a body of work that shares a glimpse of XCX's personal life, while simultaneously creating lyrics that tell stories that are relatable to all listeners. The singer also criticized the pop industry and showcased in her music videos and social media what the industry does to new young artists. Despite the pressure she faced from her record label and her negative feelings towards the pop industry, XCX delivers a mainstream pop album with cohesive production, all while staying true to her hyperpop roots. The grammy nominated artist proves that you don't need to be a traditional pop star to achieve success.
You can stream and purchase "Crash" by Charli XCX on all major music platforms.