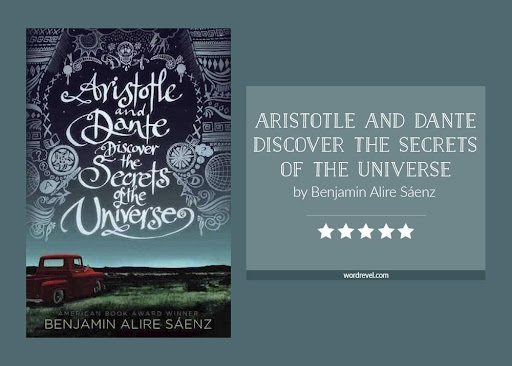 Aristotle and Dante Discover the Secrets of the Universe Review
November 30, 2021
A great read.  I highly recommend that you read this coming-of-age young adult book.  Take that well-deserved break from studying, curl up with a good book and enjoy the memories this book invokes in the reader through the simple events that take place during our teenage years. 
Set in a border town, the story's protagonist, Ari has had a life of quiet existence which he hopes will carry him right through his senior year of high school. Ari is dealing with a few things that might make this year a bit more complicated than he expected.  
With a few weeks left of  Summer Break, Ari planned to whittle away the rest of the hot southeastern days dangling his feet off the side of the public pool.  However, fate has something else in mind.  While at this pool, Dante enters the picture and offers to help Ari learn to swim.  Teaching Ari to swim is the starting point of a beautiful friendship between Ari and Dante.
Dante is articulate and self-assured.  People wish that their parents were as loving and supportive as Dante's parents.  Dante is fearless and is trying to discover just who he is.  For what seems like a long time away from a friend, Dante makes the best of it.  During his time in the Midwest, Dante smokes weed, goes to parties, drinks, and kisses someone for the first time. 
A budding friendship, a son getting to know his parents, a soldier puts memories of war into perspective, a death, a blooming friendship, anger, passion, first love, and coming to terms with death are just a few things that will keep you turning the pages of this wonderfully written book.
You can lose yourself in the pages of Benjamin Alire Sáenz's novel "Aristotle and Dante Discovers the Secrets of the Universe," take a stroll down memory lane to a time in your life — a time that was simpler and easier.