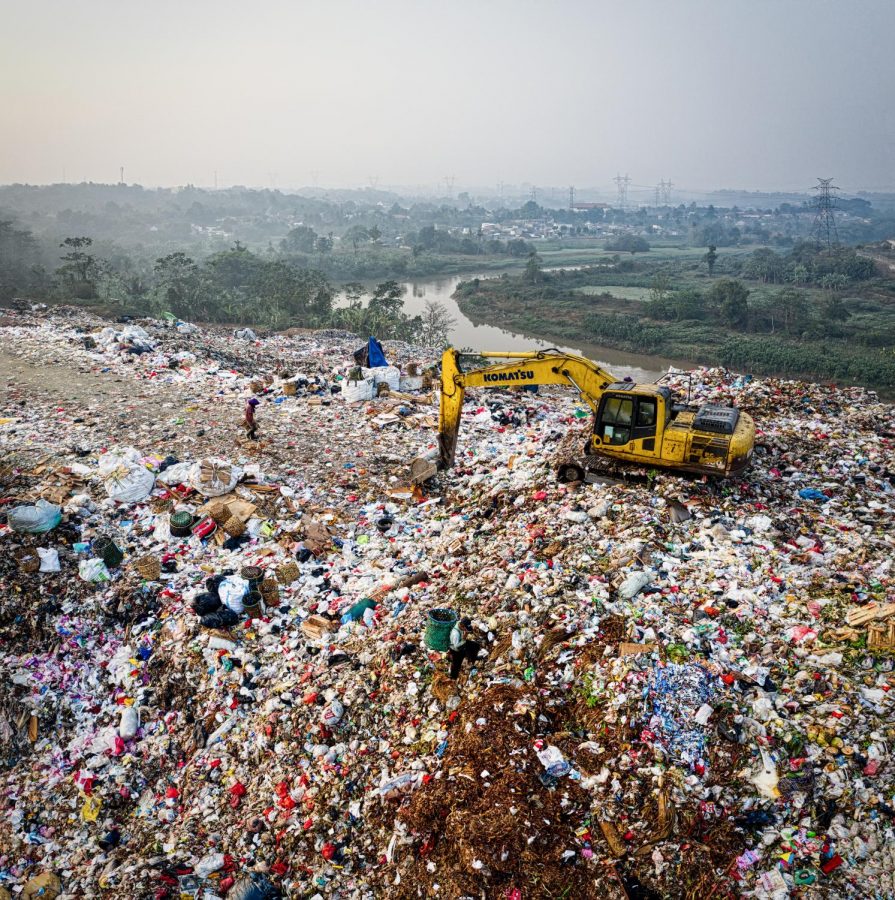 The Need for More Than Just One Earth Day
A plea for more greater environmental stewardship
April 7, 2021
Earth Day is April 22. It has been 51 years since its inception and with climate change having already apparent effects, the initial idea of calling attention to the state of the environment seems more prevalent than ever.
In the late 1960s, Gaylord Nelson, a junior senator from Wisconsin, became concerned about the state of our nation's environment. For decades, factories had been spewing black clouds into the atmosphere and dumping toxic chemicals into rivers and lakes. Air and water quality was abhorrent.
At the beginning of 1969, an oil spill in Santa Barbara, California prompted Nelson to make a call for action. He figured the best way to do so was to harness the fervor of student anti-war demonstrations and initiate teach-ins on college campuses. He, along with his co-chair, Pete McCloskey, proposed the idea to Denis Hayes, a student activist, and their idea took off.
In 1970, more than 20 million Americans took to the streets to demand a change to America's wasteful tendencies that was wreaking havoc on the environment for the past 150 years.
The demonstrations were so great that by the end of the year the Environmental Protection Agency had been created and a wave of conservation acts would soon follow.
Half a century later and conditions have gotten better, but we haven't done enough. Last year California had a record-setting number of wildfires and land burned. According to a tweet from James Franklin, a retired chief for the Hurricane Specialist Unit of the National Hurricane Center, about 96.5 percent of U.S. coastline miles along the Atlantic and Gulf of Mexico were under a tropical storm or hurricane warning in 2020.
Sadly, we are used to hearing about these "natural catastrophes" hitting the Gulf Coast and California. However, within the last decade hurricanes have been eking their way up the eastern seaboard and areas east of the Mississippi have been pummeled by deadly tornadoes and heavy flooding.
Climate change isn't going to loosen its grip. We are at the far end of a long tunnel and there is still no light in sight. The Paris Agreement is a good start to tackling this ever pervasive issue, but we can't get the last four years back.
Michael Gerrard, director of the Sabin Center for Climate Change Law at the Columbia Law School, has said, "Donald Trump has been to climate regulation as General Sherman was to Atlanta."
The monolith that is climate change casts a shadow over every other domestic and international issue that is constantly regurgitated by world leaders and diplomats.
Yes, healthcare and education are highly important. These are basic human rights. Affordable housing and immigration reform have been plaguing this country for decades.
In the long run, will any of it matter if there isn't a habitable world to live in? Rising temperatures worldwide are going to cause healthcare costs to skyrocket. Perennial flooding, hurricanes, and wildfires are going to displace millions of people. Houses will be burned to the ground, swept up in a tornado, or carried out to sea.
We must act quickly to address the looming monster hiding in the lurches. Earth Day is great, don't get me wrong. 51 years ago, it did wonders for the domestic environment and then 20 years later, made its way into the global consciousness.
However, millions of people being cognizant of a crisis one day of the year isn't going to cut it.
April has become Earth Month, with Arbor Day held on the last Friday of the month. It's great that the public performs a month worth of environmental stewardship. It's better than nothing.
Why not keep that up all year long? I know there are plenty of folks who are environmentally conscious year round, but the majority of us go back to our wasteful habits sooner than later.
Furthermore, climate change does affect every organism on this planet, so it is great that the general public does this civic duty, but manufacturers and energy-intensive industries are largely responsible for the carbon emissions. To really get them to act quickly, the federal government should implement a carbon tax and use that revenue to invest in clean energy.
The Biden Administration just issued its plan for the largest infrastructure package since the Great Depression. A large part of that plan does include investments into clean energy, but it first has to pass through Congress.
If it passes, it will be a step in the right direction. Until then, we can only be conscious of our individual responsibility to the environment. Leave the car at home and start biking more. If it wasn't for the pandemic, I would say take public transportation. Heck, in some instances it can be safe to. Start composting. Use reusable bags (and masks).
Celebrate this Earth Day and do your part for the environment, but keep in mind that one day out of the year isn't enough. One month out of the year isn't enough. We need to start doing more and quickly if we are going to stand a chance against climate change.