Why Chicago's Music Venues Need Us Now More Than Ever
From its DIY Spaces to its venues that hold national acts, Chicago's live music venues are on the brink of despair.
November 17, 2020
It's a cold January night and the sun set a few hours ago. As you and your friends walk down the hard sidewalk, you notice the reflection of the streetlight in the thin layer of ice that has developed over that puddle of brown, filth water on the side of the street.
You hear multiple voices, some shouting, as you round the corner of a building, nearing the entrance. Every few seconds, you hear the dulled sound of the speakers as the front door opens and closes. As you approach the line, you gladly think to yourself, "Good thing we left early." A few minutes go by, and you find yourself chatting with some of the people in front of you about the last time you saw the band.
It was the summer of 2018, Lincoln Hall. Great set. They had two drummers on stage and played their last album all the way through. One of the loudest shows you've ever been to.
"I was there too! That double encore was killer," the person in front of you says.
Finally, you enter the warm embrace of the venue, rub your hands together and show them the ticket on your phone. You contemplate whether you want to check your coat. You decide against it, as you'll probably be going out to get some air in between sets. You give one of your friends some cash to get you a drink and tell them you'll be right back; you're going to go to the bathroom.
After washing your hands, you notice the flier next to the paper towel dispenser listing the upcoming shows and you start thinking about dates and whether you can make those shows.
While on your way to the floor, you bump into some guy passing by you. He's carrying two cups of beer and spills a little onto your shoe. He apologizes wholeheartedly, and you tell him not to worry about it as you continue to slither by people, saying, "Excuse me," and "I'm just gonna squeeze by ya here."
You see your friends to the left of the stage, not too far back and not too close to the speaker where you'd be regretting it the next morning. Just a few more 'excuse mes' and you're there. They hand you your drink and you nurse it, fearing that you'll lose your spot the next time you have to go back up to the bar. Suddenly, the crowd starts roaring as the band walks out onto the stage.
Chicago's music venues — they are in every neighborhood and come in all shapes and sizes. Some hold a couple thousand people and some hardly hold a hundred.
There is Subterranean and Beat Kitchen, two local venues in the Wicker Park and Roscoe Village neighborhoods where Katie Steel worked for two years before the pandemic hit. Then there's Iguana House, a DIY live music/art venue founded in 2018 by Cameron Goulder, Sam Laidman and Patrick Oberle.
Despite their differences, Chicago's music venues all serve the same purpose. They offer relief from the day's demands in the form of engaging with like-minded individuals who simply want to hear one of Chicago's up and coming artists, like Mike Fruel's band Torch the Hive at DIY spots like Chris Lee's The VCR. Or they can hear national acts at places like Thalia Hall or the Metro.
However, most of these venues haven't held live shows since late March, when Illinois' stay at home order went into effect on March 21. Plenty of businesses were able to reopen under the Phase 4 Tier of the State's Restore Illinois Plan which expanded operations for businesses on June 26. Venues, however, weren't included in that phase. In addition, Chicago Mayor Lori Lightfoot (D) announced on Thursday that Chicago will have a 30-day stay at home advisory starting Monday, Nov. 16. This means that, like many businesses, venues will have to keep their doors closed for the indefinite future. With the pandemic's end nowhere in sight, the prospect of venues making it through the winter is grim.
What Does Live Music Mean to You?
Not only is seeing live music an enjoyable night out, but for some, it's a livelihood.
At the start of 2020, Chris Lee was a sound technician at a company that worked at a lot of outdoor festivals. However, the onset of the COVID-19 pandemic thwarted his plans for work this past summer. Lee plays in a few local bands and runs a music studio and DIY venue called the VCR and is also in charge of a small label called Dark Circles Records.
Live music is basically how I've organized my social and working life since I was twenty. I haven't had a full-time job in over a decade since I've always needed the flexibility to have band practices and play shows," said Lee, now employed as a printer repair technician.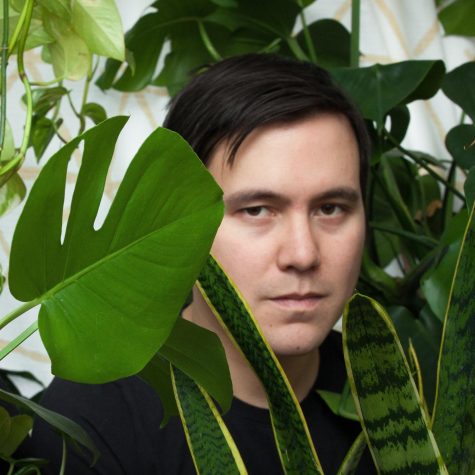 "(I)t's hard for me to put into words what live music means to me. It's everything. It's like asking a devout Muslim why they go to a mosque or why a Christian goes to church. Live music renews my sense of being alive, of experiencing life directly and communally instead of remotely and individually."
Lee is but one of many who relied on live music to feel a sense of camaraderie, to go to a place and gather with people from all walks of life and share a moment in time.
Manae Hammond, a musician in the band Oux and audio engineer, is another. She has worked at a slew of small venues like the Bassment and the Cubby Bear and other nightlife establishments throughout the city. Hammond was a freelancer who would often get called into gigs on an hour's notice. She said that freelancing was a dependable enough income that helped to pay rent and fund a music career.
Hammond was brought up in a musical family led by two parents that are pillars in Chicago's house scene. They raised her in a community that fostered love and growth, and she attributes that to the happy-go-lucky attitude she had as a kid. Ironically, that type of environment only shined a light on one facet of Chicago's multifarious music scene.
"When you grow up in it, everything is just there. You kind of take for granted being able to throw a stone and hit a showgoer with an Old Style," said Hammond. "That constant immersion made me want to break from it once I got older. I eventually found out about the guitar music scene, and it really changed the whole trajectory of my life. I probably would've ended up singing in Gospel choir or going full 'Theater Kid' otherwise."
Hammond grew up in Humboldt Park, where many DIY spaces exist, so getting to a show that she helped a friend of hers put on was a short bike ride away. She also put on shows of her own, wrote music and struggled to try to play it.
"I would just bike from my Humboldt apartment to any given basement show and mosh away everything that pissed me off or made me sad. It was what I looked forward to every weekend, and lots of weekdays even."
Mike Fruel, of the band Torch the Hive and an NEIU alum, would normally be performing at one of the many venues throughout the city next weekend, but by adhering to protocol and staying at home, he hasn't let that hamper his ingenuity.
"Live music is a way for people to connect with artists in their rawest, purest form. It's what distinguishes a musician between what they sound like on a recording and what they sound like performing," said Fruel.
Torch the Hive, like many other bands and artists, has had to resort to live-streaming their shows, which doesn't have that huge of a market just yet.
"It's sad. A lot of DIY artists typically don't have the funds or equipment for a live-stream … It truly is unmarked territory for a lot of people."
What Does Live Music Mean for the City?
Katie Steel is an Assistant Talent Buyer and Production Manager for Kickstand Productions who also plays in three bands, Pelafina, Bosely Jr. and Apocalypse Quest, in DIY spaces and small stages throughout the Chicagoland area.
Steel is an artist that thrives on the feedback element an audience generates after hearing a performance. She said that until the pandemic hit she never realized how much her drive for music came from being able to perform it.
"Live music means so much to Chicago as a city with a history of music," said Steel. "DIY spaces are great spots for aspiring musicians to get their feet wet and create their support networks. There is a plethora of established venues that are important to the city's entertainment and nightlife industries."
Emblematic of this idea is the fact that there are many bars and restaurants right around the corner from where venues stand. When planning a night out, many people decide to meet for dinner beforehand or get drinks together after the show.
With shows on the standstill, many of these businesses are likely to feel the repercussions of that.
That being said, these establishments are already feeling a pinch as the Restore Illinois Plan has banned all indoor dining in Illinois as of Nov. 4.
"Live music is a big economic sector that employs thousands of people, and almost all the work has been paused. (It) is so important on a personal and economic level."
Iguana House is a DIY venue that has transformed their once in-person live show setting into a more visually oriented virtual venue. Its members consist of Cameron Goulder, Patrick Oberle, Sam Laidman, Chandler "Lino" Gil and Jamie Nance. Its aim is to create a platform for up and coming artists to get their art out into the world, whether that be through live shows, collaborating on projects, such as merchandise and music videos, or more recently, virtual shows.
"They're kind of tiny desk concert sets but in the main room of our space," said Nance.
Much like Torch the Hive, they've managed to compensate for the absence of a live setting by transitioning to filming and releasing videos with artists.
"We follow all COVID protocols, and, wow, is it different to see a band play during a live show in comparison to them playing live for a few people with cameras. But that's how it is right now, and we're definitely making the most of the situation. These videos last forever, so artists can do anything with them."
Chicago has an entire scene teeming with underground artists that get their feet wet in venues like Iguana House or the VCR. Before they play bigger venues like the Empty Bottle or Schuba's, many of them start here. For some, they thrive in the DIY scene and only ever want to play venues such as these.
"Chicago is brimming with talented artists that deserve to be seen and heard by the rest of the world," said Oberle.
"The dedication I see radiating from this town's scene is crazy. People here have a lot to say and they channel that through their music and other creations. During live shows, you can really see that passion come out."
What Happens to a City Where Venues Aren't a Reality?
There are many components that dictate what a culture is composed of. Chicago is an amalgamation of different races and ethnicities, easily the first ingredient in a recipe for a prosperous culture. Second would be the food that this mix of people brings with it. Without a doubt, Chicago is a food city first and foremost. But what other components are necessary for a culture to be truly great? Yes, we have the Art Institute. There are some phenomenal paintings inside that you can't see anywhere else in the world. We have world-class architecture right down the street from anywhere you are in the city. Go to Oak Park or Irving Park and see some Prairie Style houses. Where does live music fit in all of that?
Chris Lee is originally from Columbus, Ohio, a town where a decade ago you could throw a stone in any direction and you wouldn't hit a venue.
"Trying to be a musician in a town with no venues is like trying to grow a garden in a parking lot," said Lee. "And beyond just the artist experience, the audience suffers too because there's less of a sense of community, less cultural exchange. Chicago is basically surrounded by corn fields, so it's a cultural magnet for a lot of the U.S. but doesn't hold the same false promises as New York City or Los Angeles. You just get a real weird mix of people performing for the love of the game. It's great."
As an assistant talent buyer, Katie Steel is partly responsible for representing the venue when bands are looking for places to book a show. She has seen her fair share of acts coming in from all around the country and has worked closely with local acts who are trying to get their swimming legs.
"Local musicians won't have stages to more easily grow their fanbases, which can make it more difficult for them to break out to larger audiences in the future," said Steel.
"Touring acts won't have stages to play on when they come through, potentially stifling their growth and not creating solid connections to Chicago, resulting in fewer events and less business in the future."
Some of the smaller venues throughout the city are a good place to start for those just coming out of high school or even college. Manae Hammond was one of them. She interned at the Hideout, which has a long history dating back to the Prohibition Era, and even though it's tucked away in the industrial corridor along the North Branch of the Chicago River, it has hosted some of Chicago's biggest names, such as Billy Corgan and Jeff Tweedy.
"If absolutely all of the legitimate venues were to crash and burn and there was no place for young talent to develop and do their process, we'd be making that space by hand, brick by brick," said Hammond.
"Really that's Chicago at its core, saying 'Fuck it, I'll do it my damn self' when City Hall tells you no. We'll all still be here doing what we've always done. It just won't be legally sanctioned anymore. Only the most major, sure bet musicos will get the Metro packed out, and the rest of us will find another abandoned warehouse to turn into a 21st century 'The Warehouse.'"
How Can You Advocate for Live Music During the Pandemic?
Despite the pandemic going on, there are still plenty of ways to support live music.
The Chicago Independent Venue League (CIVL) was founded in 2018 by the owners of 14 independent music venues in response to the proposed Lincoln Yards development that would see multiple live music venues owned and operated exclusively by Live Nation, an entertainment and ticketing monolith.
According to its website, "CIVL acts to secure the long-term future of these and other venues for the benefit of our communities and emerging artists."
It has a COVID-19 Relief page set up on its site, where people can donate to their cause, as well as GoFundMe links to multiple venues throughout the city.
The National Independent Venue Association (NIVA) is a group of over 2,900 venues throughout the country that formed with the intention of asking Washington for targeted legislation that would help them survive and also provide relief for tens of millions of unemployed workers.
NIVA is urging Congress to pass the Save Our Stages Act, a bipartisan bill that will give venues and promoters a fighting chance. People can donate to an emergency relief fund and use their voice to tell Congress to pass the Save Our Stages Act here.
Additionally, artists and venues impacted by the pandemic can access resources at Music Covid Relief, a site that provides information on obtaining unemployment benefits, small business loans, grants and additional resources.
Think back to all the times you've stood in line outside in the cold or had beer spilled on your shoe as you were trying to squeeze by folks in the crowd or mulled over dates in your head while in the bathroom of one of these venues.
The pandemic has been hard on all of us. We're all handling it the best we can, but some of us need a little help to weather the storm. This is the time to band together and make sure that these venues are still there for us to enjoy when all of this is over.
As someone who both performed and worked at them, Manae Hammond said, "Live music is about coming together as a community and collectively healing through the power of human expression, through sound and lights, love and hate."
"(But) the music industry is hemorrhaging, and instead of being taken to triage, we've been left at the door, slowly bleeding to death, yelling for help at the passing doctors for months."