INTERVIEW: Defoe discusses debut album, mental health
March 9, 2020
It's been a little over eight months since up-and-coming artist Defoe released her debut effort Too Soon to Cry, a 10-song collection that lulls listeners into a false sense of security before staggering them with haunting lyricism. Discovering the elusive balance between lyrical melancholy and pensive instrumentals, Defoe combines simple melodies with simple chord progressions to create a complex sound.
A quick listen to Too Soon to Cry will uncover innocence flourishing atop brutality. Entombed in Defoe's work is a struggle to reconcile an idealized version of beauty against the unforgiving hostility of realism, with such a juxtaposition between theme and melody operating as a modern interpretation of classical music, or what Defoe calls "oldies."
Defoe's bold approach is a refreshing exhibition of ambition in an era mired in uniformity. The SoCal native cites ventures into the horror genre and artists such as Blonde Redhead and Bjork as inspiration to reject tradition and forge her own musical path.
Says Defoe, "That's the thing I really focus on, the whole contrast of mood. That's how to create something new, even with modern art. Trying to create an experience that feels familiar but new is something I'm always striving for. For example, the song 'Picture'–which there will be a music video coming out in the near future–is about a woman whose husband has passed away. But she feels really close to him because she takes his picture with her wherever she goes."
Despite its sorrowful lyricism, "Picture" is defined by what Defoe describes as a "cheeky, edgy and sexy" rhythm. Following a common theme that resurfaces throughout the album, the inattentive listener might be forgiven for misinterpreting "Picture" as a seductive number before the pre-chorus–"You took a piece of me to heaven, take this to my grave"–confronts the audience with the forfeitures of premature loss.
Untethered to genre confines, Too Soon to Cry represents the nonlinear and overlapping nature of the emotional spectrum. Such an understanding prevented Defoe from succumbing to artistic restraint, instead liberating her to negotiate a variety of themes throughout Too Soon to Cry.
"I didn't want to put myself in a box as an artist," explained Defoe. "I know the first album really makes the mark on what an artist is supposed to sound like and that's why I kind of went all over the place on this album to continue to have creative freedom for all my new releases.
"A lot of these songs were a lot older songs I worked on a long time ago and kind of polished them off. Yeah, I grew up on a lot of oldies–I grew up on Connie Francis, Artie Shaw and a lot of those old sounds."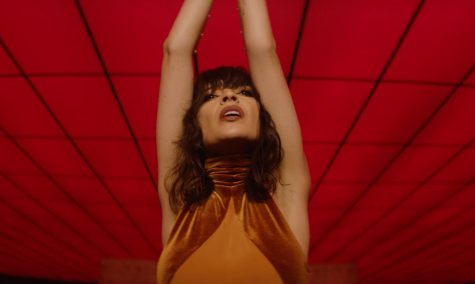 Once an aspiring cosmetologist, the gravitational pull of music proved too alluring for Defoe to dismiss. But rather than surround herself with an audience, the former vocal engineer states that she prefers isolation during her artistic process. For Defoe, the absence of peer pressure allows her to embrace error and fully probe her creativity.
"I feel like when I have the influence of too many people in the room, it just becomes shallow sounds that I come up with," said Defoe. "I like being able to make mistakes to find the golden nugget so I'm personally the creator who's not afraid to try new things, making tons of mistakes until I find my path."
However, Defoe's path was anything but conventional. Once a producer credited for working with Billboard chart-topping artist The Red Jumpsuit Apparatus, it wasn't until Defoe became a mother that she abandoned her reservations and pursued a career as a vocalist. "I thought, 'Why not?'" said Defoe. "I don't want to regret not putting something out because I was scared or I was insecure…I think it's really important to be fearless."
But fearlessness didn't come naturally. According to Defoe, a sense of hopelessness once hindered her ability to embrace opportunity. Imprisoned in her home from a severe case of agoraphobia, music production became a therapeutic outlet for Defoe to explore her passion.
"It was pretty crippling so I was confined to my house for three years," explained Defoe. "I didn't know what to do with myself as I was trying to figure out the maze of mental health. I knew how to play piano, I knew how to play guitar but I wanted to be able to put it all down so I could remember everything."
Nevertheless, rather than rue her struggles, Defoe celebrates the artist, wife and mother she is today. Citing others who persevered through the trials of agoraphobia, Defoe lauds those who "created a really interesting life for themselves."
"This anxiety, the way my brain works–it really is a blessing," said Defoe, speaking with a self-assuredness that defies her past struggles. "It really has allowed me to have compassion and be able to talk to others that have the same problems."
Defoe managed to channel her past fears and anxieties into her musical endeavors. Betting on herself, the self-described avid dreamer challenged filmmaker Dylan Reynolds to allow her to provide the soundtrack for the independent horror project "420 Massacre."
According to Defoe, she was granted two weeks to score half the movie. The experience showed Defoe the importance of creative emancipation. "There is no structure, there's no rules, you can go anywhere really…It's so incredible and so powerful to work with something invisible and create moods from other people I've never met," said Defoe.
While Defoe is still learning who her audience is, she wants listeners to use her music as a reprieve from daily stressors. Defoe asks for her fans to reconcile competing emotions and the differences they cause among self, friends, family and neighbors. "I wanted to paint the picture of how life really is and how complicated our feelings and emotions are," said Defoe.
"Eventually there's gonna be a sunny day. So when you're in that dark cloud, just dream about the things you're going to do when that day comes."
Connect with Defoe on Facebook, Instagram, Twitter, and YouTube. Visit www.WhatIsDefoe.com.