INTERVIEW: Mark Tremonti talks Walk the Sky, history of Alter Bridge
January 29, 2020
On Feb. 14, Alter Bridge–the Florida hard rock phoenix born from the remnants of Creed–visit the Apollo Theater AC in Belvidere, Ill., during the second leg of their Walk the Sky tour. Clint Lowery of Sevendust, touring in promotion of his debut solo album, and Michigan hard rock sextet DEEPFALL are scheduled to perform in support.
Throughout the band's 16-year tenure, Alter Bridge has stood at the forefront of rock n' roll, valiantly defending the principles that propelled rock n' roll to the top of nearly every chart during the genre's golden era. Highlighted by vocalist Myles Kennedy's rich, crescendoing vocals and lead guitarist Mark Tremonti's transcendental guitar solos, Alter Bridge's modern interpretation of stadium rock has captivated audiences and engraved the Alter Bridge brand into the soul of rock n' roll.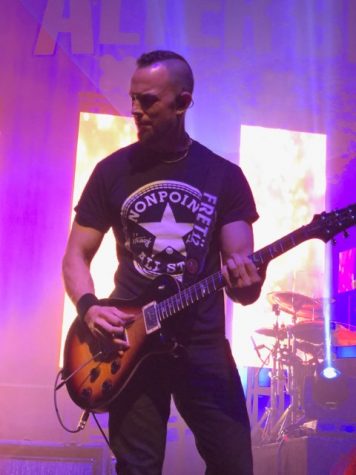 During Alter Bridge's Oct. 10 visit to the Chicago Theater, Kennedy exercised his full vocal range, enchanting the Chicago crowd with tantalizing melodies. Tremonti navigated the fretboard with an educated precision, his contorted facial expressions conceding to a satisfied smirk after each number. And while the creative synergy between Kennedy and Tremonti assumed center stage, drummer Scott Phillips guided the beat from the back while bassist Brian Marshall enthusiastically engaged with fans as he wandered the stage. 
But despite a successful first leg, Tremonti hints at a departure from Alter Bridge's identity as traditionalist live performers. While explosive solos, reverberating riffs and soulful vocals remain the focal point of Alter Bridge's live performances, Tremonti credits respected musicians such as Gojira for fueling Alter Bridge's decision to enhance the production aspect of their demonstrations.
"We almost look at production nowadays like, 'What would Gojira do?'" laughed Tremonti. "They've got a nice, big, awesome production. Just the light and the class. One thing we're trying to do is constantly up our game when it comes to the presentation of our live shows."
An increased emphasis on production value runs parallel to Walk the Sky's creative and thematic directions. Arguably the most anticipated rock album of 2019, the 14-song collection is an electrifying display of Alter Bridge's artistic evolution.
Operating as a response to the band's third studio album, ABIII, Walk the Sky–the band's first chart-topping effort–expertly negotiates a variety of themes, ranging from the defense of one's own self-perception to the importance of valuing the present. Consistent with Alter Bridge's ever-evolving artistry, Walk the Sky complements the band's trademark riffs with an added layer of synthesizer and keyboards, providing listeners a new layer of Alter Bridge to explore. 
While Walk the Sky deviates away from the dark undertones of Blackbird and ABIII, the album still offers the earth-shattering riffs and harmonized melodies that define the Alter Bridge catalogue. Offering an unabridged account of Kennedy's ascension from the grips of spiritual uncertainty to the self-assured frontman he is today, Walk the Sky confronts many of the intrapersonal challenges many listeners encounter on a daily basis. According to Tremonti, Walk the Sky serves as a natural conclusion to the dark themes introduced in ABIII.

"ABIII was a very dark record about lack of faith and lack of hope," offered Tremonti.  "There were songs like 'Life Must Go On' that still were a sadder number, but [Walk the Sky] is more about finding peace and zen and almost just a freedom and inner piece kind of thing."
Tremonti highlights "Godspeed," written in honor of the recently departed Seth Luker, as his favorite song on Walk the Sky. According to Tremonti, the lyricism in "Godspeed" developed organically as he struggled with conflicting emotions following Luker's passing. However, while "Godspeed" tackles the internal dilemmas that accompany premature loss, Tremonti states the song was written as a celebratory tribute to life and friendship.
"Whatever is currently going on in your life spills over into your lyrical content and it kind of just came out," said Tremonti. "'Farewell, godspeed, goodbye' just came out in that chorus. We didn't want to make it a sad song or a song about a loss. We wanted it to be more a celebration of his life, more of an uplifting song."
As a guitarist and songwriter, Tremonti become synonymous with the guitar solo. Seemingly capable of manufacturing a blistering solo out of thin air, Tremonti's meticulous attention to detail allows him to repeatedly reinvent his brand of rock, as evidenced by the galvanic guitar solos featured on "A Dying Light" and "Take the Crown."
"I like to make a guitar solo a song within a song," said Tremonti. "I like to be aware of the chord changes and vocal melodies that already happened in the song to see if i can bring a familiarity into that solo. When people hear it, it kind of reinforces the melody, tells a little story I'm telling."
According to Tremonti, his time in Alter Bridge (and later Tremonti) afforded him the chance to evolve as a songwriter. While his time with Creed offered him initial notoriety, Tremonti states that he was still in the embryonic stages of establishing his own identity.
Since Alter Bridge's inception in 2004, Tremonti credits his progression from what he describes as an average guitar player to one of the most celebrated guitarists in rock n' roll history to his appreciation for melodies and music theory.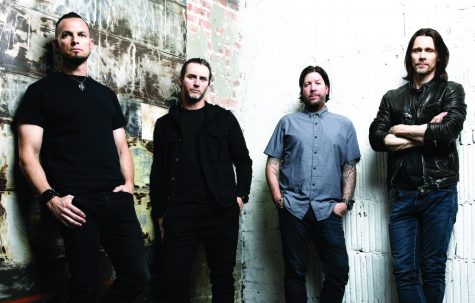 "With Creed, I felt like I was a kid," said Tremonti. "I wasn't as proficient on the instrument; I was learning and experimenting. Melodies were the most important thing to me from day one, so it's just being a decent guitar player back in the Creed days to being a better guitar player, but still having that melodic sensibility. Writing melodies is something I've always felt really good about since day one."
While Tremonti is renowned for his seldom paralleled speed and mechanical precision, he is also celebrated as an unsung hero of modern songwriting for his ability to fuse the acceleration of metal with the intricacies of hard rock. 
"When people consider me a guitar player, I get really upset," explained Tremonti. "I'm not just a guitar player, I'm a songwriter. That's what I put most of my time into. It's my biggest joy as a musician."
Tremonti's maturation as a songwriter has been reflected by each of his professional endeavors, In 2015, Ultimate-Guitar.com voted Tremonti and Kennedy's dueling instrumentals in "Blackbird" as the greatest guitar solo of all time, earning the honor ahead of Pink Floyd's "Comfortably Numb", Led Zeppelin's "Stairway to Heaven" and Guns N' Roses' "November Rain."
However, despite emerging as a pillar of the rock n' roll scene, the perception of imitation once burdened guys in Alter Bridge. Tremonti says the challenges that accompanied distinguishing the Alter Bridge brand from Creed were daunting  When Creed was on the brink of dissolution, it was imperative for the remaining members of Creed to navigate a different creative avenue. 
Kennedy, who Tremonti calls the "greatest vocalist in rock," represented the band's deviation from Creed. According to Tremonti, it wasn't until ABIII that Alter Bridge flourished under their own identity. 
"That was probably one of the biggest professional challenges we've ever had," said Tremonti. "When we started Alter Bridge, everyone said it was the guys from Creed with a different singer, that it was pretty much 'Creed part two.' But if you look at the moves we made, we found a singer that sounded as far different from Scott [Stapp, former Creed vocalist] as we could just so we could do something different."
Tremonti continued: "[Kennedy] is probably one of, if not the most, dedicated to his craft in how to sing correctly and how to work on it… We both do this because we love it. I play guitar in my down time. But that's my job. My job is my hobby and my hobby is my passion. So Myles and I both follow the same lifestyle."
With arguably the top vocalist and songwriter of the modern era, Alter Bridge remains one of the few can't-miss performances in music today. However, despite their legacy as titans of the genre, Tremonti hopes Alter Bridge will be remembered for the impact they've made on the lives of their fans. 
"Not many people have been given the opportunity to do what we've been able to do all these years, so I take it very seriously. As far as Alter Bridge, I'd love it to be remembered for what it's meant to people's lives."
Walk the Sky tour 2020 dates:
1-31 – Lake Charles, La. – Golden Nugget Casino *
2-1 – 2-6 – Shiprocked
2-8 – Nashville, Tenn. – War Memorial Auditorium
2-9 – Indianapolis, Ind. – Egyptian Room at Old National Center
2-11 – Huntsville, Ala.– Mars Music Hall
2-12 – Fort Wayne, Ind. – Clyde Theatre
2-14 – Belvidere, Ill. – The Apollo Theatre AC
2-15 – Milwaukee, Wis.– The Rave
2-17 – Denver, Colo. – Ogden Theatre
2-18 – Salt Lake City, Utah – The Depot
2-20 – Las Vegas, Nev. – House of Blues
2-21 – Lake Tahoe, Nev – Montbleu Resort
2-23 – San Francisco, Calif – The Regency Ballroom
2-24 – Los Angeles, Calif. – The Wiltern
2-26 – Seattle, Wash. – Moore Theatre
2-27 – Spokane, Wash.– Knitting Factory