President-elect Trump has NEIU students fearful of future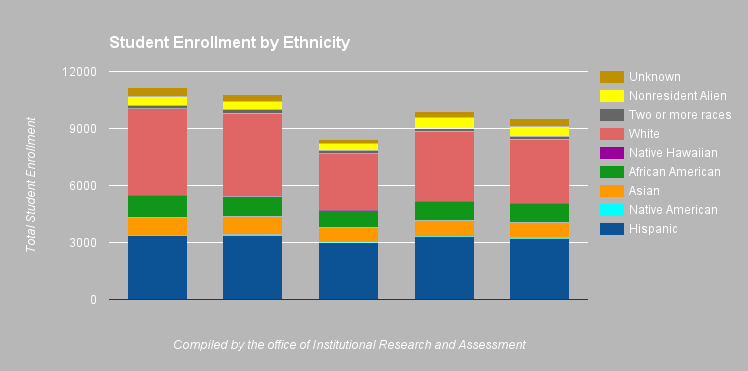 The Electoral College victory of President-elect Donald Trump has students concerned about their future but there is no evidence that minority student enrollment has dropped because of it.
Maria Genao-Homs, executive director of the Department of Diversity and Cultural Affairs and director of the Latina/o Resource Center, said in an email, "We have had several students visit the Undocumented Student Resources in the Pedroso Center with questions. We have assured these students that Northeastern will remain a welcoming place for all regardless of their immigration status."
However, she remains unable to comment towards enrollment projections.
Luvia Moreno, director of Undocumented Student Resources at NEIU, said that although some students have come up to her with concerns, it has been only a handful at this time.
However, the students who primarily voiced worries over enrolling next semester or even continuing their education were undocumented students.
NEIU has approximately 300 undocumented students enrolled. They have the opportunity of attending college due to an executive order issued by President Barack Obama in June 2012 called the Deferred Action for Childhood Arrivals (DACA) program, which permitted certain undocumented students to work while in school without the threat of deportation.
"I have heard students worry," Moreno said. "'Now that I have DACA, (will) the United States Citizenship and Immigration Services (USCIS) use that list to deport me.' What attorneys have said is 'We don't know what could happen.'"
Moreno said she believes that it would be unlikely and that students rank much lower on the priority list for deportation than in contrast with convicted criminals.
"Surprisingly I have many students come to ask me," Moreno said. "'Do you know of any scholarships, because I'm trying to figure out how to pay for next semester?' Or 'I'm considering graduate school, do you know of any scholarships for graduate school?' So some of those students are still focused on their education and what's next."
Since the presidential election, NEIU was subjected to graffiti containing racial slurs in the first-floor men's restroom of BBH on Nov. 15.
"I have not heard any student reactions to that specific incident. Northeastern recently was named the most diverse university in the Midwest by The Wall Street Journal/Times Higher Education College Ranking," Genao-Homs said in an email on Dec. 1.
There is still speculation on whether there is any new fear among NEIU's student body since the election considering the country's current state of affairs. Since the election results NEIU has provided students with events such as "Healing / Moving Forward: A Critical Post-Election Dialogue," which allowed students to participate in a panel discussion and addressed "students' thoughts and feelings about a Trump presidency."
"If you're a minority of any kind: based on your race or ethnicity, your gender or sexual orientation, your citizenship status — all of those identities feel threatened right now by the current rhetoric of the incoming president," Moreno said. "From what I heard some students are not coming to class because they are afraid. How many students, I don't know, it could be one incident, it could be a couple."
Genao-Homs said in her email that NEIU will remain a campus that welcomes all students from diverse backgrounds and encourages the student body to seek help if they ever feel threatened in any way. This is the same dialogue reiterated by Interim-President Richard Helldobler in emails to the university community on Nov. 9 and Nov. 17.
"No matter what happens, the election results won't change the University's commitment to diversity, equity and inclusion. Northeastern will continue to be a welcoming place for all, from all backgrounds and experiences, of all races, ethnicities, sexual orientations and religions, and whatever their immigration status," Helldobler said in his email on Nov. 17. "However, we will not welcome anyone who does not respect the rights of others to study and learn here, especially those who engage in hate speech and actions. I am adamant about this."
Moreno also stated that there are further concerns if whether DACA, being an executive order and not a law, can be repealed by President-elect Donald Trump. She explained that the university is prepared to take necessary steps to help their undocumented students—should they lose their ability to work and no longer afford classes—by allowing students to drop courses even well after the date required to keep tuition.
Moreno said she hopes students won't avoid registering for classes because of the current rhetoric in Washington.
"I'm hopeful that they will come back in the spring," Moreno said.