Letters of Leadership
Gamma Phi Omega, NEIU Chapter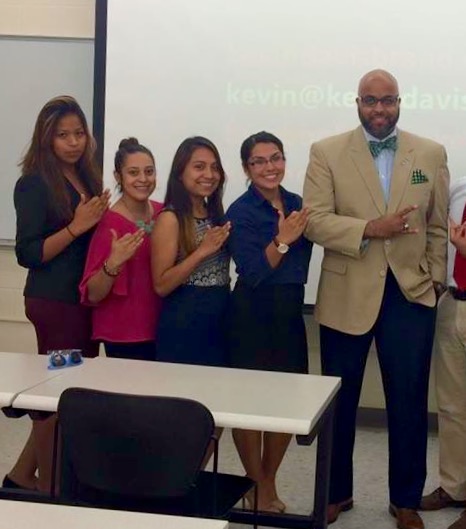 Greetings all,
It is our privilege and honor to share with you who the women of Gamma Phi Omega, International Sorority Incorporated, are and the work we do nationwide.
Gamma Phi Omega was established on the campus of Indiana University on April 17,1991 by Veronica Montemayor. Our Northeastern chapter was founded on Dec. 8, 2007; the NEIU chapter is the organization's 13th out of 19 undergraduate chapters across Illinois, Indiana and Texas. We currently have three alumnae entities in Indiana and the Chicagoland area allowing sisters to stay involved in the organization even after graduation.
While the sorority has evolved over time, the values of the organization remain intact. Sisterhood remains the core foundation, and we strive to empower women through set goals. Gamma Phi Omega, although Latina oriented in our roots, unites women across an array of cultures. Our members uphold the legacy of the founders and have broadened the scope of the original six women to reach and inspire hundreds.
We are committed to the values of diversity and inclusion in order to attain and maintain excellence within our sisterhood — providing women an equal opportunity without regard to race, age, sexual orientation, national origin, religion, marital status or disability.
As a group of young women striving to develop professionally and excel academically, we recognize the influence our communities have had on us and continuously work to give back to them. Additionally, we recognize the opportunity we have as an organization of professional women to help others.
Through involvement in events such as mentor programs and fundraising drives, Gamma Phi Omega always strives to contribute to the prosperity of others. We donate more than $10,000 annually to our National Philanthropy, the American Diabetes Association. This money is fundraised as a collective effort from all of our chapters. Currently, our chapter philanthropy is Breakthrough Ministry, a nonprofit homeless shelter that focuses on assisting residents of low income communities. Our chapter volunteers at Breakthrough once per month and we continuously hold collection drives for them.
Make sure to be on the lookout for our upcoming events!
If you are interested in learning more about Gamma Phi Omega, please email us at [email protected]
Kind Regards,
The Ladies of Gamma Phi Omega International Sorority Inc. Nu Chapter
Leave a Comment