This Generation's Rocky Horror
More stories from Hailey G. Boyle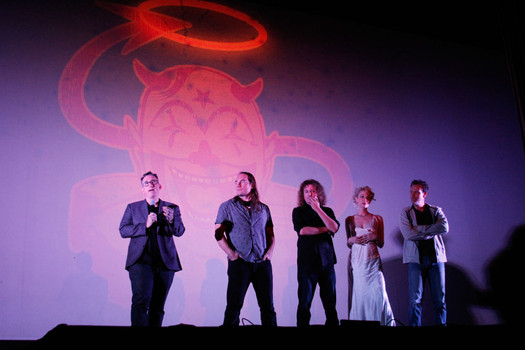 Rarely does a sequel outdo its predecessor. The challenges they have to overcome by standing on their own and being original, but satisfying fans. It's tough. Most blockbuster sequels can't do it. But a cult classic can.
In 2012, Darren Lynn Bousman, director of Saw II-IV, delivered a quirky, musical, horror film about three souls navigating their way through Hell, which has been turned into a Tim Burton-esque carnival, appropriately titled, "The Devil's Carnival." The elaborate, cartoonish costumes, the flawed characters, the original music instantly made this film a cult classic.
A cult classic is a film with a small, but passionate fan base that tends to be the opposite of a mainstream movie. They dress up like the characters, they interact with the film they love what they do.
The sequel, "Alleluia! The Devil's Carnival" will become a classic in its own right. You don't have to be familiar with the original or even like the original. "Alleluia!" quickly establishes itself as unique and a force to be reckoned with. While still quirky and musical, the Hell carnival is traded for a Prohibition-era cabaret Heaven. God (Paul Sorvino) sends his number one man the Agent (Adam Pascal) to Hell to talk to the Devil (Zdunich) who is planning a war against Heaven. In the past, we learn more about Painted Doll (Emilie Autumn) and how she became a minion in the carnival.
Unlike a regular film, Bousman and writer Terrance Zdunich treat it like a rock concert and like a rock concert, the production will only be here for one night. On Sept. 11, the Patio Theater in Portage Park held the Chicago premiere of "Alleluia!"
The beautiful Prohibition era theater becomes a circus act. Ladies in costume perform acrobatic stunts and hula hoop tricks before Bousman introduces the stars of the film, Autumn and Pascal. Autumn is an international acclaimed singer and songwriter and Pascal is most famous for playing Roger in RENT. The two perform the world premiere of "Nothing," a song written by Autumn for her new musical "The Asylum."
"Nothing," was written in the same style as all of Autumn's music, classical mixed with rock with a Victorian flair. The musical is based on Autumn's semi-autobiographical book, "The Asylum for Wayward Victorian Girls," which does not have a set premiere date.
Not to be outdone, Zdunich and Saar Hendelman, both of whom wrote the music and lyrics, preformed songs from the original.
"Alleluia!" was unlike any movie experience you will ever go to. Live performances, audience interaction, a Q&A with the writers, director and stars. And you get the satisfaction that the film you are watching was truly a labor of love. No studio produced this film; it was payed for completely out of pocket by the creators. There's just something about an artist being able to create the things they want to create.
Cult classics are not for everyone. They appeal to a very niche audience. And if Prohibition style musicals about Heaven and a Hell carnival that are inspired by Aesop's Fables aren't your speed, you can still enjoy the presentation of the event. Contortionists and live music and the film's soundtrack on red vinyl (which I totally got) can be enjoyed by everyone. Before the film even began, Bousman asked the audience raise their right hands and take the douchebag pledge; "To not be a minion of Satan and illegally film this movie." It was an experience for everyone.
Leave a Comment