Spend Summer Nights at Summer Noodle & Rice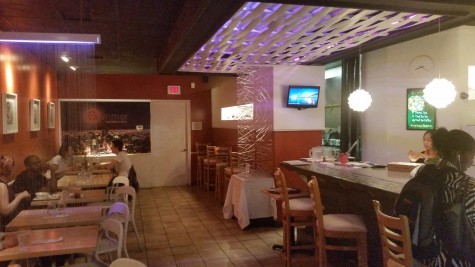 There's nothing worse than going to a theater or restaurant and having to pay jacked up prices for drinks that cost a fraction of the price. And if you try to sneak in your own drinks they tell you to toss them out.
Summer Noodle & Rice (N&R), a Thai-fusion restaurant on Granville and Sheridan in the Edgewater neighborhood of Chicago, has a BYOB (bring your own bottle) policy. At first this may seem inconvenient but in the end it turns out to be a better and more affordable option for patrons.
Pon Cheun, a waitress at Summer N&R, said that customers are welcome to bring their own alcohol and there is no charge. They provide the glasses and customers can drink to their heart's content without having to overpay.
Most places charge around six to eight dollars for a glass of wine when in truth the bottle might average around the same price at a local grocery store. All you have to do is remember to bring your bottle and you're good to go at Summer N&R and they do serve non-alcoholic drinks such as sodas, smoothies, or tea.
Summer N&R has lot of great dishes ranging in cuisines from Thai to Chinese, as well as Japanese among a few other Asian cuisines (albeit all slightly Americanized). There are basic dishes such as Orange Chicken, Kung Pao Chicken, Mongolian Beef and other tasty dishes all served with white rice.
Cheun would recommend her favorite dishes, which are the Pad Thai Noodles and the Tom Zab, soup, which she warns is a little spicy.
There are some not-as-well-known spicy curry dishes such as Red Curry (made with eggplants, bell peppers, bamboo shoot, and basil leaves in red curry sauce) and the Yellow Fish (Crispy served tilapia mixed with potatoes, sweet onions, and cashew nuts with a yellow curry sauce).
A wonderful dish was the Barbeque Pork Skewers. The pork is marinated in Summer Noodle & Rice's special marinade mixed with cilantro then grilled and served with sticky rice. Even if you don't like cilantro you will love this dish, it gives it a zesty taste and you would have never known it was made with cilantro. The pork skewers are served as an appetizer but judging by its decent size could pass as an entrée as well.
The Tempora appetizer was a surprise. Sweet potato sticks are battered, fried and served with a tempura sauce that doesn't taste like a sweet potato at all. Even the pickiest of eaters can find something to enjoy at this restaurant.
Sue Pikulsom is the owner of Summer Noodle & Rice, which will celebrate its eighth year in business this August. "She can be a friend and a boss," said Cheun of her boss Sue. This statement is a description that embodies the family atmosphere of the restaurant's management and staff.
"I like when people see the food and it looks beautiful, you can eat with your eyes," said Pikulsom.
Gorgeous décor, beautifully presented food and sensational taste beckons at Summer Noodle & Rice. Go out and enjoy a little Summer this season.