Cheap Way to Whiten Teeth
Looking to whiten those pearly whites or lessen the yellow tint? Nobody wants to take a leap of faith on a teeth whitener that costs more than a gallon of gas. We all wonder: do those things work? Is it worth it? Should I just go and have a dentist whiten my teeth?
Take all those questions, throw them away and make a pit stop to your local Walgreens and grab the store brand "Teeth Whitening Pen." For just $6.99 (it's on sale now, normal price $8.79), you can purchase a cheap, but impressive tooth whitening product.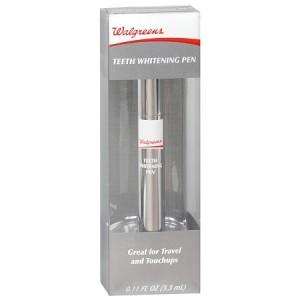 After just using it for three days, three times a day, I began to see results. My teeth weren't pearly white—instead, the yellow spots on my teeth began to ebb. Although the instructions don't state it, I brushed my teeth (because it would only make sense to) and dried them before application.
I took out the pen, and followed the instructions on the back of the box. It warns some tooth sensitivity may occur, but I didn't encounter any during my one month test.
It takes no more than a minute and a half to apply. The instructions say do the top, let it dry for 30 seconds and then repeat for the bottom; I started doing both at the same time. It should be noted that it does leave a layer of nasty white gunk on your teeth and although it dries, I wouldn't suggest doing it right before a date.
Don't think that you are all set and cross "visit dentist" off of your to-do list. This whitening pen won't make your teeth go from yellow to milky whites, but it'll help.
The down side: once applying the gel on to your teeth, it is suggested to "avoid eating, drinking or smoking" and it does not "whiten standard dental work." For a sacrifice of 32 minutes, it is worth the wait—instead of a 30-minute application process and a longer "drying" process.
It is the size of a mascara pen, small and sleek. Therefore, making it ideal for travel. It can fit in a purse, bag, or your pocket; just don't leave it in hot temperatures. The excess gel on the brush oozes out and melts in the cap, making a goopy mess.
For an inexpensive product, it does the trick. Those chompers have seen their fair share of pop, coffee and other stains, that could potentially damper that first impression you make during the first week of the new semester.