A Delightful Option for Breakfast or Lunch
Review: Charcoal Delights
4.0 out of 5.0 Stars
Charcoal Delights delivers exactly what their name promises. This cozy establishment is located in the North Park neighborhood, just a few blocks away from NEIU's main campus. They offer a mix of American cuisine, which includes breakfast, lunch and dinner options.
The restaurant has a drive-thru for those in a hurry and a large parking lot for those wanting to dine in. The interior creates a welcoming dine-in area which includes seating booths around the walls with tables and chairs for two in the middle. There's a laid back area with two arm chairs and a table with reading material in the middle.
The breakfast menu doesn't offer a large variety of options, aside from the traditional pancakes and eggs, as well as omelets, averaging $3-$7 per meal. Make sure to get there before 11 a.m. before the breakfast menu shuts down for the day.
The lunch menu provides more to choose from, featuring options like a half-pound hamburger to Italian beefs and hot dogs. The lunch/dinner menu averages from $4-$8 per meal.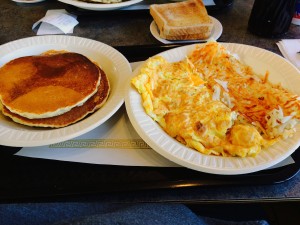 I ordered the charcoal broiled chicken breast sandwich with a side of potato wedges. For breakfast I ordered pancakes, hash browns and an omelet with a special request of chicken instead of the other traditional meat choices on the menu.
I chose the chicken sandwich because it seemed healthiest from the lunch menu. It was actually quite tasty and had plenty of seasoning. I wasn't expecting such oversized potato wedges, though. I could've shared my meal with another person.
The staff provides quick service to their customers. The hosts are attentive in ensuring the pleasure of your experience. One of the busiest times of the day in this restaurant is lunchtime (noon to 1 p.m.).
If you're looking to grab a quick and reasonable bite to eat, Charcoal Delights is your go to restaurant.
Locations:
Chicago Des Plaines
3139 W. Foster Ave. 1090 Oakton Street
(773) 583-0056 (847) 803-2777
*Delivery Available
Hours:
Monday – Thursday 5 a.m. – 11 p.m.
Friday 5 a.m. – Midnight
Saturday 6 a.m. – 11 p.m.
Sunday 7 a.m. – 11 p.m.